UPDATED: Iberia flight makes a nail-biting landing at Costa Rica's Juan Santamaría International Airport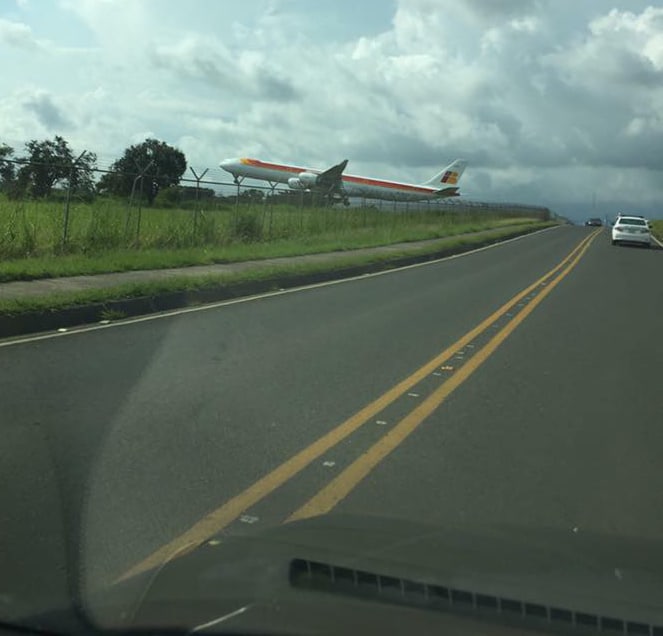 UPDATE, Monday, October 5, 3:20 p.m.
Airport officials and authorities from Costa Rica's Civil Aviation Authority on Monday responded to questions about Sunday's Iberia flight 6313 by saying the landing was perfectly normal and according to regulations.
Rolando Richmond, head of the authority's Aerial Navigation Office, told the Tico Times that after analyzing video and photos available on social media, nothing seemed out of the ordinary about the landing.
"There's no stated altitude that pilots need to cross that part of the security fence," Richmond said. "It doesn't exist, because the only condition pilots have at that time is to make sure they are able to land where the airport's threshold is and to activate their tires in time."
He did say, however, that the pilot of flight 6313 initially attempted to land on runway No. 7, which takes in planes coming from the east and uses electronic devices for precision landing. In the end, the pilot veered around to land on the the runway used by western-originating flights, which requires each pilot to make judgment calls as to when to activate landing gear.
"Sure it could have been a little bit higher, but the altitude and angle of the plane was fine," he said. Richmond said that the Airbus A 340 is the largest plane model that makes regular trips into the airport.
José Luís Granados, who lives in Alajuela near the airport and has been a taxi driver here for 15 years, said he witnessed the landing and that the plane looked to be flying just 200 meters off the ground over houses and the highway. Granados said he goes to the airport almost every day to pick up and drop off passengers, and he's never seen a plane come as close to the ground as it did Sunday.
"I saw on the news they're saying it was a normal landing because of the wind, but I'll tell you that's not true," he said. "It was way too low."
Richmond said the airport is not looking into changing regulations or creating a larger distance between the runway and the highway. He said people should always be careful when they stand close to airport security borders because there is always some risk involved.
"We consider all of the landing zones to be high-risk at the airport," Richmond said. "That's why we tell people to avoid it as an attraction where they stop and watch planes."
Original story continues here:
An Iberia airlines flight arriving at Costa Rica's Juan Santamaría International Airport outside the capital on Sunday afternoon appears to have nearly collided with nearby traffic and a security fence as it made its descent onto the runway. The plane coming from Madrid on flight 6313 came within meters of ongoing traffic and a wire-mesh fence surrounding airport runway No. 25.
No one was injured during the incident and no damage was reported as of Monday morning.
The incident sparked dozens of comments on social media from area residents, onlookers and motorists. Several residents in Heredia and Alajuela reported the aircraft shook their homes upon descent. One Facebook commenter said flight 6313 was so low, she could "see the screws" on the bottom of the plane.
However, no emergency landed was reported, according to an airport spokesperson. Multiple phone calls by The Tico Times to Iberia's office at Juan Santamaría International Airport went unanswered Monday morning.
The videos below show how close the Airbus A 340, which is 75 meters long and seats about 350 passengers, was to structures on the ground, missing the airport perimeter fence by only a few meters.
https://vimeo.com/141370392
"I've been working here at the airport for some years now and I can tell you I've never seen a plane fly so low upon landing on this side of the runway," wrote the poster in charge of a Juan Santamaría Facebook page, who works as a private security guard at the airport. "What can be said is that the pilots' calculation was misjudged, which is why they fly so close over the highway and the airport fence. To reiterate, 99 percent of landings are normal and done at a suitable altitude. The one yesterday was definitely out of line."
You may be interested