TURRIALBA, Cartago — After a morning of whitewater rafting with his family, President Luis Guillermo Solís signed a decree Saturday banning dams from the Pacuare and Savegre rivers for 25 years, then thrust the document into the air and said, "For Costa Rica!"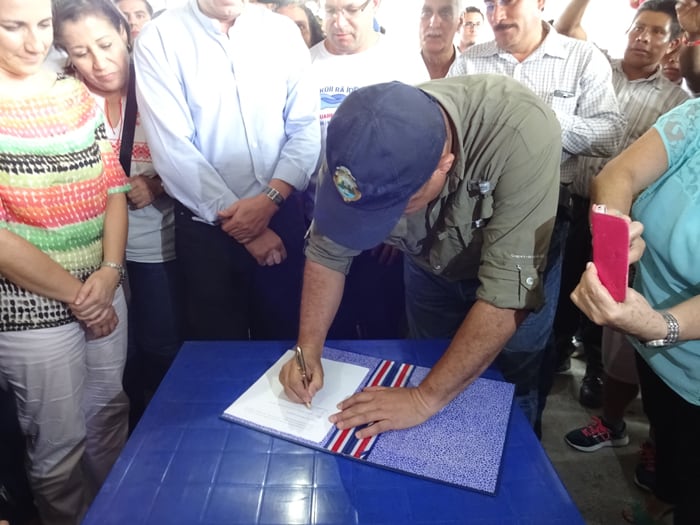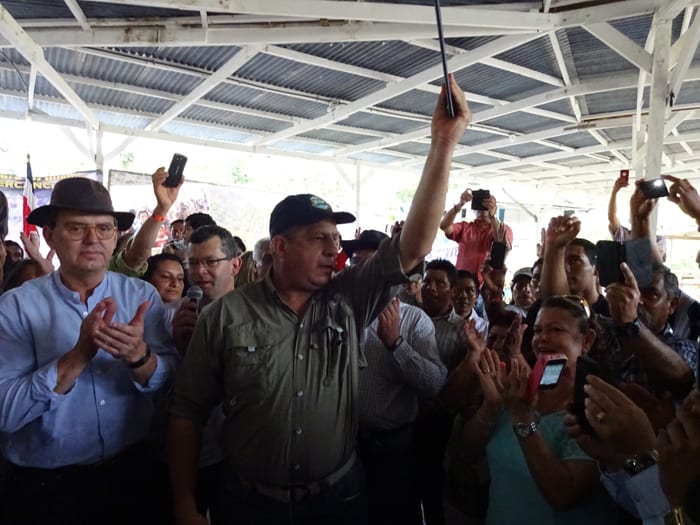 "Signing is the easy part," Solís said to volunteers earlier who took him on a short float down the Pacuare, his first rafting trip. "The hard part is the work that you have been doing for many years."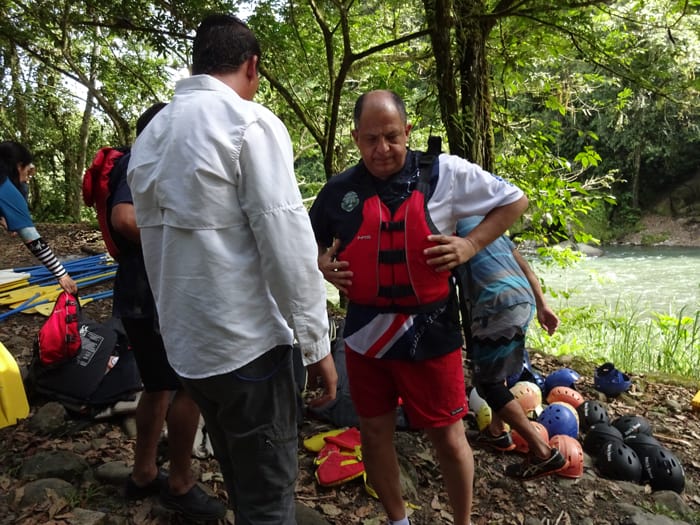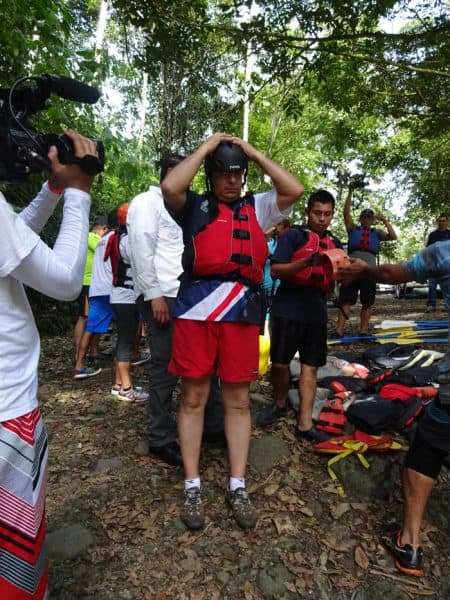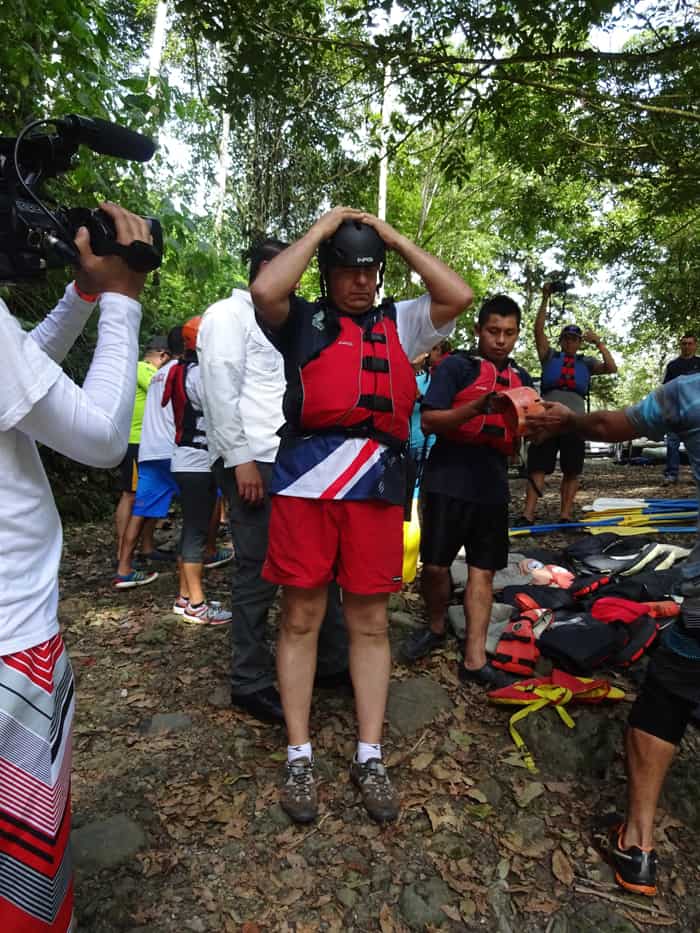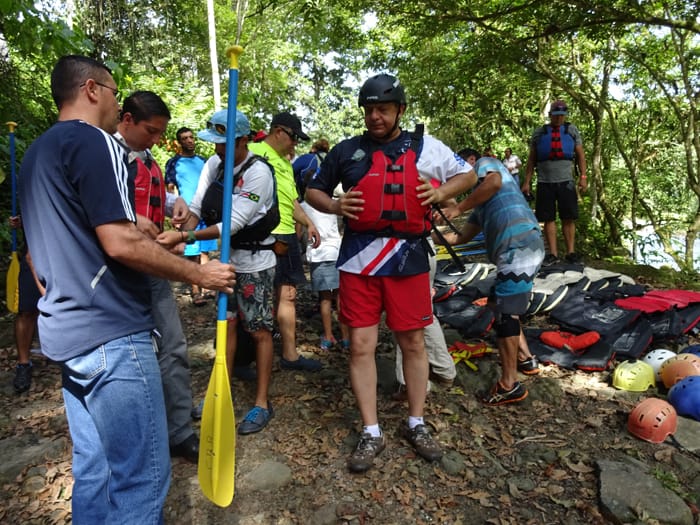 Solís, First Lady Mercedes Peñas, and daughter Inés, along with Environment Minister Edgar Gutiérrez, were briefed at the side of the river on the basics of rafting by longtime guide Luis Sánchez Hernández, better known as Luigi. Then with an "Adelante" from Luigi, they put their paddles in the water and began their float from a put-in near Rancho Bleak to a take-out in Tres Equis.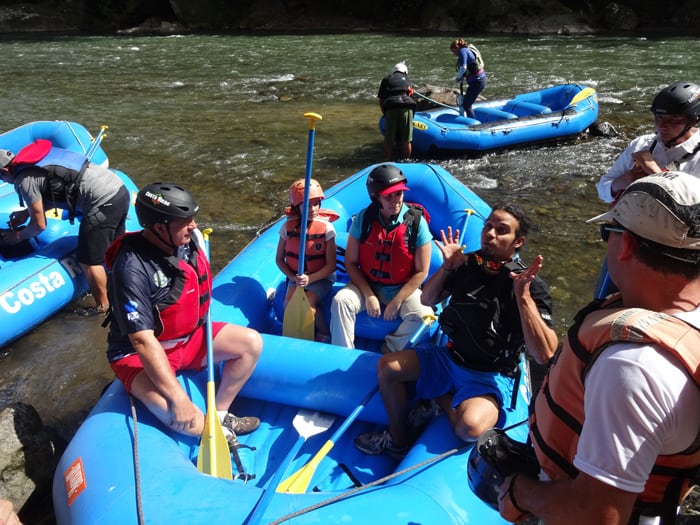 At one point the president, sitting in the right front, made a face when it looked like his side of the raft was going to crash into a boulder. But there were no mishaps aboard the presidential raft, and the first lady could be seen laughing as the boat was rocked by big waves.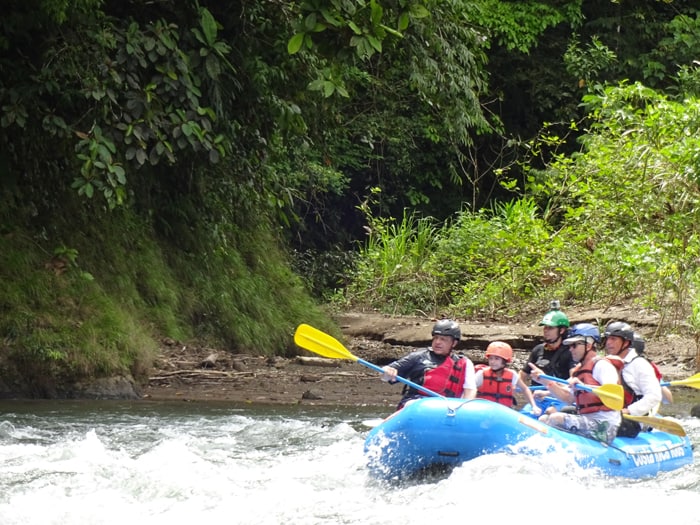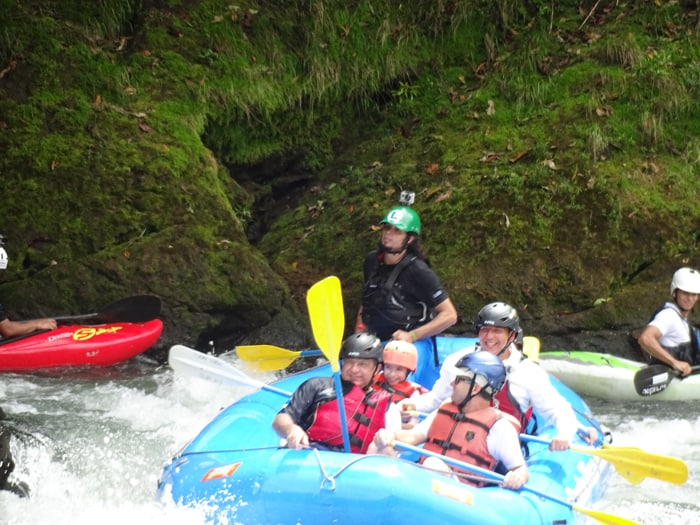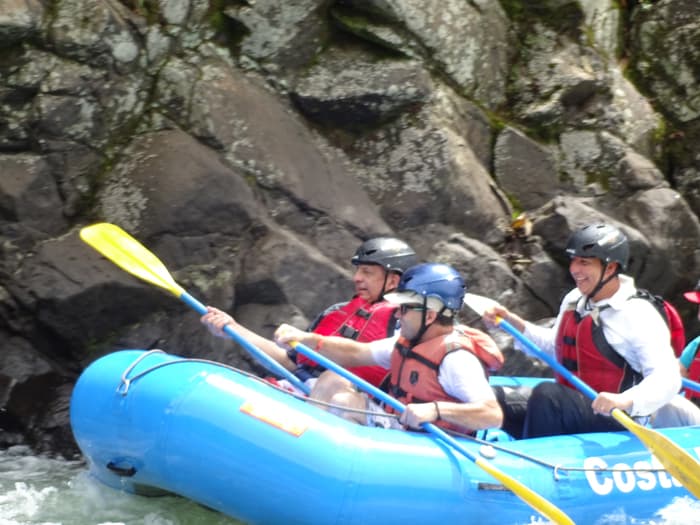 After the rafting, a large crowd gathered at the event center at Rancho Bleak (pronounced "Blake"), between Turrialba and Siquirres, for a forum in which community members and government officials spoke.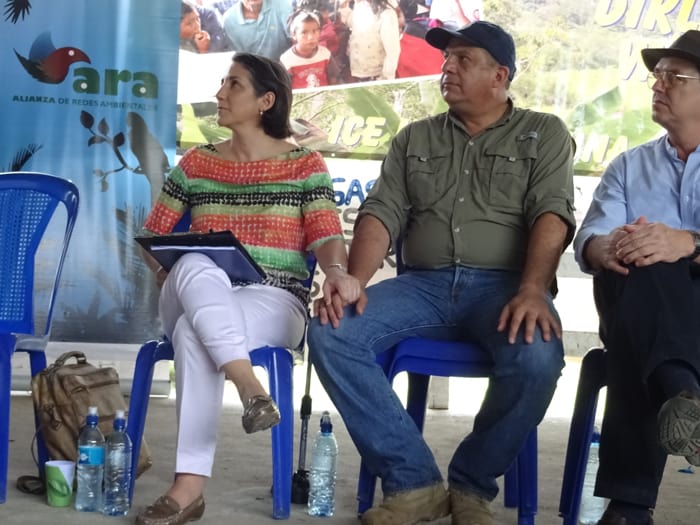 "It's really a great day," Gutiérrez said, "because we managed to demonstrate that people do count. The old way of doing politics, of doing government by imposition is over."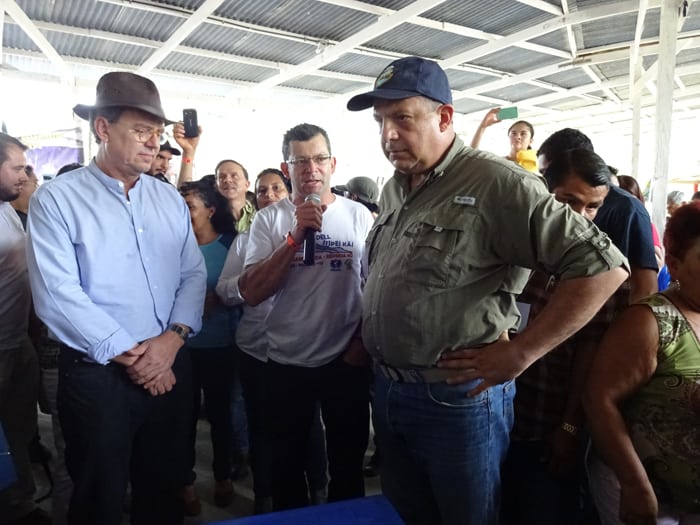 Gutiérrez said Costa Rica has achieved electrical coverage in 99.4 percent of the country, but it has come at a cost, including the "immense environmental impact" of the Arenal dam. But, he said, "we've managed to make this great country unique in the world, because today electricity is generated 100 percent from renewable sources; we aren't burning one liter of fuel to generate electricity."
He said that "when the people organize and demonstrate what they want in a respectful way, in a positive way," the Solís administration will help them achieve their goals.
"And today we're achieving one of those goals, which is to save the Pacuare River and the Savegre River for 25 years from hydroelectric dams," he said.
The decree applies to hydroelectric projects of 500 kilowatts or more and will be in force for 25 years unless overturned by a future president's decree.
In a 2005 plebiscite, 97 percent of the electorate of Turrialba voted against granting permits for building dams on the Pacuare. The Costa Rican Electricity Institute (ICE) has coveted the Pacuare's hydroelectric potential for decades, though it is not currently part of ICE's expansion plans because environmental studies are still being conducted — and because local opposition is immense.
Critics say an ICE dam would uproot the indigenous Cabécar community that lives along the river and destroy Costa Rica's best whitewater rafting.
After Gutiérrez spoke, Solís asked the audience to rearrange chairs to make a circle, in the middle of which a table was placed for the signing of the decree. Gutiérrez and Solís signed it, and the room exploded in applause and cheers. Activists who have worked years to protect these rivers from being dammed hugged each other, some with tears in their eyes.
"This is an act whereby we return power to you," Solís said after the signing.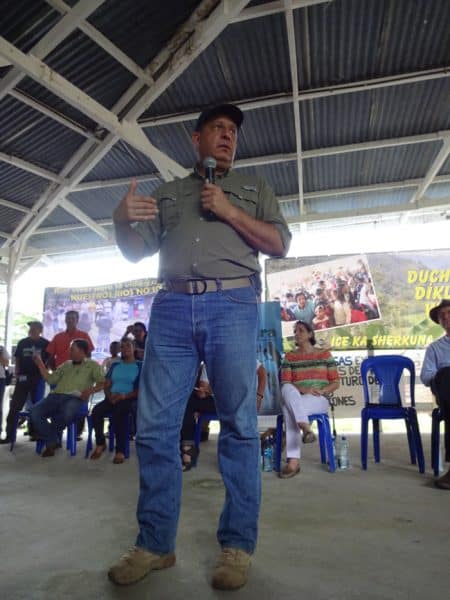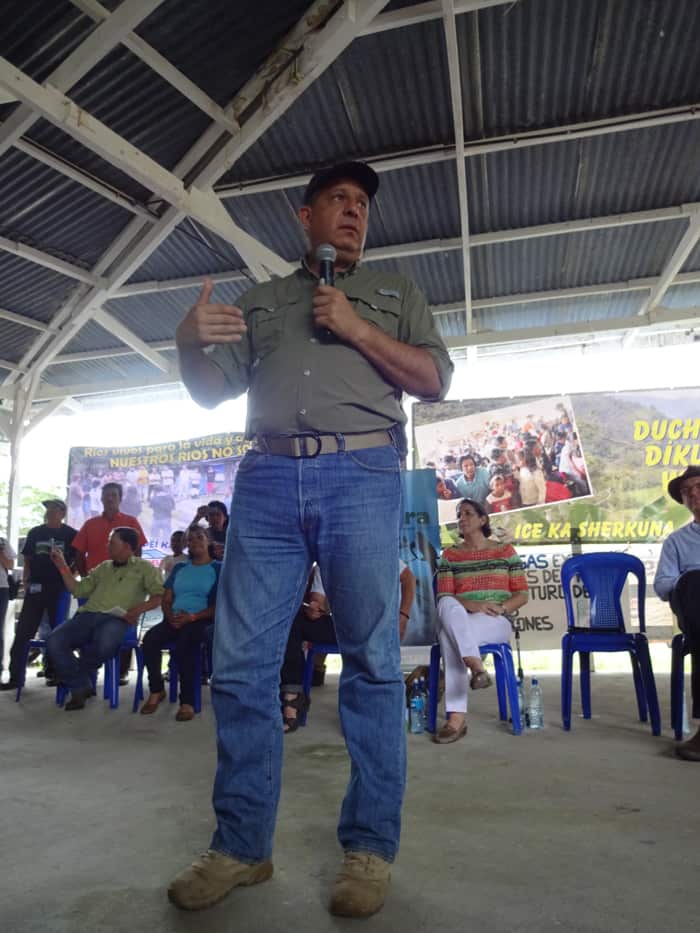 "I'm going to tell you this, the reality today conspires against the damming of water," he said. "The investors who want to produce electricity in Costa Rica aren't thinking of dams because they know that climate change doesn't facilitate that. But even more than that, the communities aren't going to permit it."
The audience, many of them from the local indigenous Cabécar community, applauded loudly.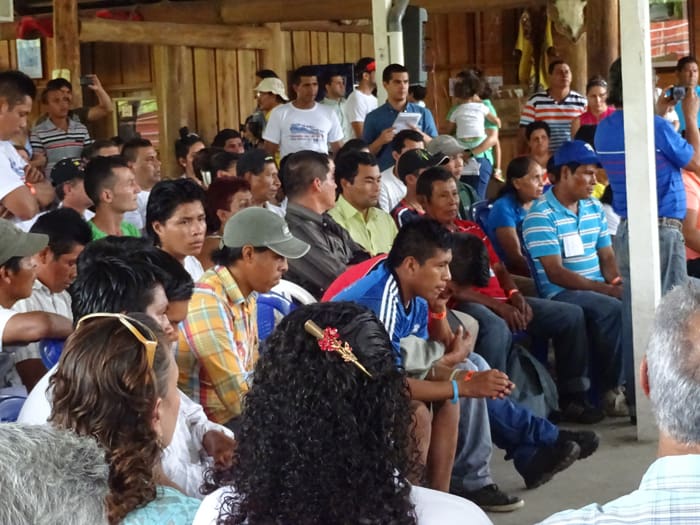 "What are the obligations we're going to leave to the generations yet to come?" Solís asked. "We need to learn from the lessons history teaches us and guarantee that we'll adopt best practices and not commit the same errors we've made in the past. …
"So, congratulations for what you've accomplished so far, but what's left to do is much more. What we're doing today is a testimony, nothing more, a testimonial expression of what this country can do in the future."
Contact Karl Kahler at kkahler@ticotimes.net.