NEW YORK – The United States accused football officials of corrupting a sport loved by billions Wednesday, warning that the investigation is not over and seeking the extradition of suspects arrested in Switzerland.
U.S. Attorney General Loretta Lynch unveiled the fruits of a complex, international investigation, spanning years, after seven soccer officials were arrested in Zurich in dawn-raids by Swiss police at the U.S.' request.
The 47-count U.S. indictment charges 14 football officials and marketing executives with racketeering, wire fraud and money laundering conspiracies that span 24 years beginning in 1991.
The officials are charged with conspiring to solicit and receive more than $150 million in bribes and kickbacks in exchange for their support of marketing executives who agreed to make the illegal payments.
"They corrupted the business of worldwide soccer to serve their interests and to enrich themselves," Lynch told a news conference in New York.
"This Department of Justice is determined to end these practices to root out corruption and bring wrongdoers to justice," she added.
U.S. officials would not be drawn on whether there would be further charges against senior FIFA figures not named in the indictment, and repeatedly refused to answer questions about the body's president, Sepp Blatter.
"It's a significant step but I want to be very clear, this is the beginning of our effort not the end," said Kelly Currie, acting U.S. attorney for the eastern district of New York.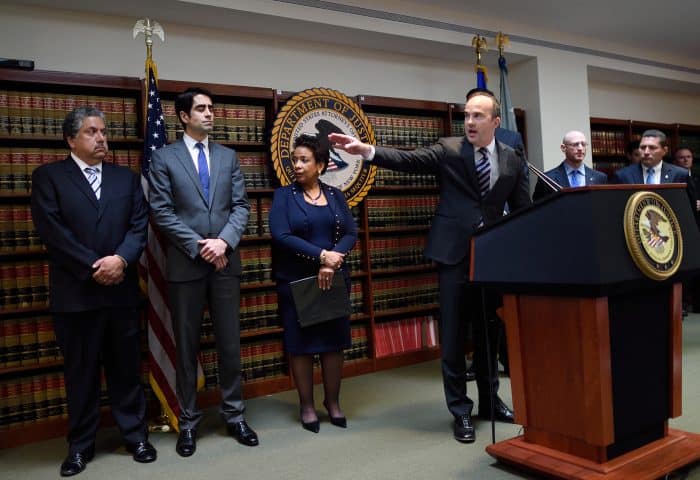 Beginning, not the end 
"We look forward to continuing our work with our international partners … to be ridding global soccer from this type of corruption."
Lynch said the U.S. investigation into kickbacks was separate but parallel to a Swiss investigation into allegations of bribery in the process of awarding the 2018 and 2022 World Cups to Russia and Qatar.
"Two generations of soccer officials," Lynch said, "used their positions of trust within their respective organizations to solicit bribes from sports marketers in exchange for the commercial rights to their soccer tournaments. They did this over and over, year after year, tournament after tournament."
Tens of millions of dollars had been discovered hidden away in offshore accounts in Hong Kong, the Cayman Islands and Switzerland, said Richard Weber, chief of the U.S. tax agency's criminal investigation division.
"It was a World Cup of fraud. Today we are showing them the red card," he said. "It is a great day for the global fight against corruption, money laundering or international tax evasion."
Citing as examples, Lynch said FIFA took bribes during the process that awarded the 2010 World Cup to South Africa, the first time that the tournament was held in Africa.
"Even for this historic event, FIFA executives and others corrupted the process by using bribes to influence the hosting decision," she said.
Lynch would not comment on the upcoming 2018 and 2022 World Cups, which are to be held in Russia and Qatar, but said, "I think FIFA has a lot of soul searching to do."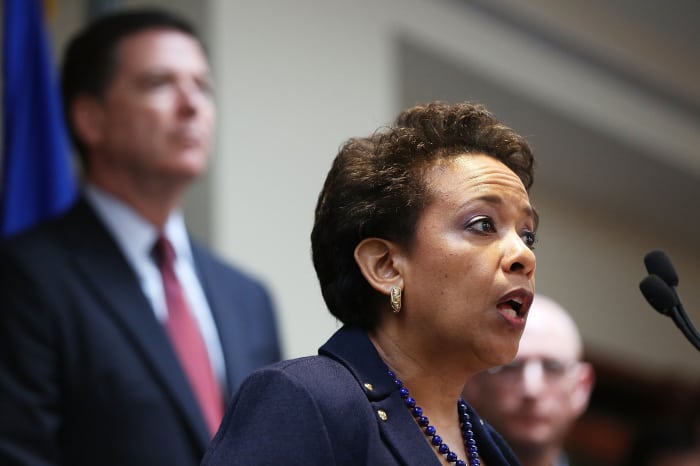 Seeking extradition 
The South African Football Association refused to comment on the U.S. investigation.
"Those are just allegations. No one is being investigated here," spokesman Dominic Chimhavi told AFP.
Lynch said bribes were also involved in the 2011 FIFA presidential election and that in preparation for the 2016 Copa American being held in the United States for the first time, $110 million in bribes were paid.
"Our investigation revealed that what should be an expression of international sportsmanship was used as a vehicle in a broader scheme to line executives' pockets," she said.
U.S. officials also announced that four individuals and two corporations have separately pleaded guilty. They include a U.S. citizen and a 71-year-old Brazilian sports marketing executive.
U.S. agents also began executing a search warrant at the Miami headquarters of CONCACAF, the continental confederation under FIFA in the United States.
Lynch said the United States was seeking the extradition of the defendants arrested in Switzerland and the arrest of the others, whom she said abused the U.S. financial system and violated U.S. law.
"We intend to hold them accountable," she said. "They will receive a fair trial if they are brought to this country."
The Swiss Justice Ministry said that six of the seven FIFA officials arrested in Zurich were opposing their extradition to the United States.
–
Here are the people arrested so far: 
FIFA officials:
Jeffrey Webb (Cayman Islands) – Current president of CONCACAF and FIFA vice president/executive committee member. Webb has held his position since 2012. Webb in 2014 called for the publishing of the Garcia Report, which documented allegations of corruption in the controversial bidding process for the 2018 and 2022 World Cups.
Eduardo Li (Costa Rica)– Current Costa Rica Football Federation president. Set to join FIFA's executive committee this week, Li also is a member of the CONCACAF executive committee.
Jack Warner (Trinidad & Tobago)– Former president of CONCACAF (1990-2011) and FIFA vice president/executive committee member. Warner retired in 2011 amid a storm of corruption and bribery allegations. His retirement ended all FIFA ethics proceedings against him. In 2013, the CONCACAF Integrity Committee published a report that Warner committed fraud against CONCACAF and FIFA and had misappropriated funds from FIFA.
Eugenio Figueredo (Uruguay) – Former president of CONMEBOL (South America), FIFA vice president and Uruguay federation president. A former player, the 83-year-old was president of CONMEBOL from 2013-2014 after serving as vice president from 1993-2013. He was in charge of Uruguay's soccer federation from 1997-2006.
Nicolás Leoz (Paraguay) – Former president of CONMEBOL (1986-2013) and FIFA executive committee member. The 86-year-old stepped down from FIFA and CONMNEBOL in 2013, citing health and personal issues. The resignation came after he was accused of taking kickbacks in the 1990s and an official for England's 2018 World Cup bid claimed Leoz had demanded knighthood in exchange for his vote.
José María Marín (Brazil) – Current member of FIFA organizing committee for Olympic soccer and former president of the Brazilian soccer federation. Marin headed Brazil's federation from March 2012-April 2015, and was in charge while the country hosted the 2014 FIFA World Cup. He is also on the committee for next year's Olympic soccer tournament in Rio.
Julio Rocha (Nicaragua) – Current FIFA development officer, former Central American Football Union president and Nicaraguan soccer federation president.
Rafael Esquivel (Venezuela) – Current CONMEBOL executive committee member and Venezuelan soccer federation president.
Costas Takkas (Cayman Island)– Current attaché to the CONCACAF president.
 –
Marketing companies executives:
Aaron Davidson (U.S.) – President of Traffic Sports USA and chairman of the board for the North American Soccer League.
Alejandro Burzaco (Argentina) – Controlling principal of Torneos y Competencia, a sports marketing business based in Argentina.
José Marguiles (Argentina) – Formerly in the broadcasting industry, allegedly intermediary who facilitated illegal payments.
Hugo and Mariano Jinkis (Argentina) – Controlling principals of Full Play Group, a sports marketing business based in Argentina.