"Mambo!" they cry.
Dancers stride across the stage, stand on tiptoes, swirl and leap. Men bend their legs, seeming to defy gravity as they crabwalk across the floor. Women kick so high that their knees nearly brush their foreheads. Skirts swish; dress shoes tap and swivel. The recorded music is jazzy and frenetic, heavy on the horns. Like a human amoeba, the mass of people divides into two distinct groups, until each cluster encircles its own pair of lead dancers. They clap and cheer, drunk with excitement.
It looks quite a bit like this:
Then the music peters out, and the energy dissolves. The frantic movement succumbs to entropy.
It is Tuesday afternoon, and this is the fifth hour of rehearsal. The performers have just had lunch, and they are now practicing the "mambo scene." The scene is big and complicated, requiring elaborate choreography and superhuman energy. But the mambo only lasts a few minutes, a splinter of time in a show that usually lasts two and a half hours.
This is the set of "West Side Story," the first production by brand-new theater company Luciérnaga Producciones. The performers have just received their newly tailored costumes, the Eisenhower-era suits and dresses worn in the original production. The stage of the Melico Salazar Theater is essentially empty, but soon the designers will erect a massive set, representing the brownstone tenements of New York City.
The scene shifts. New music starts up, quieter than before, a playful instrumentation. Several couples stiffly face each other.
In the middle of the stage stands Silvia Baltodano. She plays Maria, one of the doomed lovers in "West Side Story." She wears a white prom dress, one of the most memorable outfits in Broadway history. She leans into Miguel Mejía, the young actor who plays Tony, and they kiss cheeks. Then they begin to dance. It's slow and sweet, like the blossoming of young love.
Baltodano is 26 years old and was born and raised in Costa Rica. Playing Maria has been a lifelong dream. And it is her desire to star in "West Side Story" that has made all this possible: She is the main founder of Luciérnaga Producciones and the producer of this show. After years of training and planning, Baltodano's dream will finally come true, and a powerful art form – musical theater – will strike Costa Rica like lightning.
•
In person, Baltodano seems born to perform: She is attractive, emotive, and energetic. At any moment, she might splay jazz hands or burst into song. After spending much of her adulthood studying in the United Kingdom, Baltodano speaks English with a distinctly London accent, which can confuse people who meet her for the first time. In turns, Baltodano is warm, intense, opinionated, and freely mirthful.
Baltodano grew up near Hospital México in San José. Her father is a pediatrician and her mother is a cardiologist. When she was 15, some ambitious students at her school decided to produce "The Phantom of Opera."
"I was the only one to audition, so I got the lead," remembers Baltodano with a laugh. (She doesn't mention how the show went, although one can only imagine what a gaggle of high school students came up with.)
"I've always been a dancer," she says. "But I never saw it as a career choice." The same year she performed in the makeshift "Phantom," she started taking voice lessons as well. Around that time, she won a trip to New York City, where she saw her first Broadway show, "Cats." The colossal production sparked her imagination. It was love at first showstopper.
"I have a creative family," says Baltodano. One of her sisters is an architect, and the other is a professional dancer. "And my dad always says that medicine is an art," she quips.
Still, this type of musical theater has always been rare in Costa Rica, and the idea of actually working in the industry seemed hopelessly far-fetched. Instead, she planned to study communications at the University of Costa Rica in hopes of becoming a TV news anchor. At the time, broadcasting seemed like a perfect fit for her ebullient personality. But as Baltodano learned that performing on stage was a real possibility, she changed her course completely: She enrolled at the Canadian College of Performing Arts and moved to Victoria, Canada.
"It was the first time I left home," she recalls. She quickly bonded with her fellow students, a diverse and talented bunch with a shared dream of becoming theater professionals. She liked Canada, despite the weather, and quickly adapted to North American life. "I think it could have been harder, but I had such a great family there."
Instead of returning to Costa Rica, Baltodano was accepted to the Royal Central School of Speech and Drama in London, the same school that graduated Dame Judi Dench and Sir Lawrence Olivier. For three years, the renowned program rigorously trained Baltodano in acting, operatic singing, and dance. Days were long and grueling, generally lasting from 8 a.m. to 7 p.m., and it was rare that Baltodano had free time. But she relished her time at school, and she loved living in London. Her student visa allowed Baltodano to work as well, and she landed several acting gigs.
"My dream was always to study acting in London," she says. "I fell in love with that city. And I've always admired British actors. I never thought I was capable of doing it. I didn't think I was prepared. But London is the coolest city in the world. In the winter it can be a bit depressing, but there's so much to do all the time."
Once she graduated, Baltodano reached an impasse: She couldn't expect to survive in the cliquey, cutthroat world of English theater, nor could she hope to earn enough money to retain residency before her visa expired. She had mastered her skills, studying under legendary talents like Maria Friedman and Gillian Lynne. She had stayed afloat in the outrageously expensive city, working for a Mexican restaurant. She had made London her home. She lived most of her daily life in her second language. Yet Baltodano was still an outsider. To complicate matters, the school terminated its postgraduate program in her second year. The chances of her succeeding were slim.
"By that time, I was ready to return home," she says. "I missed it."
Baltodano came back to Costa Rica – but she would bring her hard-won education with her.
•
"I think there's been a thirst for musical theater for a long time," says Baltodano. "And this is the first time that we're doing something like Broadway that's produced 100 percent in Costa Rica."
Baltodano likes to think big: "West Side Story" is a professional production, and all the actors are receiving payment for their work. Luciérnaga Producciones is co-producing the show with the Melico Salazar Theater and the National Center for Music. Musicians from the Youth Symphony Orchestra will play in the pit.
Last October, Luciérnaga Producciones hosted auditions for "West Side Story," drawing no fewer than 300 people. Of those, 50 were selected to train for the show. The final cast consists of 33 people, most of them young, limber, and enthusiastic. For months, they have been hammering out the songs and choreography.
https://www.youtube.com/watch?v=DCjblEDuJ0w
Baltodano could have picked any musical from the Broadway canon, but "West Side Story" is symbolic in many levels. The story is based on William Shakespeare's "Romeo and Juliet," but instead of rival families in Renaissance Italy, the musical concerns rival streets gangs in 1950s Manhattan. The Jets are all-white teenagers and the Sharks are all-Puerto Rican, and they constantly taunt and fight each other in the streets.
During a high school dance, pacifist Tony runs into beautiful Maria, and they instantly fall in love. They keep their courtship a secret, but Tony is eventually swept up in the violence and his life spirals out of control. The ending is tragic, but it's more encouraging than Shakespeare's original.
When the play premiered, it was something of a coup: "West Side Story" was about bigotry, wayward youth, and interracial love. Leonard Bernstein's score relies heavily on bebop and (at the time) "modern" music styles. The choreography is largely balletic, but it also took its cues from beatnik parties and popular Caribbean dance. Stephen Sondheim wrote his first libretto for the show, and his lyrics are now revered throughout the world. Even people who think nothing of Broadway have heard of songs like "Maria," "Tonight" and "I Feel Pretty."
Producing a Spanish-language version of "West Side Story" accentuates its central concept: This is a play about the United States and Latin America, the meeting point between Caucasian and Latino cultures. While Bernstein, Sondheim, and playwright Arthur Laurents were all ethnically Jewish, the conflict takes place between crew-cut Jets and slicked-back Sharks, working-class borough accents versus the trilled R's of Spanish, mambo versus lindy hop. Despite all the race baiting and knife fights, love prevails, and the play ends with hope for an integrated future.
Similarly, musical theater is a distinctly U.S. tradition. Almost any high school in the United States produces a senior musical, and field trips to see a Broadway show are an adolescent's rite of passage. Not so in Costa Rica. The country doesn't have a long history of flashy musicals with big production values. Pura vida, yes; razzle-dazzle, no.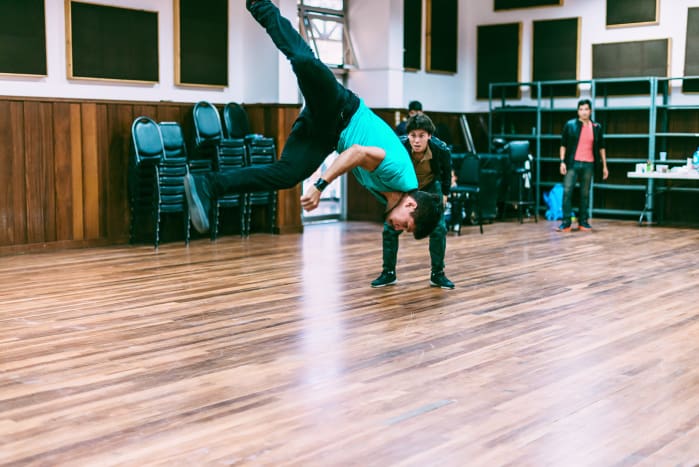 "I think the problem is that most people who have played Maria aren't Latin," says Baltodano. In the film version, for example, Maria was played by Natalie Wood, whose parents were Russian. "They're trying to be something they're not. And I'm not saying I have had the same experiences as Maria. But I have been a foreigner in a culture that's not my own, and that's something I can bring to my character."
Baltodano also notes that "West Side Story" may resonate with Costa Rican audiences, not just because of its Latin undertones, but because of its universal critique of violence.
"Even though 'West Side Story' takes place in 1957, in another country," she says, "it's something we experience here."
She uses as an example the conflict between Costa Ricans and Nicaraguan immigrants, and recurring gang activity in underserved communities like La Carpio. To drive the point home, Luciérnaga has invited 250 students and youths to see a Saturday matinée for free.
•
"I love to shop," says Iciar Telleria, as she places a shirt on a hanger in the Melico Salazar's dressing room. "But this was hard. Sometimes I pass a store and see something inside, and I say, 'That looks 1950s!'"
Hard is an understatement: As the production's costume designer, Telleria has to purchase or tailor 123 different outfits. Maria alone has seven different costumes, which have to be fitted in two different sizes – one for Baltodano, and one for her understudy. Such a massive volume of clothing indicates just how sizable this production is.
Born in Mexico, Telleria is an industrial designer who moved to Costa Rica three years ago. "But I have passion for fashion," she says with a chuckle. "Silvia told me she wanted to produce 'West Side Story' last year when we were visiting the beach. I said, 'You're crazy, bringing this to Costa Rica.' Then she asked me to be the costumer, and I said, 'Yes.'"
"We wanted to keep the iconic white dress, many elements from the original," Telleria adds. "But I want to put my signature on it. I want people to look at it and say, 'Wow.'" She then pulls out a dress that has the bright pastel colors of Fiestaware. "We call this one 'the piñata,'" she chortles.
In a sense, this desire permeates through the entire production: Stay true to a masterpiece, but add touches that are unique.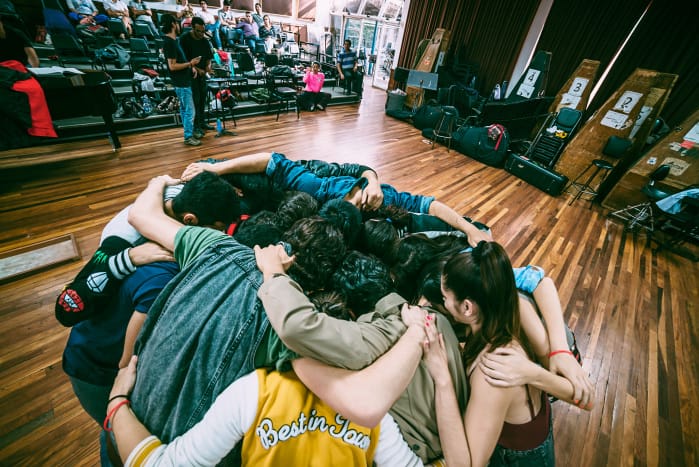 "It's hard," says Marysela Zamora, who is co-producing the show. "It's never been done, so you have no one to ask."
According to Zamora, the set design has brought together talent and labor from Veritas University, Gensler interior design company, and the Conico construction company. Simply drawing the blueprints took four months.
An experienced filmmaker and marketeer, Zamora lives in San Ramón de Alajuela, but "West Side Story" has become such an intense project that Zamora is crashing at Baltodano's house to make the commute easier.
Such dedication has become typical for this production. "West Side Story" only runs for two weekends, but if it is successful, it may catapult Luciérnaga Producciones into the spotlight and inspire others to produce musical theater. This is Baltodano's hope – that Costa Ricans will embrace the genre and cultivate local talent.
"If you think about it, how many people graduate from drama schools in England?" says Baltodano. "There are about 25 drama schools, and about 60 people graduate every year. There were a lot of people like me. But you come back here, and there's no musical theater industry. There's more space to create and do good things. I definitely couldn't be doing this in London. It's been amazing, because everyone in the cast wants to learn and grow. We're all learning so much from this experience. If lots of other musicals are being produced, and being done well, that will be a success."
"West Side Story" will be performed May 2-13 at the Melico Salazar Popular Theater, downtown San José. (First week) Sat., 8 p.m.; Sun., 5 p.m.; Tue & Wed., 7:30p.m. (Second week) Fri., 8 p.m.; Sat., 2 p.m. & 8 p.m.; Sun., 5 p.m.; Tue & Wed., 7:30 p.m. ₡13,000-37,000 ($26-74). Info: Event Facebook page.