WASHINGTON, D.C. — Russia has expanded its presence in Latin America in ways that signal "a clear return to Cold War tactics," the general commanding U.S. southern forces said Thursday.
"Russia is using power projection in an attempt to erode U.S. leadership and challenge U.S. influence in the Western Hemisphere," Marine Corps Gen. John Kelly, head of U.S. Southern Command, said in a statement submitted as he testified Thursday before the Senate Armed Services Committee.
As Russia's President Vladimir Putin accuses the United States of meddling in his backyard by backing the government of Ukraine against pro-Russian separatists, the U.S. general's report emphasized that Russia is stepping up its efforts to gain influence in the Americas.
"Periodically since 2008, Russia has pursued an increased presence in Latin America through propaganda, military arms and equipment sales, counterdrug agreements, and trade," Kelly said. "Under President Putin, however, we have seen a clear return to Cold War tactics."
Starting last year, a Russian intelligence ship has docked in Havana "multiple times conducting operations in the Gulf of Mexico and along the East Coast of the United States," he said.
Russia is courting Cuba, Venezuela, and Nicaragua "to gain access to air bases and ports for resupply of Russian naval assets and strategic bombers operating in the Western Hemisphere," Kelly said.
Related: Russia's Putin in Cuba, Nicaragua to rekindle Latin America ties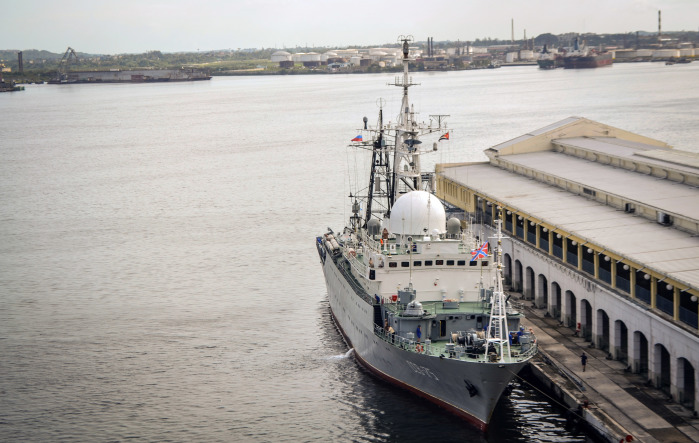 U.S. President Barack Obama has moved the U.S. toward normalizing relations with Cuba, over objections from some lawmakers who say the island nation's Communist regime can't be trusted.
Kelly also cited Russian media reports announcing that the country would begin sending long-range strategic bombers to patrol the Caribbean Sea and the Gulf of Mexico to "monitor foreign powers' military activities and maritime communications." He didn't say whether the U.S. has evidence that such flights have commenced.
Russia's activities don't pose "an immediate threat" but "underscore the importance of remaining engaged with our partners" in the Americas, Kelly said.
The closest the U.S. and what was then the Soviet Union came to nuclear war was during 13 days in October 1962 after the Communist nation secretly placed medium- and intermediate-range ballistic nuclear missiles in Cuba. The U.S. learned decades later that the Soviets also deployed 35 battlefield nuclear missiles and 40,000 troops, far more than the Central Intelligence Agency's best estimate at the time of as many as 12,000 troops.
Separately, Adm. William Gortney, head of the U.S. Northern Command, told the Senate committee that Russia "is progressing toward its goal of deploying long-range, conventionally armed cruise missiles with ever-increasing stand- off launch distances on its heavy bombers, submarines and surface combatants."
This non-nuclear weapon would augment "the Kremlin's toolkit of flexible deterrent options," if deployed, he said.
See also: Costa Rica's foreign minister accuses Russia of helping militarize Nicaragua and Nicaragua's Ortega defends military ties with Russia
© 2015, Bloomberg News