WASHINGTON, D.C. – It looks like the honeymoon is over for President Luis Guillermo Solís, who was elected last year by the biggest majority of any Costa Rican president in history, but whose lofty goals are now threatened by a worsening economy.
Evelyn Villarreal, a research analyst with the San José-based State of the Nation Program, spoke Feb. 10 at Washington's Woodrow Wilson Center. She appeared on a panel with experts from El Salvador, Guatemala and Panama in an event titled "Latin America's Electoral Cycle 2014-15."
In her 20-minute presentation, Villarreal called Solís' rise to the presidency "very atypical" for Costa Rica, considering only 8 percent of potential voters supported him in a December 2013 opinion poll, two months before the general election.
"His Citizen Action Party was a new, emerging party, not either of the two historical, traditional parties," she said. But in the general election, Solís and former San José Mayor Johnny Araya Monge of the National Liberation Party came in first and second. On March 6, one month before the required runoff, Araya suddenly withdrew from the race, effectively handing the presidency to Solís.
"People were not motivated to vote in the runoff," she said. "Nevertheless, Solís won with more than 77 percent of registered voters, the highest margin of any president ever."
Not even 10 months into his term, however, "people who think the president is doing a poor job outnumber those who think he's doing a good job," said Villarreal. "That's typical of governments in the first year, but Solís is losing political capital faster than his predecessors did."
Compounding the problem is a fragmented Legislative Assembly in which the president's PAC holds just 13 of 57 seats, with the largest bloc going to the PLN, with 18.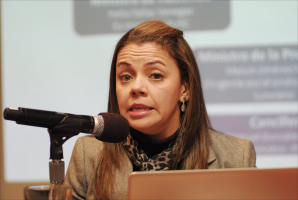 Villarreal, armed with an array of charts and graphs to make her case, explained that in Costa Rica – unlike the case in most other Latin American countries – the presence of political parties virtually disappears when there are no elections going on.
"Many parties don't even have physical headquarters. The largest have fewer than three buildings throughout the country," Villarreal said. "Some have no addresses, phone numbers or websites. There's no way you can even get in touch with them during non-election years."
At his May 8, 2014 inauguration, Solís pledged to run his administration as a "glass house" while fighting the corruption he said was "eating away" the country.
Yet Villarreal said the latest numbers aren't looking good for the president.
"Unemployment is going to climb to double digits this year, which is extremely critical for Costa Rica. Transparency and corruption are among the most serious issues, according to our opinion survey, and serious questions are being raised about the philosophy of the 'glass house' proposed by Solís," she said.
"Only one deputy is totally loyal to the president. The citizenry is much more dynamic and involved now, and has diversified its demands," she continued. "It's not just one cause, but now multiple causes and demands. Civil society is quite diversified."
Villarreal said that in the interests of fairness, "this government's been in power for not even one year of a four-year term. There have been recurring episodes of mini-crises, and for most of these episodes, the government has come off very well."
Yet her research shows a "negative assessment" of what voters think of Solís.
"In summary, he came to the presidency with a strong mandate and gambled with change. In these 10 months, it's been possible for the president to resolve major struggles appropriately, but not without it having led to some attrition of his political capital," she said, noting his "very poor communications strategy thus far."
According to an October 2014 survey by the University of Costa Rica, the president scored best when it came to public education (45.2 percent of respondents approved of his performance, versus 27.6 percent who said he was doing poorly), and the fight against corruption (44.7 percent said he was doing a good job, versus 33.9 percent who said he wasn't).
But the president's approval ratings were lowest when it came to bread-and-butter issues like road maintenance (18.5 percent), unemployment (11.8 percent) and cost of living (11.4 percent).
"What's striking is that those issues in which the Solís administration is rated poorest are the ones it has put at the center of its program, such as infrastructure and unemployment," she said. "The administration is under great pressure to show accomplishments and implement its development strategy. But it's not been possible to reduce the poverty level, and inequality is climbing substantially. Indeed, it's the only country in Central America that is seeing such a worsening of inequality."