A hostile and dangerous atmosphere is being created to thwart journalism in Guatemala ahead of elections, the Guatemalan Journalists Association, or APG, has warned.
Perpetrators hope to curb access to information and discredit journalists and columnists, the APG said in a Jan. 21 statement by its Press Freedom Committee.
As examples, the APG mentioned the cases of Juan Luis Font, editor of the weekly magazine Contrapoder, Spanish journalist Pedro Trujillo, a columnist with the morning daily Prensa Libre, and José Rubén Zamora, president of the daily El Periódico.
Reporting on the communiqué, Agence France Presse pointed out that Font and Trujillo have been criminally charged after criticizing Manuel Baldizón, a presidential hopeful in the September elections and a favorite in opinion polls.
Baldizón seeks the presidential nomination of the center-right Libertad Democrática Renovada party, which he founded in 2010.
Zamora "was legally persecuted by President Otto Pérez Molina and Vice President Roxana Baldetti for reporting in the newspaper alleged acts of corruption and illicit wealth," AFP reported.
In a separate incident, according to AFP, on Jan. 20, television news anchor Susana Morazán "was attacked by strangers who warned her to stop criticizing Pérez Molina's government."
The same day, journalists and other personnel of the community radio station Snuq' Jolom Konob', in Santa Eulalia, some 335 kilometers northwest of Guatemala City, "were attacked by a group of people, apparently sympathizers of Diego Pedro Mateo, the town's mayor," it added.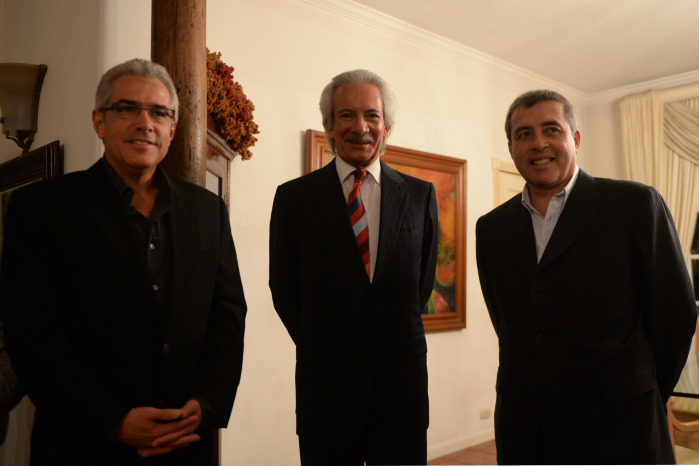 The APG committee pointed out that in Font's and Trujillo's cases, "the situation has worsened due to the fact that … the accusation was made by media allegedly at the service of a campaigning politician," whom it did not name.
The journalists' association stated that "resorting to legal means without basis, bending the truth, distorting facts or manipulating legitimate action guaranteed by law to protect rights is perverse and must be condemned."
"What is happening will lead us to unpredictable situations and undesirable clashes," the association warned, adding that, "besides repudiating a strategy aimed at discrediting journalists, this committee calls for respect for the legal system and for responsible attitudes befitting our role."
"We have knowledge of similar cases of which we already have reported, and the committee will follow up on all attacks aimed at curbing our constitutional rights," it stated.
In a lengthy, detailed report released last year and titled "Who is killing Central America's journalists?" the Committee to Protect Journalists (CPJ) noted that Guatemala – along with Honduras – provides a case study in attacks against members of the media in Central America.
"Amid the violence and instability caused by organized crime and corruption in Central America, Honduras and Guatemala have experienced an alarming rise in the number of murders and attacks against journalists," the CPJ stated.
"Near complete impunity for these crimes means cases go mostly unsolved and the motives are unexplained. As fear grips newsrooms in both countries, critical media outlets and journalists find they are reined in by governments increasingly intolerant of dissent," it added.
"Both countries — two of the deadliest, according to U.N. statistics — are plagued by impunity, and in neither case is it clear who or what is behind the violence," according to the CPJ.
"This uncertainty has exacerbated the tense environments in Central America, which is experiencing widespread violence and a breakdown of the already limited rule of law due to a rise in organized crime," the report added.
Among the causes, the CPJ cited "lingering divisions and institutional weakness from political violence and conflict in the 1970s and 1980s, coupled with the influx of gang members deported from the U.S. and Mexican drug cartels."
The CPJ – which describes itself as a nonprofit organization run by journalists and promoting press freedom worldwide – referred to the internal wars being waged at the time between local guerrillas and national armies.
After a complex negotiating process, the governments of Costa Rica, El Salvador, Guatemala, Honduras and Nicaragua signed on Aug. 7, 1987 in Guatemala the "Procedure to Establish a Firm and Lasting Peace in Central America."
The document led to the end of armed conflicts in Nicaragua (1982-1990), El Salvador (1982-1992) and Guatemala (1960-1996), which produced hundreds of thousands of victims.
According to the committee, "in the capitals Tegucigalpa and Guatemala City, much of the press corps worries that the space for critical reporting is shrinking under governments they view as intolerant to dissent."
"In both places, lingering political polarization from earlier social conflicts and long-standing rivalries have left the press divided and reluctant to unite against common threats. As a result, the Honduran and Guatemalan public is being deprived of information at a moment of intense challenges for their countries," it warned.
"Responding to pressure by local and international civil society, the governments of both countries acknowledged the dangers facing journalists, and in 2012, publicly endorsed creating protection mechanisms modeled after Colombia's successful program. For more than a year, both programs faltered," it reported.
In Guatemala, that initiative is called the Journalists' Protection Program.
For several years, the country has ranked among the top 30 most dangerous countries – among an average of 120 – for the practice of journalism, according to annual reports by the Press Emblem Campaign, a Geneva-based, international nonprofit organization to protect journalists.
In 2010, Guatemala ranked 27th, with one journalist killed that year. In 2011, the country ranked 26th, and in 2013, it ranked 10th, with four journalists killed.
On Oct. 7, 2014, the APG committee issued a communiqué stressing the need for journalists to take part in drawing up the program, a point made by international experts.
"Trust is a key element in a protection mechanism, and at this moment, when most aggression comes from State spheres, the Press Freedom Committee considers the State is not only failing to fulfill its obligation to prevent, protect and punish, but, also, there are flagrant violations of the constitution" and other regulations, it added.
"This committee backs the legitimate demands by those who have promoted this mechanism, and demands they be added in order for the goal, which is the profession's protection, to be fulfilled," the APG stated.
"It demands the government cease aggression against journalists … by authorities at all levels, by the National Police, among other perpetrators of violence against journalists, and that violations of freedom of thought, freedom of the press and access to information cease," it stated.