The 22nd Ruta de los Conquistadores bike race kicked off this morning, and a new cohort of wheelsmen will battle for first place. As usual, the competition touts itself as "the toughest mountain bike race on the planet." But is that true? And what makes the Ruta so particularly hard?
While it's a fun moniker, the "toughest" mountain bike race is impossible to gauge. But the Ruta is a long, exhausting, punishing race for many reasons, and in order to fully appreciate what these conquistadores are up against, here are some facts about Costa Rica's most famous endurance event.
They bike across the country
Sort of. The route begins in Jacó, the central Pacific beach town in the middle of Puntarenas province, and winds its way to the National Technical University in Atenas, a coffee town northwest of San José. (Most commuters don't enjoy driving this distance, much less biking it). The race resumes in Tres Ríos, Cartago province – skipping much of the Central Valley, presumably because the congested traffic and multi-lane highways aren't really condusive to mountain bikers – and ends in Turrialba, about 60 kilometers east of the capital. The third day's ride is a straight shot from Turrialba to Puerto Limón, on the Caribbean coast, although you can't really call that leg straight, exactly. The total distance is about 260 km (or 161 miles).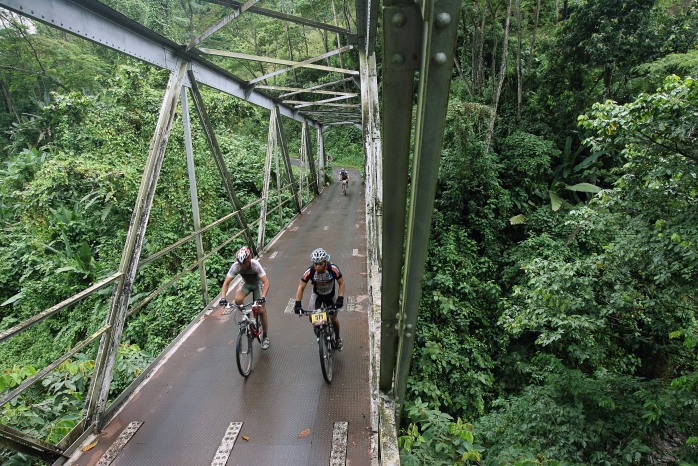 It's back-country biking
Instead of cycling on pavement, as we recently saw during the Tour de France, the Ruta de los Conquistadores takes place largely on ruddy dirt roads and single-track trails. These racers have to pedal over rocks, mud, tree roots, and unpredictable inclines. In some cases, they have to cross creeks and trestle bridges by carrying their bicycles over their heads. A sturdy mountain bike is weighty and unwieldy, but it has to be durable to survive the trip.
Heat and elevation
Most serious cyclists practice in all kinds of weather and geography, but the first push is a precipitous climb from sea level to 698 meters above sea level (that's about 2,300 ft.) But keep in mind that much of Costa Rica's terrain rises and falls, so the cumulative ascent is 6,400 meters (21,000 ft.), which is slightly higher than the summit of Denali, the tallest mountain in North America. Meanwhile, there's the tropical heat to deal with: Puntarenas and Limón are pretty hot year-round, and there is always the danger of exposure and heat-stroke.
It's timed
One of the most famous (and grueling) adventure races in the world is the Great Divide Mountain Bike Route, which spans from Canada to Mexico and through the Rocky Mountains. The only "easy" part of riding the GDMBR is that racers don't have to keep pace. But during the Ruta de los Conquistadores, racers can't just stop whenever they want; they have to finish their segment in a certain amount of time or be disqualified.
The competition
Not just any cyclist is willing to pay $1,650 to enter a race, much less fly to Costa Rica to compete. (Costa Rican residents pay $550, but still). These are some of the most aggressive athletes in the world, and you won't find one weakling among them. (Although it is true that just about anyone can sign up). Like the Iron Men of bicycling, the conquistadores have a shot at serious glory – and just finishing the race may be a once-in-a-lifetime accomplishment.
The Ruta de los Conquistadores continues through Nov. 8 and concludes in Puerto Limón. For more information about the race, visit the official website.