When we picture waterparks, we think of shining afternoons – days so bright and hot that the water ripples with sunlight. Children splash with élan, parents soak up rays in reclining chairs, teenagers toss beach balls. Everywhere bodies slip down long slides, crashing into the pools and making onlookers squeal. This is the stuff of postcards, the images that scream, "Wish you were here."
We don't picture an overcast Monday, the air cool and moist, the park nearly devoid of people. Holidays are usually good for tourism, but not Costa Rica's Independence Day, when pretty much everybody is attending a parade or enjoying a day at home.
Yet this was my only chance to visit Kalambu, the waterpark that had just opened outside of La Fortuna. I was in the general vicinity already, and I had driven through rain and mist to reach its gates. If I was going to visit Kalambu in the foreseeable future, I would have to go now.
"Welcome!" said the chipper young man at the ticket booth.
"Thank you," I said. "One, please?"
"One?" he said. He hesitated for a split second, as I knew he probably would. What 34-year-old visits a remote waterpark on a drizzly day, much less alone? Surely somebody was joining me. But no, it was just me, hands clumsily stuffed into the pockets of my cargo shorts.
The moment was awkward enough, but the woman who stood nearby was crushingly attractive and friendly, the kind of twenty-something every breathing heterosexual male yearns to date in college. Her presence made everything worse. She worked for Kalambu and was clearly waiting for me to finish paying admission so she could show me around. And here I was, flying solo in a park that was obviously designed for vacationing families and their young offspring. I felt like 85 kilos of pure security risk.
But the two staffers printed my receipt and wrapped a waterproof band around my wrist, careful not to entrap any arm hair – and never once did they stop smiling. I thanked the cashier, who offered a cheerful "¡Pura vida!" His compañera escorted me through the entrance and gestured toward the park.
"This is the children's area here," she said, pointing to a large structure filled with slides and topped with a giant bucket. "Over there is for the adults. You can rent a locker over there. It's only 1,500 colones."
As she gave me directions, the giant bucket – which was designed to look like an old-timey water tower – overturned on its axis points and dumped water all over the screaming children below.
I thanked her profusely and headed toward the lockers.
I had never really been to a waterpark, but when I received a press release from Kalambu, I was curious. Not because it was a waterpark, but because it was a thermally heated waterpark.
•
Unlike amusement parks and regular public swimming pools, waterparks basically didn't exist until the 1940s, and they were slow to catch on. A waterpark requires enormous volumes of fresh water, chlorinated and pumped aggressively through a complex plumbing system. But according to the World Waterpark Association (yes, there is such a thing), the real waterpark pioneer was George Millay, who created Wet 'N Wild in Orlando, Florida, in 1977. Millay also founded SeaWorld, for what that's worth.
Not surprisingly, most waterparks exist in North America, which boasts more than 1,000 of them, while the rest of the world has about 600.
Costa Rica's most famous waterpark is Ojo de Agua, which stands on a natural spring and pumps its water to Puntarenas. Many of my Costa Rican friends hold a classist view of Ojo de Agua, just the way friends in the United States make fun of Wildwood, New Jersey, but the humor is lost on me, and someday I'd be curious to go. (Coming from New England, I'm unaccustomed to being able to swim outside anytime of year, give or take a tropical rainstorm).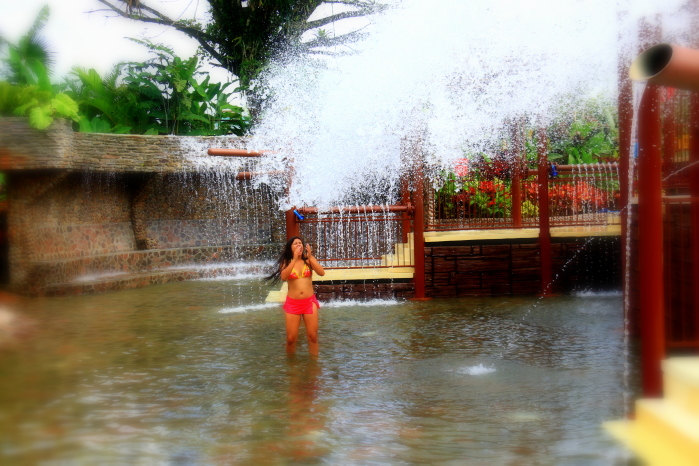 But Kalambu is different: The park stands just a few kilometers outside of La Fortuna, on the road to Lake Arenal. Like many of the high-end resorts that cluster along the edge of the volcano, Kalambu harnesses its metamorphic energy in order to heat its thermal pools. In theory, Kalambu isn't just fun in the sun: It's also a place to soak in naturally warmed waters, like a spa.
That was enough incentive to go. Kalambu celebrated its grand opening on Sept. 13. Two days later, on Independence Day, I had an appointment just north of La Fortuna. The timing was perfect.
 •
"This one," said the businesslike park employee, "is slow." He pointed to one of the slides. "This one is fast. And this one – this one is really fast."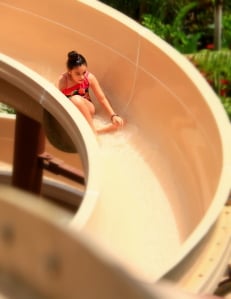 In order to reach the slides, you have to climb a tall platform that overlooks the park, and by the time I reached the top, the clouds had cleared away from Arenal Volcano. I paused to take in the view: The newly finished park looked nice, with its multiple pools and freshly roofed buildings, although it was clearly a work in progress. Just beyond the walls lay stretches of gravel and dirt, darkened by recent rains. Building materials and construction equipment were still piled on the fringes. Kalambu had opened, but expansion seemed imminent.
The slides were the usual plastic tubes that curl around each other, their floors full of running water. I opted for the slide with medium velocity and sat down. The park employee signaled to someone far below, gave a thumb's up, and said, "Go!"
The water swept me down, and soon my face was subsumed in froth. I couldn't see anything. As my body flew down the tunnel, water sloshed violently around me, and I realized that the only slides I had ever used were comparatively short. I felt myself plummet faster and faster, my eyes stung by the blinding torrents. I wanted to press my palms against the walls, but I had been instructed to cross my arms like a mummy.
When the slide spat me out, I smashed into the water with incredible force, my head falling backward into the pool, forcing me to spin completely around. When I surfaced, I spat, sneezed out water, and cackled with delight.
The slowest slide proved to be the most enjoyable – an elegant glide down long curves, until the slide gently deposits you back in the pool. The fastest was different: It was an actual slide, uncovered, so that the slider can see his fate. From the top of the platform, it seems like a straight vertical drop. Riding down the slide felt like jumping off a water skyscraper and raking my body down the windows as I fell. Except awesome.
I made my way to the inflatable tube ride, which stood only a short distance away. Kalambu has a variety of inflatable tubes, some as small as truck tires, others as large as fishermen's rafts. I lifted the smallest tube out of the water and made my way to the second platform. Another smiley park employee gave suggestions as to how to mount it: I could sit up, lie back, or even lie on my stomach. After a quick thumb's up, he pushed me into the water and I started my descent.
Known as "The Mammoth," this ride is described in press materials as "374 feet of exhilarating madness from over 4 stories high!" The madness is like a slower, sillier version of whitewater rafting: The tube bounced against the walls of the chute, whirling around and around, so that for half the ride I was facing backward. The suspense softened, and the last few whirls were relaxing. I plunked back into the pool, landing awkwardly, and fell clear off the oversized donut.
The larger inflatable craft are designed for more people – up to four at a time – and there is no shortcut to the top. Because there were no lines (or even many other people), I huffed my way up the staircase, heaving the raft over my head. It reminded me of portaging a canoe; for everyday toys that were mostly full of air, they were surprisingly heavy. I promised myself to restart my weightlifting regimen when I got home.
•
Waterparks are hokey places, the stuff of Winnebago vacations and Chevy Chase movies. As the global water crisis becomes more urgent, the public will likely become more critical of such frivolous uses of water, no matter how it is received or reused. While water is hardly scarce in the San Carlos region, Costa Rica's tourism sector has stirred plenty of controversy with the way upscale resorts use water resources.
But for what it is, Kalambu is a pleasant diversion: The staff is impeccably friendly and accommodating. While the restaurant wasn't yet open, the snack bar was, and their cheese-drizzled burrito reminded me of summers at the county fair. Coming on a Monday meant never waiting in line, a luxury that few visitors would ever enjoy. At times, I felt like I had the entire place to myself.
Then I slipped into the thermal pool, where the water was significantly warmer than the air, and guests gathered beneath the synthetic waterfalls. Clouds drifted past the volcano, occasionally dispersing enough to reveal its jagged summit. Teenaged couples waded toward the corners of the pool to vigorously make out. Fathers held infants in the air, making cooing noises.
I don't expect to return to Kalambu, unless I have to babysit a child or two. But I could see that the place had potential. If the park expands, it will draw international attention. Water rides and thermal pools and a view of a perfect volcanic cone? For the suburban vacationer who prefers an antiseptic alternative to actual rivers, Kalambu will fit the bill.
After a couple of hours, I decided it was time to go. I plodded toward the lockers, toweling off as I went. But then I paused.
Just one more trip down the medium-fast slide, I thought. For old time's sake.