China surpassed the European Union in levels of pollution per capita for the first time last year, propelling to a record the worldwide greenhouse gas emissions that are blamed for climate change.
The findings led by scientists at two British universities show the scale of the challenge of reining in the emissions damaging the climate. They estimate that humans already have spewed into the atmosphere two-thirds of the fossil fuel emissions allowable under scenarios that avoid irreversible changes to the planet.
If pollution continues at the current rate, the limit for carbon will be reached in 30 years, the scientists concluded in a report issued on the eve of a major United Nations summit designed to step up the fight against climate change.
"We are nowhere near the commitments needed to stay below 2 degrees Celsius of climate change, a level that will be hard to reach for any country, including rich nations," said Corinne Le Quere, co-author of the report and a director of the Tyndall Center for Climate Change Research at the University of East Anglia, England. "CO2 growth now is much faster than it was in the 1990s, and we're not delivering the improvements in carbon intensity we anticipated 10 years ago."
Each person in China produced 7.2 tons of carbon dioxide on average compared with 6.8 tons in Europe and 1.9 tons in India in 2013, according to the study by the Tyndall Center and the University of Exeter's College of Mathematics and Physical Sciences.
China passed the U.S. in terms of overall carbon emissions seven years ago and remains the world's biggest fossil fuel emissions producer. The academics projected global emissions will rise 2.5 percent in 2014, driving to total carbon pollution to a record 40 billion tons.
The report set out a budget of 3,200 billion tons of carbon that can be emitted into the atmosphere to have a two-thirds chance of keeping global warming to 2 degrees Celsius, or 3.6 degrees Fahrenheit. Of that budget, only 1,200 billion tons remain to be emitted before concentrations of CO2 in the atmosphere will make climate change dangerous, the report said.
Temperatures have already increased by 0.85 of a degree since 1880, and the current trajectory puts humanity on course for a warming of at least 3.7 degrees Celsius, the U.N. has estimated. That's quicker than the shift in the climate when the last ice age ended about 10,000 years ago.
Those risks include greater temperature swings, rising sea levels, melting glaciers, more pervasive heatwaves and increased water shortages in areas stressed by drought, industry demands and rising populations.
"The time for a quiet revolution in our attitudes toward climate change is now over," said Pierre Friedlingstein, a University of Exeter professor who was lead author of a paper on the issue in the journal Nature Geoscience.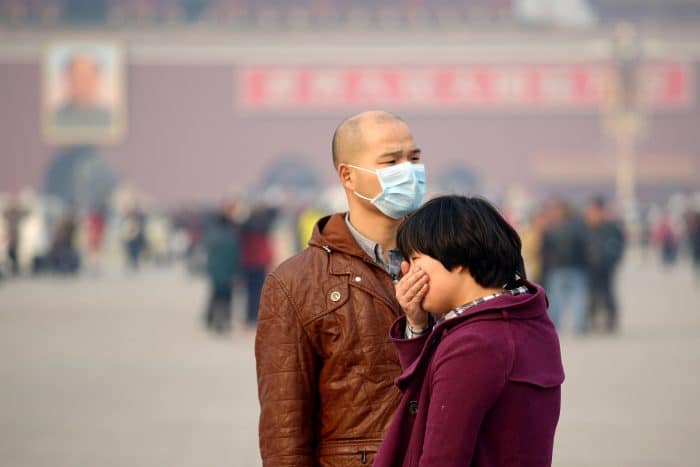 Emissions must fall by 5 percent or more a year for several decades to keep the world from warming more than 2 degrees, according to the report known as the Global Carbon Budget.
A separate study provided some hope that the pace of emissions growth could be reversed in China. Demand for coal in the Asian nation may peak as soon as this year, according to the Carbon Tracker Initiative compiled by a London-based non-profit group that joined the university academics in warning that fossil fuel burning must be halted.
"There are a host of signals that Chinese demand for coal is close to peaking which will cause a seismic shift in the market," Anthony Hobley, chief executive officer, wrote in a report. "This is potentially a risky business for investors."
Last week, Chinese officials vowed to cut carbon emissions per unit of gross domestic product by 50 percent by 2020 when compared with 2005 levels. The National Development & Reform Commission said it would cut the burning of the most polluting forms of coal and stabilize emissions from the steel and cement industries.
Recommended: Big Oil's heirs join call for action as climate summit opens
The New York summit organized by U.N. Secretary-General Ban Ki-Moon is intended to inject fresh momentum into negotiations aimed at producing a global climate-protection treaty at a conference in Paris in December 2015. Envoys from 190 nations are being asked to make pledges for cutting emissions that apply both to rich and poor nations starting in 2020.
While U.S. President Barack Obama will attend the meeting, the top leaders of China, India and Germany won't be there. The EU, China, U.S. and India together accounted for almost two-thirds of global emissions and 80 percent of the growth in pollution, according to the academic study.
"Annual emissions eventually have to go down to zero this century if we want to stop warming," Le Quere said in a phone interview. "I don't think that has sunk in with world leaders yet."
Emissions grew 4.2 percent in China, 2.9 percent in the U.S. and 5.1 percent in India last year. The EU's pollution level declined 1.8 percent because of weaker economic growth.
While China's pollution is mainly due to its use of coal — the country gets about 65 percent of its energy from the dirtiest fuel — 16 percent of its emissions come from exported goods, for example to Europe, Le Quere said.
China, which has the world's biggest installed renewable-energy capacity after it boosted electricity production from wind turbines and solar panels, last week pledged to cut carbon emissions per unit of industrial GDP by 50 percent in 2020 compared with 2005 levels.
© 2014, Bloomberg News