As you stroll through Barrio Amón, you could walk right past the entrance to Fundación Camaleonart without even realizing it. The building is old, but the dynamic new gallery opened only a few weeks ago. While the four founding artists have settled into their new venue, there is still a lot of work to do: By the time Camaleonart is running at full capacity, they will have a school, gift shop, and café. Visitors will be able to order takeout Italian lunches or even schedule a Reiki session.
Camaleonart's founder is artist Amirah Gazel, an energetic woman with a cosmopolitan life: She was born in San José to Costa Rican and Lebanese parents, and she lived for 25 years in Belgium. Unlike the artist who toils in private, Gazel has always been extremely collaborative, and her oeuvre includes painting, collage, sculpture, drawing, and even masks. She is drawn to metaphysics and existential philosophy, and her artistic specialty is surrealism.
"Surrealism is about thoughts, expression, dreams," said Gazel during a recent visit from The Tico Times. "It's counter to the system."
After so much time in Europe, Gazel returned to Costa Rica, and Camaleonart found its roots about four years ago. After basing operations in Barrio México and Escazú, Gazel and her collaborators headed east to their new headquarters in the increasingly bohemian neighborhood of Barrio Amón. There are four partners in total − Argentinian painter Miguel Lohlé, Italian photographer Gaetano Andreoni, and multidisciplinary artist Armuló.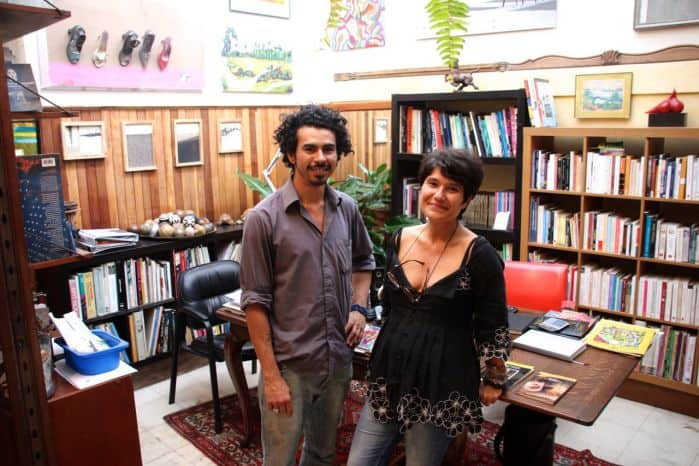 The building was ragged when they first arrived, but after many months of renovation, Camaleonart hosted a well-attended gallery opening on Sept. 6. The facility is deceptively large: Corridors weave among offices, classrooms, dens, and a generous central atrium. The art school has already enrolled three students, and they plan to host three to four classes per week, with four to six students in each class. The bistro should be ready to serve lunch in about three weeks.
What is particularly striking is the volume of art already decorating the rooms: The walls are covered in paintings, sculptures stand in the corners, and books cram the shelves. The place looks years old. With any luck, Fundación Camaleonart will be a permanent fixture.
For information and updates about Fundación Camaleonart, visit the organization's Facebook page.