What's in a name? For many transgender Costa Ricans, a lot. Starting with the fact that in many cases, the names on their government-issued IDs have nothing to do with self-image or identity.
Karolina Malone Esquivel, 24, told The Tico Times that she began her transformation from boy to girl at the age of 14. But since graduating high school, she said it's been impossible to find work. And that discrimination starts with the name on her cédula.
"I've left résumés, I've gone everywhere and no one ever calls me," said Esquivel, who joined several others on Aug. 28 in a protest in front of the Supreme Elections Tribunal in San José, where the Civil Registry is located.
She arrived well dressed, her honey-colored hair streaked with shades of brown. Her clothes were pressed, her nails long, and makeup flawless.
"They create barriers for us. For example, I could say my name is Luis, Carlos or Pedro, but I don't feel I'm a man. I need a feminine name that goes with my image," Esquivel said.
Anyone can change his or her name in Costa Rica free of charge, in a simple bureaucratic process at the registry, as long as the new name is of the same gender as the birth name. And herein lies the problem for transgender Ticas and Ticos.
Those who can afford it can hire private lawyers to fight for the procedure in court. But many attorneys are aware of the difficulties transgender citizens face, and they charge exorbitant rates, according to members of Transvida, an advocacy group that organized last week's protest.
Typically an attorney charges transgender clients about $560 for a name change, and that doesn't include extra fees for the time spent before judges. Transvida argues that this is discrimination.
"Many attorneys are familiar with the procedure to change a name, and they'll do it, but only in exchange for outrageous fees," demonstrator Pamela Fernández said.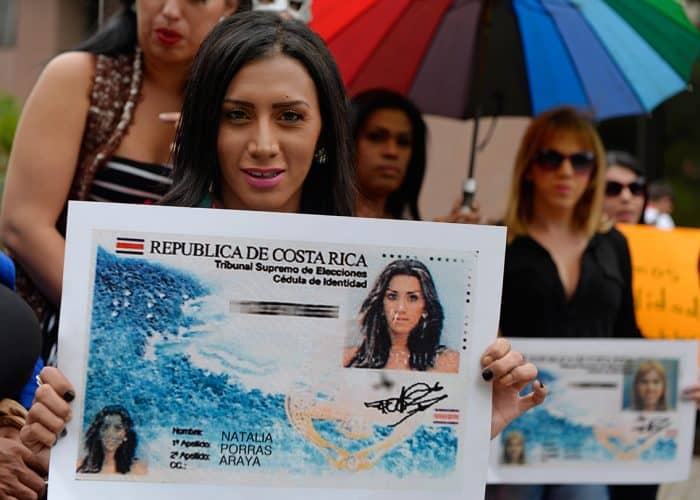 That's not my name
On Esquivel's ID, a young woman's face stares out from the picture. But the name is a boy's. There is a line labeled "known as," where it states "Karolina." But that name is useless for official paperwork or any other transaction.
When a person's photo doesn't match the gender of a name on an identification document, it leads to problems. And life already is difficult enough, Esquivel said.
In the workplace, transgender employees often are viewed as "undesirables" by coworkers, she said. The stigma is the same in schools and at health care centers.
"When you go to the Caja [Social Security System], they call out your name loudly, in front of everyone. Those situations are humiliating for someone who looks different than their name," she said.
Transvida President Dayana Hernández said that having a name that reflects one's identity is a human right, and last week's protest aimed to educate others that human rights aren't negotiable.
Fernández noted that, "The transgender population isn't a small one. As you can see [at the demonstration] there are many transgender girls and boys, and we all face barriers preventing us from working."
Esquivel said discrimination is often a primary reason that many turn to prostitution, which is legal in Costa Rica, to make ends meet.
"Most of us really don't want to work in the sex trade," she said. "We want something different, something more stable, instead of facing the cold and taking risks."
Two months ago, Esquivel registered for classes at a San José university, where she plans on studying human resources. She hopes to become a boss.
"Since no one never hired me, one day, I'll be the person doing the hiring," she said.
Three months ago, eight members of Transvida petitioned the courts through public legal counsel. But their cases have gone nowhere, they said. In the legal battle to allow transgender Costa Ricans to change their names, only a judge can order the Civil Registry to waive its gender rule. Cases are ongoing in courts in Desamparados and San José, and some members will file another case in Guadalupe, where they hope to find a sympathetic judge.
Said Fernández: "At 14, I decided to be a woman. At 20, I still haven't managed to get people to recognize the name I chose: Pamela."