GAZA CITY, Gaza Strip – Israel and Hamas have agreed to an unconditional, 72-hour humanitarian truce to begin Friday morning, diplomats from the United States and the United Nations announced Thursday, potentially paving the way for an end to the 24-day-old conflict.
In a joint statement, U.S. Secretary of State John Kerry and U.N. Secretary-General Ban Ki-moon said both sides in the conflict are sending delegations to Cairo for negotiations aimed at reaching a lasting cease-fire. During the 72-hour respite, Israel will not withdraw its forces from the Gaza Strip, a demand that Hamas had previously made as a prerequisite to peace talks.
"This humanitarian ceasefire will commence at 8 am local time on Friday, August 1, 2014. It will last for a period of 72 hours unless extended. During this time the forces on the ground will remain in place," the statement read.
A Hamas spokesman said Thursday that the Palestinian militant group, which seized control of Gaza in 2007, will honor the cease-fire as long as Israel does.
"As a response to the United Nations' request and in consideration of our people's situation, the Palestinian resistance factions have agreed to a humanitarian and mutual calm for 72 hours, starting from 8 a.m. tomorrow, as long as the other party is committed to it," Sami Abu Zuhri said. "All the Palestinian factions have a unified attitude toward the issue in this regard."
Earlier Thursday, Abu Zuhri had said that Palestinian factions, including Hamas, would head to Cairo as early as Friday for peace talks, if the Israelis agreed to the cease-fire.
Jeffrey Feltman, the U.N. undersecretary-general for political affairs, said that although Israel had made no initial public statement on the cease-fire, "we have received assurances from all parties" that they will respect the pause. It was his understanding, Feltman told CNN, that "Israeli forces will stay where they are. What we want to see happen is for all fighting between the two sides to stop" to allow humanitarian aid deliveries, the gathering and burying of bodies, and a cessation of Palestinian shelling in Israel.
Although the three-day truce represents the biggest step toward ending the conflict, many obstacles remain.
Hamas believes it has the upper hand because its fighters have exacted a huge toll, by Israel's standards, on the Jewish state's soldiers and citizens. Hamas wants its core demands met before it can agree to a durable truce. That includes Israel and Egypt lifting an economic blockade of Gaza, opening border crossings and releasing hundreds of Hamas members in Israeli jails. It also want Israeli forces to withdraw from Gaza.
Israel is unlikely to pull out its troops or accept a lasting cease-fire before all of Hamas' tunnel networks are destroyed. The tunnels, through which Hamas militants have attempted infiltrate Israel, are the biggest concern for Israel and have been a key stumbling block in previous attempts at a cease-fire. It is unclear from Thursday's statement whether Israeli forces can continue to demolish the tunnels, which are key military assets for Hamas, over the next three days.
Underscoring the obstacles to ending the war, Israeli Prime Minister Benjamin Netanyahu on Thursday vowed before the truce announcement to destroy the tunnel networks "with or without a cease-fire," as the Israeli military called up an additional 16,000 reservists to bolster its offensive in Gaza.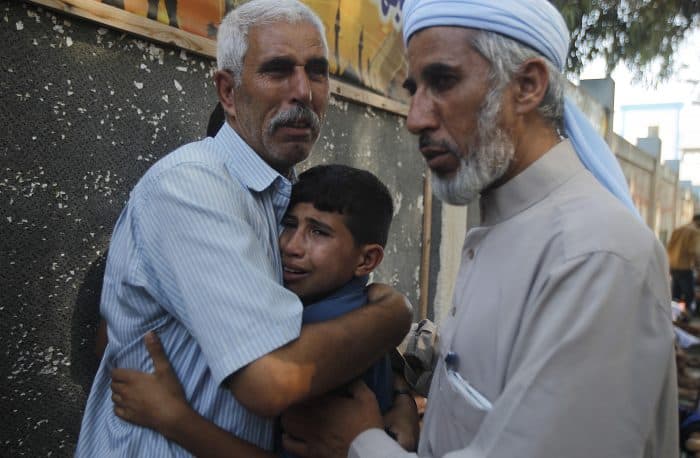 Signs of impatience with Israel continued to emerge Thursday as casualties on both sides keep mounting. By the end of the day, the Palestinian death toll topped more than 1,422, surpassing the number killed in Israel's 2008-2009 incursion into Gaza, said Gaza Health Ministry officials. Fifty-six Israeli soldiers have died since the ground offensive began July 17, and Hamas rocket and mortar attacks have killed three civilians inside Israel.
In Washington, the Pentagon called on Israel to do more to protect civilians. "The civilian casualties in Gaza have been too high," Col. Steve Warren, a Pentagon spokesman, said at a news briefing. "And it's become clear that the Israelis need to do more to live up to their very high standards . . . for protecting civilian life."
The White House condemned the deadly shelling Wednesday of a U.N.-run school in the Gaza Strip that was sheltering evacuees, saying there was little doubt that Israeli forces were responsible.
"The shelling of a U.N. facility that is housing innocent civilians who are fleeing violence is totally unacceptable and totally indefensible," White House spokesman Josh Earnest told reporters Thursday. A White House statement Wednesday had denounced the attack without assigning responsibility for it.
But Netanyahu on Thursday rejected any cease-fire that would stop the military from destroying a tunnel network that Israel says Palestinian militants have been using to sneak into Israeli territory from Gaza and terrorize civilians.
"We are determined to complete this mission, with or without a cease-fire," Netanyahu said at a cabinet meeting in Tel Aviv. "I won't agree to any proposal that will not enable the Israeli military to complete this important task for the sake of Israel's security."
On Thursday, Israeli airstrikes and shelling continued to pound the Palestinian seaside enclave. Rockets from Gaza continued to be fired into Israel.
Israel's new call-up, which brings the number of reservists summoned to 86,000, came after Netanyahu's security cabinet Wednesday approved continuing the ground, air and sea assault launched in response to rocket attacks on Israeli territory by Hamas and other militant groups. Israel said the call-up was to provide relief to those soldiers who have been serving since the operation began July 8.
United Nations officials accused Israel of violating international law Wednesday after artillery shells slammed into the U.N.-run school. The shelling killed at least 20 people as they slept — one of the most criticized incidents of the war, which has ravaged the Gaza Strip, home to about 1.8 million Palestinians. The building was the sixth U.N. school in Gaza to come under attack in the conflict, U.N. officials said.
Israeli officials said they were investigating whether Israeli forces were responsible for the attack, as the U.N. alleges. In previous incidents, the Israeli military blamed errant rocket or mortar fire by Gaza militants for the carnage at U.N. schools.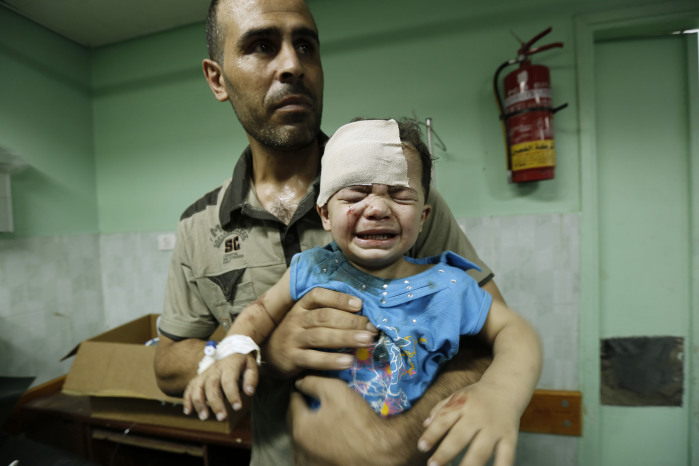 On Thursday, the United Nations' senior-most human rights official accused both Israel and Hamas of violating international humanitarian law. Navi Pillay, the U.N. high commissioner for human rights, told reporters in Geneva that Hamas was hiding rockets inside schools and hospitals and launching them from areas where civilians live. Israel, she said, has attacked civilian structures such as homes, hospitals, schools and U.N. facilities.
"None of this appears to me to be accidental," said Pillay, referring to Israel. "They appear to be defying — a deliberate defiance of — obligations that international law imposes on Israel."
She also criticized the United States for providing significant financial assistance for Israel's Iron Dome missile defense system while offering "no such protection" to Gazans against shelling and airstrikes.
On Thursday, the watchdog group Amnesty International also took aim at the United States, urging Washington to halt weapons transfers to Israel, "amid growing evidence of war crimes in Gaza." Much of the arsenal Israel deploys against Hamas is American-made.
"The US government is adding fuel to the fire by continuing its supply of the type of arms being used by Israel's armed forces to violate human rights," Brian Wood, head of arms control and human rights at Amnesty International, said in a statement. "The US government must accept that by repeatedly shipping and paying for such arms on this scale they are exacerbating and further enabling grave abuses to be committed against civilians during the conflict in Gaza."
Booth and Eglash reported from Jerusalem. Washington Post correspondent Islam Abdel Karim contributed to this report.
© 2014, The Washington Post