RIO DE JANEIRO — Only eight countries have won the World Cup, and with Germany and Argentina colliding in Sunday's title match at Maracana stadium, the club will remain locked to outsiders.
The Germans are three-time champions, the Argentines have won twice. Almost half of the 20 championship games have involved one of them and, for the third time, they are facing one another.
It is an old-school final, for sure, a clash of countries that have stocked soccer's archives with Diego Maradona and Gabriel Batistuta, Franz Beckenbauer and Jurgen Klinsmann.
Despite a bounty of trophies and accolades at their respective headquarters in Buenos Aires and Frankfurt, however, both squads have gone years without a major championship and, as consequence, have grown ravenous for a fresh prize.
Argentina last won the World Cup in 1986, Germany not since 1990. La Albiceleste (the White and Sky Blues) have not conquered Copa America, South America's championship, in 21 years. Die Mannschaft (the Team) has gone 18 years since winning the European title.
"This would be something beautiful to give back to the people of Argentina," defender Jose Basanta said. "That is one more step. We have a huge dream and we want to turn it into reality."
Reality will be realized for one of the traditional sides in front of a global TV audience anticipated at more than 1 billion and a crowd of almost 75,000 that will include dozens of world leaders, such as Germany's Angela Merkel and Russia's Vladimir Putin, as well as the newest Cleveland Cavalier, LeBron James.
Argentina will attempt to win the title on the soil of its nemesis, Brazil — a feat worthy of two championships. Supporters have flowed over the border and flown into Rio by the thousands, setting up camp sites and, to the chagrin of Brazilians, showing the national colors.
Germany is aiming to become the first European team in eight attempts to raise the trophy on this side of the Atlantic following failure in South America, Mexico and the United States.
Argentina will again turn to superstar Lionel Messi, who is seeking to add a World Cup title to his vast portfolio of accomplishments and further escape the shadow of his country's most revered player, Maradona.
The Germans are looking to maintain the momentum of a 7-1 demolition of Brazil in the semifinals, one of the most startling results in tournament history, if not soccer history.
"Nobody has become world champion in the semifinal," German midfielder Toni Kroos cautioned. "We will have an extremely difficult last match. We will have to deliver another absolute total performance. I am convinced we will."
There is no doubting Germany's capacity. Despite some difficult matches, the Germans have been the most impressive team throughout the competition and enter the final as clear favorites. They took advantage of Brazil's tactical and technical deficiencies, utilized their midfield strengths and finished opportunities with clinical precision.
"We need the perfect match," Argentina coach Alejandro Sabella said.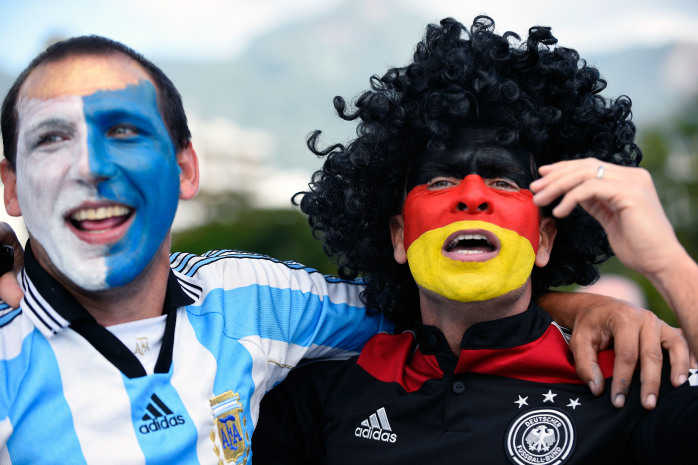 Argentina will take a more defensive approach than Brazil, looking to absorb pressure and launch Messi and Gonzalo Higuain on the counterattack.
Germany is bracing for less space in the final third of the field and more difficulty retaining possession than it enjoyed against Brazil.
"They can attack us very early and then fall back; we have to prepare for it," German coach Joachim Loew said, stressing patience in possession.
Germany's collective is stronger than Argentina's, which, for the second consecutive match, might be without La Albiceleste's second-best attacker, midfielder Angel Di María, who injured a thigh in the quarterfinals.
Messi, though, is a player of such special qualities that he could alter the trajectory of the match at any moment and force Germany to make adjustments.
Messi has scored four goals through six matches and contributed to multiple others in becoming one of the leading candidates for the Golden Ball, awarded to the tournament's most valuable player.
With all of the tournament's other high-profile players gone — Neymar, Cristiano Ronaldo and Luis Suárez — Messi has taken center stage. At 27, he is young enough to play in a fourth World Cup, in Russia in 2018, but his time is now.
Despite the threats Messi poses, Loew warned against focusing too heavily on him.
"If you believe this team is only about Messi," Loew said, "it is a mistake."
In addition to Messi, Argentina has been successful because of a stout defense: three consecutive shutouts in the knockout stage. Goalkeeper Sergio Romero secured passage to the final by stopping two of four Dutch penalty kicks in a semifinal tiebreaker.
The key to the effort, though, has been midfielder Javier Mascherano, Messi's Barcelona teammate, whose two-way play and blue-collar work has kept the team in balance.
Bastian Schweinsteiger, who plays a similar role for Germany, called Mascherano "the leader of a pack of wolves."
Germany seeks to culminate a 10-year building process that started under the direction of Klinsmann, who is now the U.S. coach, and his then assistant, Loew.
"I don't think we have any pressure," Schweinsteiger said. "We have a lot of players who have played finals at the top [club] level. We know how to deal with the situation. We only think of one thing — to get the job done."
© 2014, The Washington Post