Just over a week since taking office, President Luis Guillermo Solís made history Friday morning when he became the first Costa Rican leader to raise the rainbow flag of the lesbian, gay, bisexual and transgender movement on even mast with the Costa Rican red-white-and-blue tricolor on the lawn of the Casa Presidencial. Vice President Ana Helena Chacón hoisted the flag in honor of the International Day Against Homophobia and Transphobia, May 17.
"This is the house of all Costa Ricans. When we say all Costa Ricans we mean all, without exclusion, without violence, without harassment in absolute respect for the rights of each one," Solís told a crowd of LGBT leaders and advocates during his brief comments on the lawn.
"We're fighting against discrimination in defense of the human rights of all Costa Ricans," the president said, adding that discrimination based on sexual orientation was against the letter and spirit of the Costa Rican Constitution and human rights declarations the government has signed.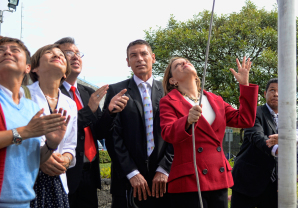 Marco Castillo, president of the Diversity Movement, a Costa Rican LGBT advocacy organization, said the gesture was a sign of hope of things to come as a bill for civil unions makes its way through the Legislative Assembly and the Costa Rican Social Security System debates extending insurance benefits to same-sex couples.
"We [have seen] a sign of hope today but we hope it becomes reality," said Castillo.
Vice President Ana Helena Chacón said that recognizing property and inheritance rights, and extending insurance benefits, and hospital visitation rights would be priorities for the Solís administration, which took office May 8.
Despite the government's vocal support for equal rights for LGBT Ticos, the Solís administration stops short of endorsing gay marriage or civil unions.
"We're not getting involved in the question of matrimony because we believe this is a subject that has more to do with questions of religion, where we don't think we should be involved," Ombudswoman Ofelia Taitelbaum told The Tico Times.
"We want to grant them rights," she added. "What I can say is that the civil rights of this group be respected."
There was a small handful of protesters outside the Casa Presidencial in Zapote, including one man holding a sign ripping on Solís' campaign slogan: "Don't mess with Costa Rica and even less with God."
Solís walked outside the gates of the office and greeted the demonstrators.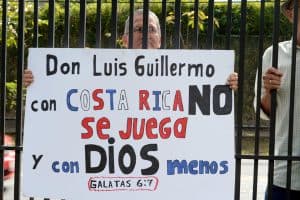 "It looks very bad for Costa Rica. For me it's a total embarrassment. There should be more people here demonstrating," said Julio Goyenaga, 60, who held a placard referencing Galatians 6:7, "Be not deceived; God is not mocked: For whatsoever a man soweth, that shall he also reap."
"I don't have words for what's going on here. If this is just the start of this government, what's coming?" he asked.
"I have to do the job as president for all Costa Ricans. If I lose sympathy or popularity in the process, then it's what the job demands," Solís said when asked how the act might affect his polling numbers.
"I'm not in a beauty contest," he said.
According to a 2013 report from the United Nations Development Program in Costa Rica, only 3 percent of respondents said they felt they had been discriminated against because of their sexual orientation, less than age (26 percent), religion (16 percent) or sex (14 percent). Thirty-four percent of Costa Ricans said they had a close family member who was gay or lesbian.
A 2012 survey from the daily La Nación said that 55 percent of respondents believe same-sex couples should be extended the same rights as heterosexual couples.
Recommended: Dismantling Costa Rica's lesbian and gay closet