Hundreds of public employees staged several protests across Costa Rica Thursday morning against a 0.43 percent government-backed wage hike, which demonstrators say is too little to meet basic costs.
At 11 a.m., the largest group marched to Casa Presidencial, in the southeastern San José district of Zapote.
The nationwide strike was organized by public-sector unions and included employees from the Social Security System (Caja), the Education Ministry and Caribbean dock workers.
President Laura Chinchilla responded to the demonstrations on her Facebook profile, saying, "The strike was a shameful act to warn officials in the next administration that [public-sector unions] will oppose any attempt to enforce any policy aimed at regulating public spending."
Luis Chavarría, secretary general of the Caja workers' union, said striking public employees oppose "the neoliberal model implemented by Chinchilla's administration, the granting of public works concessions to international companies, the privatization of public services, low wage increases and recent hikes in public services rates."
Caja officials said approximately 700 employees participated in the protest, a number that represents "a minimum of the agency's 50,000 employees."
Caja Administrative Manager Luis Fernando Campos said hospitals most affected included those in Heredia, where 151 employees participated, Calderón Guardia Hospital in San José, with 94 employees, and a regional clinic in the San José canton of Mora, with 86.
Ten surgeries were postponed at the Heredia Hospital, Campos said.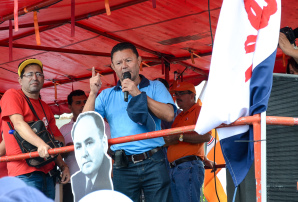 The Caja also reported 62 employees on strike in Turrialba, 53 in San Ramón and 35 in Pérez Zeledón.
"Most of the employees are support services staff, and not specialized medical personnel," Campos said.
Traffic Police reported several blockades on national roads, including the Bernardo Soto Highway connecting the capital with the canton of Naranjo in Alajuela.
Police also confirmed other important ​​blockades in Ciudad Neily, San Carlos, Guápiles, the central canton of Limón, and Pérez Zeledón.
The biggest rally took place east of the capital, where a main thoroughfare at the La Hispanidad roundabout was blocked prior to the march to Casa Presidencial. Most demonstrators left Casa Presidencial shortly after noon.
Port authority claims losses of millions of colones
Both docks at Limón and Moín ports on the Caribbean coast were closed by several members of the Atlantic Port Authority's (JAPDEVA) workers union, beginning at 9 a.m.
According to Allan Hidalgo, JAPDEVA's executive president, both ports are full with at least five ships waiting to load or unload cargo.
Hidalgo said the protest caused extensive financial losses, as every hour a ship spends in port without being serviced costs $1,000.
At noon, JAPDEVA's press office reported that losses had totaled at least ₡60 million ($113,000).
Hidalgo also said JAPDEVA would move to declare the strike illegal in order to sanctions employees.
José Luis Castillo, a spokesman for the unions, denied that cargo ships were waiting.
"Shipping companies took preventive measures as soon as they heard about the protest," he said.
Castillo said all Caribbean dock workers joined the protest, and that most administrative employees would join them throughout the day.