Before Costa Rica's friendly against Paraguay on March 5, national team head coach Jorge Luis Pinto said he was in no rush to declare injured star Bryan Oviedo in or out for the World Cup. He said he could wait until FIFA's June 2 deadline to name World Cup rosters before deciding on Oviedo, who suffered a double leg break while playing with his Premier League team on Jan. 25.
Pinto has no reason to make a rash decision about one of Costa Rica's most important players, especially with the latest news coming out of Oviedo's Premier club Everton. On Friday, Everton manager Roberto Martinez said the 24-year-old is "well ahead in his recovery time." He added that Oviedo saw an independent specialist in London, who said Oviedo was on pace to make the World Cup.
Even before today's update, Pinto seemed cautiously optimistic about Oviedo. Before the Paraguay friendly, Costa Rica had called up Waylon Francis, who plays Oviedo's left back position. However, Francis didn't see the pitch during Costa Rica's 2-1 victory. It seems to be a sign that Pinto feels confident Oviedo will be able to take the field for the World Cup opener against Uruguay on June 14.
Oviedo returned home on March 7, his first visit to Costa Rica since the injury. Here, the national team is assessing his status. He'll spend two weeks in Costa Rica, doing weight training and  physical therapy before returning to England. The Tico arrived in Costa Rica with his own Everton medical staff in tow. Martinez said Everton is trying "everything we can for him," and part of that package includes a personal physical therapist for the Costa Rica trip.
Oviedo had a rod entered into his fibula and tibia after the injury, which caused some analysts to declare Oviedo's World Cup dreams as over. But with six months to recover, the player has shown remarkable progress. 
He told television station Repretel that he spent the first two weeks after the injury immobile. During that time Oviedo lost nine pounds (four kilos) and had to consume 20 pills a day. Once he started moving again, Oviedo demonstrated his improving health by posting a video of himself riding an exercise bike. Six weeks into the recovery, Oviedo walks with a slight limp and some pain but believes the World Cup is a realistic goal. He said he has not watched the video of his brutal injury, and doesn't know if he ever will.
Despite his professed patience, Pinto likely will know of his decision on Oviedo long before the FIFA cutoff date. In the Repretel interview, Oviedo said he will learn if he's made the team at the end of April. Pinto will name 30 candidates for the World Cup roster in May, before narrowing down the roster and submitting the final 23 players to FIFA on June 1. National team roster candidates will head to Denver, in the U.S. in mid-May for training sessions and some friendlies.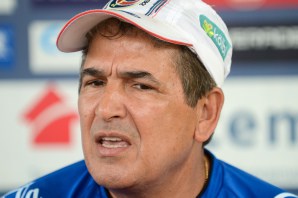 Oviedo was instrumental in Costa Rica's World Cup qualification campaign last year. In December, he became a fan favorite for Everton after scoring the goal that gave the Premier League club its first victory over Manchester United in 21 years. After England was drawn into the same group as Costa Rica for the World Cup, Everton fans jested on social media that Oviedo would be the downfall of the English team. England and Costa Rica meet on June 24.
Oviedo is one of three Costa Ricans with ties to Premier League clubs. The other two, Joel Campbell and Bryan Ruíz, are currently on loan to other European teams. Oviedo's fans in England appear to all be rooting for the Tico star's participation in that match against the English.
Everton's manager would like to see it happen too. Martinez said he has no qualms about Oviedo participating in the World Cup. He believes the experience could better prepare Oviedo for next season in the Premier League.
From The Guardian:
"We know for sure that he's going to be fit for pre-season but if we can get him fit for the World Cup it would be incredible. For a player to go through an injury like that and make a World Cup would mean so much. We want that to happen, I certainly wouldn't stand in the way. He deserves it to happen. We would get a better player back at Everton if Bryan has played in the World Cup.

"Physically he is a machine, so I would have no concerns over that. The surgery went really well and he is better than we could have hoped at this stage. There is no reason for us to feel it is a risk him going the World Cup but we just hope that Costa Rica can use him, otherwise it would be pointless them taking him.