Didn't follow the election campaign this week? Don't worry, we did.
1. Luis Guillermo Solís hits the road for Guanacaste
Citizen Action Party (PAC) presidential candidate Luis Guillermo Solís traveled to the northwestern province of Guanacaste to pound the pavement and change a few minds in the deep green National Liberation Party (PLN) stronghold.
The PAC candidate has a ways to go. Solís won a scant 14.8 percent of the vote in Guanacaste to Araya's whopping 40.7 percent on Feb. 2, according to final results published by the Supreme Elections Tribunal.
The University of Costa Rica historian has been hoping that his message of empowering local businesses would revererbate in a region with high poverty and inequality rates. Solís, who has been more focused on small Costa Rican businesses than courting large foreign investment, noted "paradoxes" in the ruling party's development agenda for the region famous for its beaches and sabaneros:
"Despite the fact that this is the province that has received the most foreign investment per capita in Costa Rica, it's the poorest province and sends away the most people. The large projects that dominate here, in the tourism sector, for example, are not satisfying the needs of an important number of small businesses in a region that is privileged for its history and natural beauty."
https://soundcloud.com/luisguillermoscr/balance-de-luis-guillermo
Here's a bonus picture of Solís wearing a miner's helmet during a visit to Abangares this week.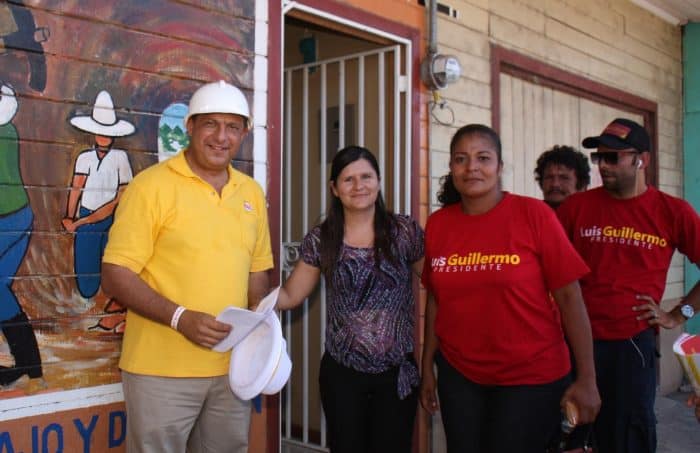 2. Johnny Araya says he'd meet with Daniel Ortega
During a meeting with Foreign Minister Enrique Castillo on Tuesday, Johnny Araya raised some eyebrows when he offered to meet with Nicaraguan President Daniel Ortega to try and resolve the bevy of border disputes between the two neighbors.
Even the slightest mention of rapprochement with the Sandinista leader would be a significant change in the icy posture of President Laura Chinchilla's administration toward Nicaragua. Her administration has been wrangling with the northern neighbor over several perceived border provocations.
Costa Rica and Nicaragua have two cases with the International Court of Justice over territorial disputes, the most recent, filed on Tuesday morning, asked the world court to settle a maritime border dispute dating back to 2002 when Nicaragua published maps offering oil concessions in waters claimed by Costa Rica.
Solís has said he would not meet bilaterally with Ortega until the disputes are settled.
3. Araya gets Christian conservatives' blessing
Espousing conservative social values has been a central strategy for Araya to differentiate himself from his opposition rival. On Thursday, the former San José mayor, who has been divorced four times, got the blessing of the National Evangelical Alliance after giving a speech decrying abortion rights, gay marriage and in vitro fertilization during a meeting with the faith-based group, reported the daily La Nación.
Araya also presented a document signed by the 18 incoming PLN lawmakers promising not to support legislation in favor of gay marriage or abortion rights, Repretel reported.
Recommended: Abortion and politics on the campaign trail
Solís, who previously met with the evangelical organization, has run afoul of conservative Christians for his support of in vitro fertilization and abortion rights in the case of rape.
Both candidates reject gay marriage but support some common law marriage benefits for same-sex couples, including inheritance rights and hospital visitation.
Update: The FAEC released a statement on its Facebook page Friday afternoon denying that either of the two meeting it held with the presidential hopefuls resulted in an official endorsement of either candidate.