Every other Wednesday, we publish a short story from the perspective of an animal at Sibu Wildlife Sanctuary.
Hi, my name is Lupita, and I'm 9 years old. I was domesticated by a family when I was a baby. After a few years, my human family had to move out of the country and could not take me along, so they brought me to SIBU. Since I am domesticated, I will not be eligible for release, making SIBU Sanctuary my forever home. I am the first peccary to be cared for here, so they had to build a special enclosure just for me! My enclosure has more than enough room and toys for me to live out my days with the nice people at SIBU.
Visit us at sibusanctuary.org to see how you can help! Sibu Wildlife Sanctuary is located in Santa Marta, located a few kilometers northwest of Nosara on the Nicoya Peninsula.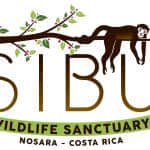 SIBU's mission is to rescue injured, orphaned, and displaced wild animals and provide them immediate medical care, rehabilitation, and eventual release into the wild. When the animals are determined to be strong, healthy and old enough to be re-integrated into the jungle they begin a step-down release program. Animals unlikely to survive in the wild receive a permanent enriching habitat for their life-term care.
Become a monthly donor here.