The Colombian Agricultural Institute (ICA) last week declared a national emergency after detecting a fungus that experts say threatens global banana harvests.
Panama disease Tropical Race 4, or TR4, is a strain of Fusarium wilt that causes death of banana plants. ICA says the fungus "forms resistance structures that allow it to survive for more than 30 years," making containment difficult.
Fernando García-Bastidas, a Colombian phytopathologist, told National Geographic that eradication of TR4 "is almost impossible."
TR4, which had previously been kept out of Latin America, could have serious ramifications for countries that rely on banana production and exports. This includes Costa Rica, where 1% of the national territory is cultivated with bananas and exports are valued at $1 billion annually.
Banana production is directly responsible for 40,000 jobs in Costa Rica, according to the Agriculture and Livestock Ministry (MAG).
Here's what you need to know about TR4.
What is TR4?
Panama disease Tropical Race 4 is a strain of Fusarium wilt. TR4 enters the plant's roots and spreads, invading vascular tissue. The first symptom is irregular yellowing of older leaves, which later turn brown and dry out.
The disease poses no health threat to humans, and ICA says it is not dangerous to eat bananas or plantains from affected plantations. 
Source: New strain of banana fungus threatens world harvests
How can TR4 threaten a global supply of bananas?
To make money on exports, banana growers rely on a single variety to ensure uniformity and keep production costs low. Until the 1960s, that was the Gros Michel, which all but disappeared after a decades-long spread of what came to be known as Panama disease.
When Gros Michel was killed off, the Cavendish banana proved immune to the fungus strain.
Today, most of the world's exported bananas are Cavendish, which are susceptible to TR4. And most of those bananas are clones, meaning a disease affecting one plant affects them all.
Source: New strain of banana fungus threatens world harvests
Why not switch to a new type of banana?
There simply isn't a viable replacement. According to National Geographic:
Unlike in the earlier Panama disease epidemic, this time, there's no ready replacement banana to bail out the industry. Although thousands of banana varieties grow around the world, only a few have the precise characteristics necessary to withstand the rigors of large-scale commercial cultivation, long-distance transport, and international marketing. A banana with those characteristics, a taste and appearance similar to the beloved Cavendish, and resistance to TR4 does not exist.
How can we contain TR4?
ICA says that, to date, "there is no chemical, biological or genetic control to counteract [TR4's] pathogenic action."
To help prevent the spread of TR4, ICA asks travelers not to travel internationally with any type of vegetable material, crop soil, objects made from banana or plantain leaves, and clothes or shoes in which you've visited banana plantations.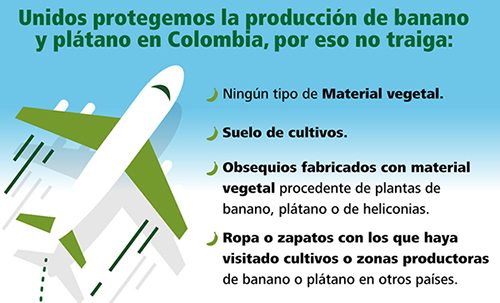 ICA declared a national emergency in Colombia "in order to speed up the disease containment processes," and the International Regional Organization for Agricultural Health (Oirsa) has called for additional inspections of products and byproducts to prevent the spread of wilt.
Costa Rica's Agriculture and Livestock Ministry recently updated mandatory phytosanitary measures for the importation of regulated articles, which include plants and soil. 
Scientists are working to develop new varieties of bananas that might be resistant to TR4, "but until that time, we just recommend that countries take phytosanitary measures carefully to try to contain the disease," said Fazil Dusunceli, an agriculture officer at the FAO.
This article was compiled from stories that have appeared previously in The Tico Times. Click here to read them.