Costa Rican residents sentenced in United States for phone scam
Two Costa Rican residents were sentenced to 20 and 25 years in prison, respectively, for participating in a telemarketing operation that defrauded victims in the United States, the Department of Justice announced in a press release.
Andrew Smith, 46, and Christopher Lee Griffin, 45, had been convicted in 2018 for each having committed one count of conspiracy to commit wire fraud, eight counts of wire fraud, one count of conspiracy to commit money laundering and seven counts of international money laundering.
Sentenced this week, Smith will face 25 years in prison, has been ordered by U.S. District Judge Robert J. Conrad to pay $10,222,838.76 in restitution jointly with his co-conspirators, and will forfeit $406,324.96. Conrad ordered Griffin to pay $9,612,590.39 in restitution jointly with his co-conspirators and forfeit $182,439.
Their scheme had defrauded United States citizens out of millions of dollars, according to the Justice Department.
"Andrew Smith and Christopher Lee Griffin participated in a deplorable scam to defraud hard-working elderly Americans out of millions of dollars," said Assistant Attorney General Benczkowski in a statement.  "The severe sentences imposed today represent a significant victory in our continuing efforts to fight elder fraud and protect some of the most vulnerable members of the U.S. public.
"These sentences should serve as a strong deterrent to anyone seeking to enrich themselves by taking part in similar scams."
The Justice Department says Smith and Griffin worked at a San José-based call center and posed as representatives of the U.S. Securities and Exchange Commission or the Federal Trade Commission.
The duo told their targets that they had won a "significant financial reward" that would be delivered upon their completion of up-front payments for "insurance fees, taxes and import fees."
Smith and Griffin placed calls using Voice over Internet Protocols (VoIP) to fool victims into thinking they were based in the United States, the Justice Department said.
"Years ago, our parents taught us not to talk to strangers.  Their advice has proven to be timeless," said FBI Special Agent in Charge Strong.  "Strangers are reaching out to us on social media, sending us emails, calling our homes and cell phones.  If you fall for a scam, you can bet your life, they will call you again.  They might have a different sales pitch or a sob story, but they are the same crooks.  These prison sentences should serve as a warning to the thieves, the FBI and our law enforcement partners will work tirelessly to find you and put you out of business for good."
Facebook Comments
You may be interested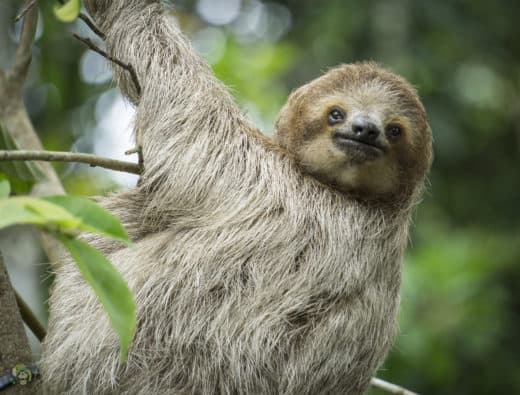 Sloth Sundays
44 views
Slothy Sunday: Happy International Sloth Day!
Toucan Rescue Ranch
-
October 20, 2019
Today, animal lovers, especially sloth lovers, rejoice! It is not only a very Slothy Sunday but also, International Sloth Day.…