TAMBÓR, Puntarenas — Instead of long check-in or security lines, two iguanas watched me carefully, asserting dominance by nodding their heads.
Since NatureAir ceased flights last year, several airlines hope to assume their role atop Costa Rica's domestic aviation industry. As part of The Tico Times' Deep Dives to Santa Teresa and the Southern Zone, I flew with two of those airlines across the country.
I took Aerobell round-trip between Tobías Bolaños International Airport in Pavas to the airstrip in Tambór, and I later flew Skyway from Drake Bay Airport on the Osa Peninsula to Juan Santamaría International Airport.
With the tourism season in full swing, several airlines — Aerobell, Skyway, TAC, SANSA and Green Airways — are beginning service or expanding their routes across Costa Rica. They promise passengers a picturesque journey and the ability to skip the drives (and pothole-filled roads) which can make travel frustrating.
The reptilian friends at the airport? They're a little disconcerting, but I'll take them over standstill traffic any day.
The Flying Experience 
My flight to Tambór began at Tobías Bolaños International Airport, home to much of Costa Rica's general aviation. The airline kiosks are a few feet from the main doors, and there is rarely a line. The check-in process takes only a minute — you'll show your ID, then weigh yourself and your bags — after which you're free to wait until boarding. While there's no Wi-Fi, the terminal does have a television, vending machines and a soda on the second floor.
If you're flying from Juan Santamaría International Airport to a destination in Costa Rica, you'll use the new domestic terminal that opened in May, which means you'll benefit from modern amenities while avoiding the busyness of the main terminal.
SANSA and Aerobell fly Cessna Grand Caravans, Skyway uses the Czech Let-L410, and TAC and Green Airways operate mixed fleets. Regardless of the equipment, each plane seats just a handful of people, so boarding occurs minutes before departure.
The planes can feel cramped, but they are comfortable enough for a short flight. Regardless, especially in a Cessna Grand Caravan, windows are large enough so that everyone can have a good view.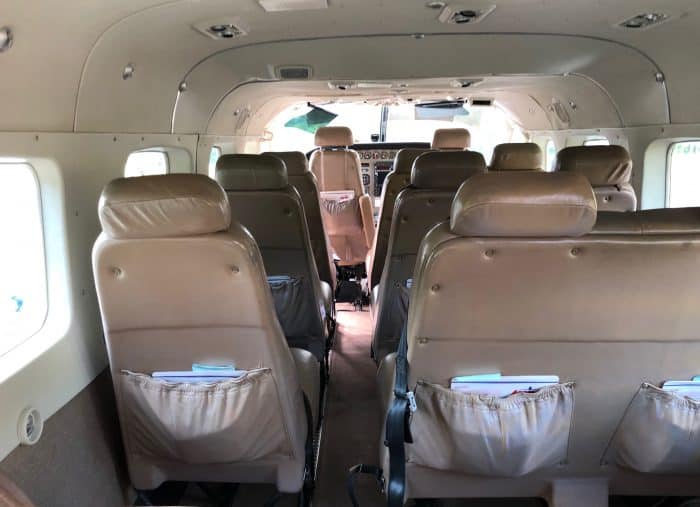 The pilot and first officer introduced themselves and informed us of the weather and 25-minute flight time. Moments later we were taxiing to the runway for departure. The climb featured wonderful views of San José and the Central Valley.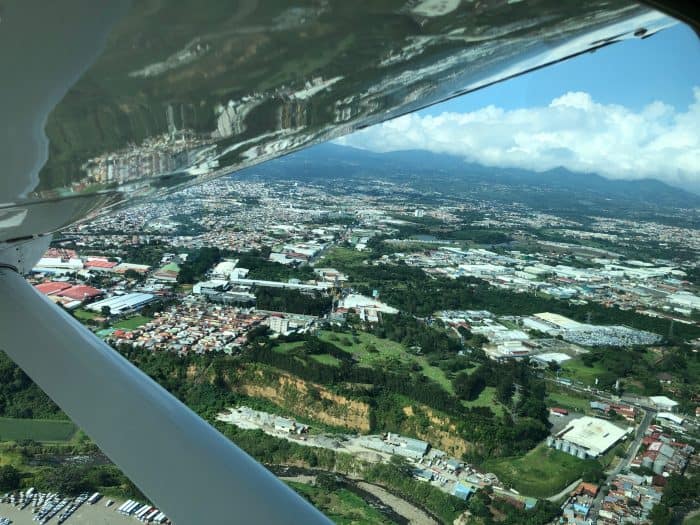 There's no traditional inflight entertainment, but the scenery is more than enough. Our flight to Tambór took us over the National Stadium, the mighty Río Grande and the port of Caldera — I wasn't the only person with a camera pointed out the windows.
Takeoff from Drake Bay was even more spectacular, since the airport is right by the Pacific Ocean. Check out the video below for a taste of the experience:
If flying makes you queasy, then these domestic trips might not be for you. In a smaller aircraft, you'll feel every bump of turbulence. And in a tropical climate, weather will sometimes be impossible for the pilots to avoid.
During my flight to Tambór, we reached the Pacific Coast 15 minutes after takeoff and continued over the Gulf of Nicoya. The pilots soon announced our descent, and we were treated to wonderful views of the Nicoya Peninsula before a smooth touchdown.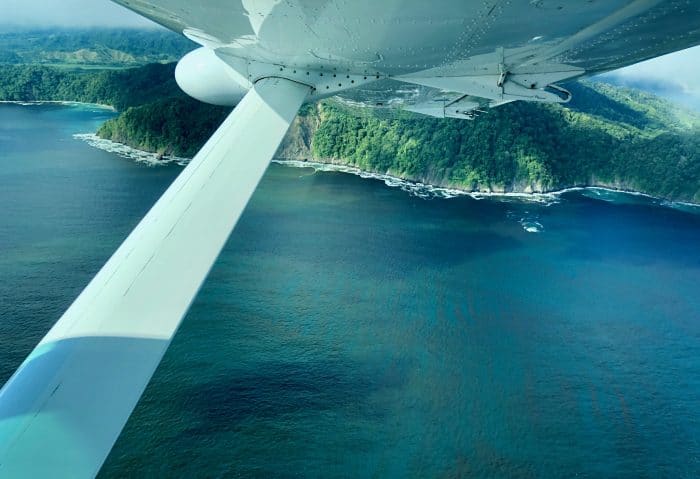 The Drake Bay flight followed the Pacific Coast, and we flew over Marino Ballena and Manuel Antonio National Parks before turning east to approach the Central Valley.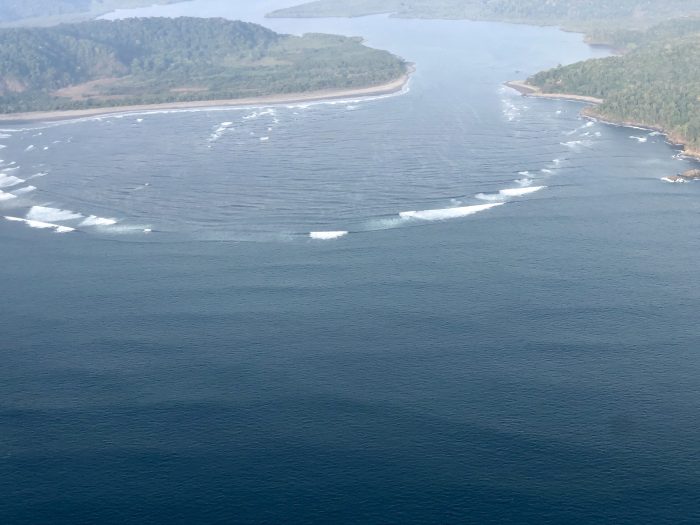 We were greeted at the airport by staff ready to assist us in securing transportation to our final destination.
Final Thoughts on Flying in Costa Rica
Costa Rica is a beautiful country, and that splendor is showcased perfectly from the air. I thought the views alone were worth the price of the ticket, and I found myself looking forward to my next flight.
Driving in Costa Rica is aggravating. Recently, a road trip to Manuel Antonio took two hours longer than planned — much of that spent in traffic as Waze regularly pushed back our ETA. You really appreciate the miracle of flight when an all-day journey is reduced to one taking less than an hour.
That said, it's not a perfect service. You'll have to factor in transportation time and costs to the airports, and since many of them are so small, there is the added logistical step of reaching the closest car-rental agency or bus stop.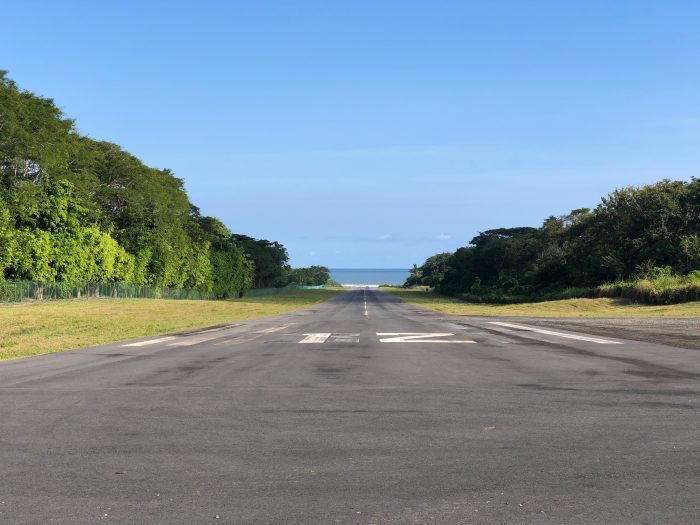 Costa Rican aviation came under an international spotlight following the NatureAir crash in December 2017; the Civil Aviation Administration temporarily grounded the airline, and it hasn't operated since. Flying is almost certainly safer than driving, but the NatureAir crash is one that has unquestionably impacted the industry here. (Look for a more in-depth story on NatureAir and domestic aviation from The Tico Times soon.)
And tickets can be expensive. Regular-price tickets hover at around $100 per person each way, which adds up quickly if you're taking the whole family. Most of the airlines do have sales and offer reduced prices for Costa Rican nationals and residents.
If your time is worth the money, though, flying can make your travel through Costa Rica positive and memorable.
Editor's note: The Tico Times has a business partnership with Skyway. It is independent of our editorial coverage.
---
This story was made possible thanks to The Tico Times 5% Club. If only 5 percent of our readers donated at least $5 a month, we'd have our operating costs covered and could focus on bringing you more original reporting from around Costa Rica. We work hard to keep our reporting independent and groundbreaking, but we can only do it with your help. Join The Tico Times 5% Club and help make stories like this one possible.
Support the Tico Times