Salt Traders doesn't always have food. As their name implies, their main trade is peddling salt.
They produce small batches of one-of-a-kind blends, as well as a selection of superior, craft salts — for lack of a better phrase. But the real reason I find myself there is for their pop-up food events.
They announce them every few weeks on their Instagram page and they usually last from Thursday to Saturday, unless they sell out. Sometimes they do.
Each event focuses on one single menu item, so you don't really have a choice.
Their cheeseburgers are famous and they also rotate between offering pulled pork sandwiches, empanadas, tortilla aliñada (handmade corn tortillas with cheese and/or sour cream) and tacos. Everything is homemade and fresh. Again, all of these will never be available at the same time, but depending on which pop-up event you attend, one of them will be flying off of the shelf.
I have been able to visit on two occasions. From what I was able to devour and understand, two of their most popular items are the cheeseburgers and pulled pork sandwiches. Both are absolutely delicious, but if I had to pick a favorite, it would be the cheeseburger.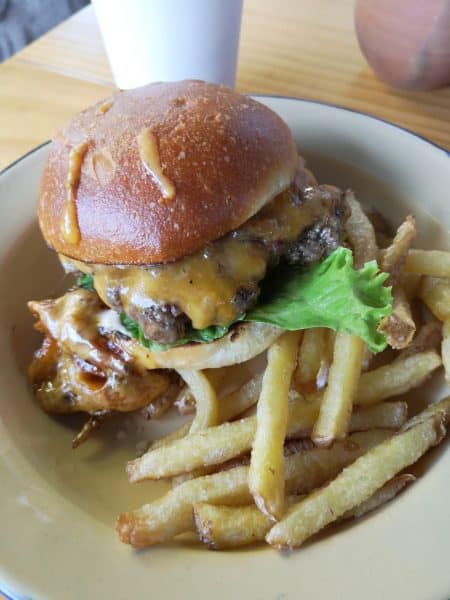 For me, it is the best in the country. It's unmatched. I have no idea how much salt these guys sell, but I do know they could sell thousands of their cheeseburgers. It's a winning recipe.
The cheeseburger is made up of a hand-formed, quarter-pound patty, which is "smashed" on the grill. They select their own prime cuts of beef and ground it themselves, which makes for an incredibly tender and juicy patty. It's topped with a generous portion of cheddar cheese that covers the patty and melts off around the sides. The cheese then hardens at the edges into crispy bits that are an absolute treat when you get one in a bite.
On top of that, you can get lettuce, caramelized onions — that have been reduced for 18 hours on low heat — house-made dill pickles, and a secret sauce. That's all squeezed into a brioche bun.
The homemade bun is pillowy soft, and everything tastes so good together, that I'll get two next time. The hand-cut french fries on the side are just as good. They're fried twice at different temperatures and seasoned with one of Salt Traders' custom salts
The pulled pork is served on the same brioche bun. The contents are substituted for fresh coleslaw, BBQ sauce, and pulled pork. The pork is brined for four days and then smoked low and slow for about 24 hours. This makes it fall-apart tender, with an authentic smokey flavor. This sandwich is also a winner, no doubt about it.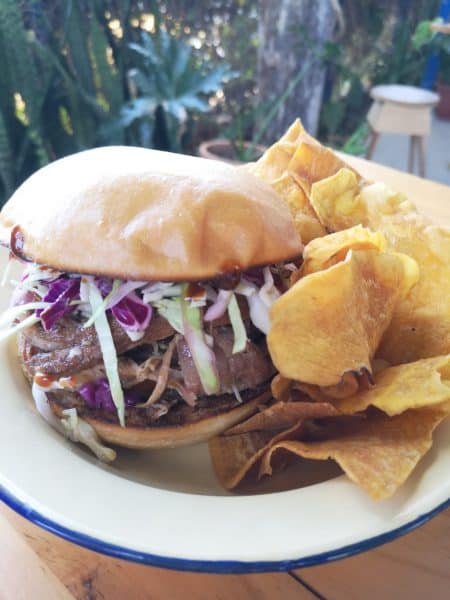 The sandwich comes with a side of hand-cut sweet potato chips. They were the definition of crunchy. Everything here is really made with love and I love to eat it. 
You have a couple of different drink options of fresh fruit flavors mixed with club soda. I chose the starfruit, which was tart and refreshing, both times.
The sandwich and the cheeseburger both cost 6,000 colones (about $10), including the side of chips or fries, and a house blended soda. Prices here include tax, and major credit cards are accepted.
Salt Traders is in the center of Santa Ana, 200 meters south of Ekono and 300 meters to the east, in a traditional white-and-blue corner house.
You pay on arrival and then take a seat. When your food is ready, it's served to you at the table. I enjoy taking a seat in their outside patio area, which is decorated with a scattering of different plants. The greenery makes for an enjoyable setting, especially with the beautiful and sunny summer weather in Santa Ana. This meal is an experience, but it's nothing fancy. Don't get that confused.
The guys are friendly and passionate. That reflects in the cool ambiance and fee lof this place. Salt Traders initially started as a business school project between Adrian Arroyo and Russell Davis. Their assignment was to bring a business plan to life and now that project has turned into a lifestyle for the two partners.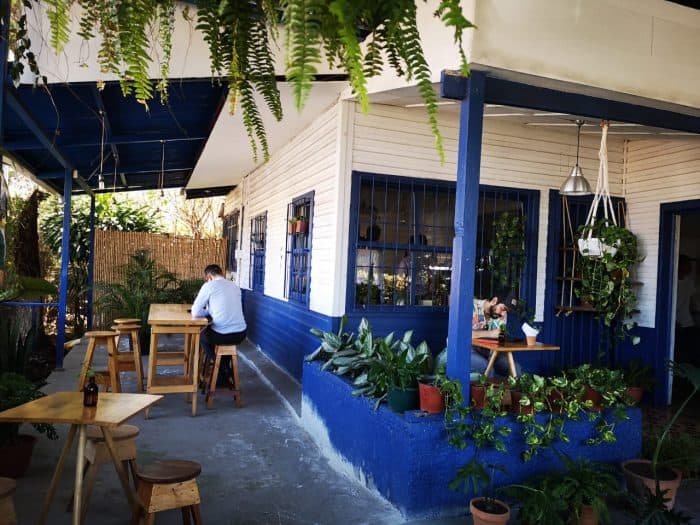 Six years after the project started, Salt Traders is a space that promotes unique, quality products that vendors believe in. They might consider opening another location, which they say would then operate more like a traditional style restaurant with a set menu. For now, the concept is dynamic and varies.
Street parking is available, but limited. These events are intentionally rare and elusive, so it can fill up. They are gaining a well-deserved reputation with these eats, so you might have to figure out where to leave your car.
You can also look for "Salt Traders" on Waze or Uber to arrive conveniently. Make sure to follow them on Instagram, to see when they will be back at it next. I myself look forward to going again and again.  
Know of a restaurant you think we should cover? E-mail us at OTEP@Ticotimes.net.
---
William Ayre is a Canadian born chef and restaurateur who has spent the last half of his life doing business in Costa Rica, where he now considers to be home. Inspired by Anthony Bourdain, Ayre's passion of experiencing different cultures through food has taken him to 35 different countries over five continents. Whether it's a 20-course meal at a fine dining restaurant in Toronto, or cantina hopping in search for the best chifrijo here in San José, he fits in just fine.
This story was made possible thanks to The Tico Times 5 % Club. If only 5 percent our readers donated at least $2 a month, we'd have our operating costs covered and could focus on bringing you more original reporting from around Costa Rica. We work hard to keep our reporting independent and groundbreaking, but we can only do it with your help. Join The Tico Times 5% Club and help make stories like this one possible.
Support the Tico Times