There's a bar in the heart of San José with a menu full of flavors and textures that you can mix at your whim.
Bebedero, a sophisticated cocktail bar inside the Steinvorth building, was founded by Canadian entrepreneur and mixologist Liz Furlong. Its name can roughly be translated as a "drinking fountain," but the description fails to convey the soothing isolation the place offers to its patrons. For a term more kindred to the essence of its cool ambiance, Furlong calls the bar a "den."
Long before coming to Costa Rica, Furlong tasted her first Negroni 4,000 miles away in New York City. A cocktail for those who are fond of amiable contradictions, she says her favorite drink is "cold but not weak," and "bitter but sweet."
"I was living in Canada and I went to New York. I visited a vintage cocktail bar. They had a menu with a lot of options," Furlong said. "I already knew the Campari well, but the experience was very complex. It's just not the same to try it in a cantina than to taste it in an elegant and sophisticated bar."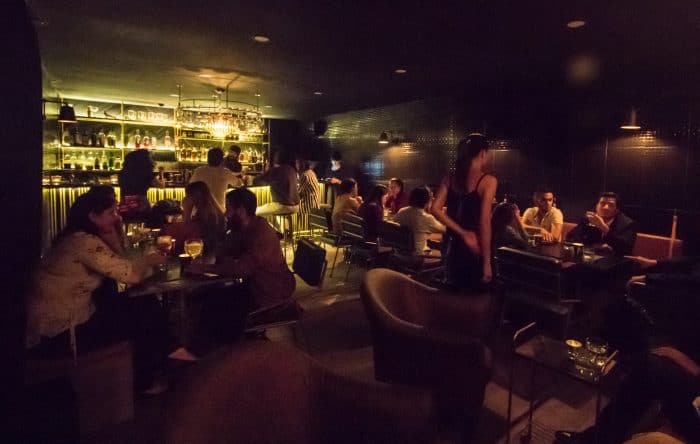 Furlong wanted to bring that experience to Costa Rica. Just a few steps away from the Avenida Central's hectic traffic, Bebedero is a place where you would confidently sip a Negroni, a dry Martini, or any other classic mixed drinks. It's intimate and chic, and the dim lights will let you pretend you are not too underdressed for the occasion.
But don't let the conservative sophistication fool you. Thanks to Furlong's adventurous streak, her bar is also the place to take a fun risk and learn something new about your taste.
Bebedero offers a customized cocktail menu featuring textures – how much do you enjoy a sparkling burst of bubbles? – and flavors: If you ask for something "herbal," you might find chamomile flowers or rosemary leaves in your glass, but that also depends. How much of a sweet tooth do you have?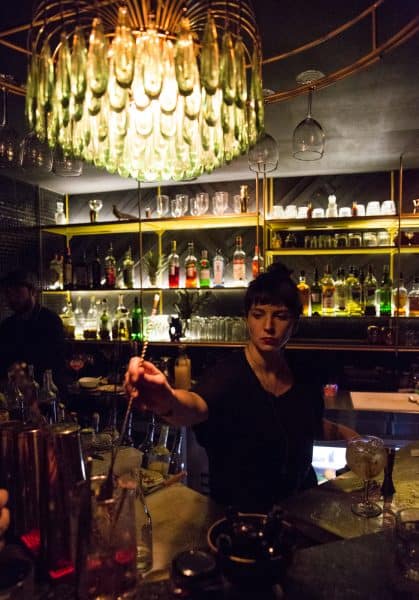 Guests choose whether they want their cocktail with or without alcohol. If you picked with, then you pick the kind of liquor you want it with — whiskey can be used for the more traditional palate, but why not try something new with the local Cacique?
"For me, this was a menu to teach people how to drink at a cocktail bar. It's education, and it's part of the art of mixology," says Furlong.
The kind of "education" she imparts is one that requires the client to ask themselves the hard questions. In just a few minutes, I went from thinking I wanted something cool and sweet to: do I like rum better than whiskey because I think it tastes sweeter? If I like sweet things so much, why didn't I feel satisfied with the fruity options?
Bebedero's bartender then creates the cocktail you will love the most or, just as important, one that brings out the best flavor with whatever meal you pair it with.
"The most important thing is to understand your taste," she says. "If you already drink your whiskey on the rocks, maybe you would like short, strong drinks. If you drink beer, I would recommend asking for something refreshing and dry.
"Patrons have to talk with the bartender or the waiter. Usually, when you go out, you ask for anything. But actually you have to think it through: think about your taste or how you feel, whether you crave something refreshing or maybe something stronger."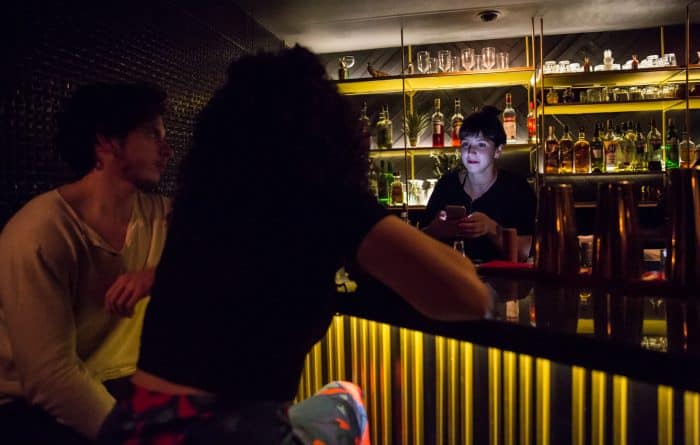 But should you have to find a signature cocktail to be an accomplished drinker? Though it doesn't hurt to have a comfort option, Furlong has "a signature drink according to the place" she visits.
For the Bebedero staff, the "signature" part is a matter of being comfortable with the sophistication of the bar and the warmth of its bartenders. Above everything else, cocktail drinkers should be comfortable in their own skin.
"I always try to specify the liquor that suits them best," says Furlong. "The essence of a good cocktail is to find a liquor the person already knows and that feels comfortable."
---
Natalia Diaz is a freelance journalist. She likes her reading the same way she likes her music: with a side of gin tonic. Natalia just started this new liquid diet and she's writing all about it. You can follow her on Twitter @natdiaze.