Paraíso, a small city about 8 kilometers southeast of Cartago is known for the beautiful surroundings that gave it its name: Paradise. It's also a bit of a "metal Mecca," if you will. I experienced this passion firsthand a couple of times.
My band, Thunderborne, did a Sabbath show in San José back in 2016 that almost filled up El Cuartel despite some heavy competition from that year's First Division soccer championship.
But by far, the most intense fans were some 30 people from Cartago who had chartered a bus to enjoy these timeless classics that seem handed down – or handed up? – from beyond this world. I'd never seen so much chanting, moshing, and headbanging at one of my shows. These folks lived and breathed heavy metal like it was 1985.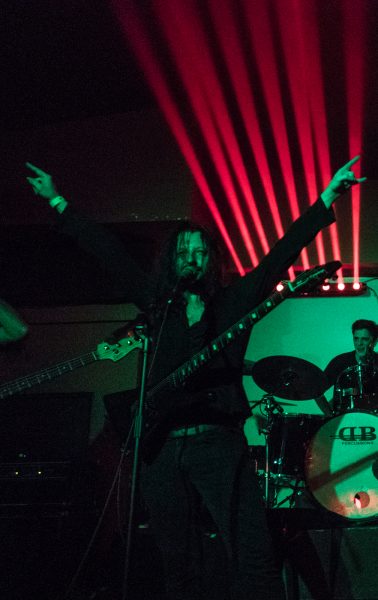 That's why when we were invited to perform in Paraíso another local band, Akaron, we knew we had to go. My band pulled up to my house at about 6 p.m. as I raced to finish getting all the little things together.
Cables, pedals, picks, guitars, paper bracelets, extensions, power strips, connectors, and an extra shirt so I won't spend the rest of the night utterly soaked in sweat.
The motto may well be sex, drugs, and rock 'n' roll, but any musician will tell you that it's more like, logistics, planning, and luggin' junk. At least that's been my experience in the 14 years I've spent playing rock around Costa Rica.
Josue Castillo, an event producer, invited us to his base of operations in the aptly-named RoadHouse Bar. He greeted us decked out in a leather jacket, as one would expect.
"Do you guys mind if the other band starts at 9 and you guys start at 10? That way we let more people come," Castillo said.
Readers hailing from more punctual climates might cringe at the thought, but it's almost always a good idea in Costa Rican rock. The show was supposed start at 8 p.m., but the place was mostly empty. Once 9 p.m. rolled around, Josue had a different worry– "I'm not sure if everyone's going to fit!"
Akaron, the local band we were paired up with, revved their engines with a blistering rendition of Judas Priest's anthemic "Breaking the Law." Then they switched it up to their homegrown originals.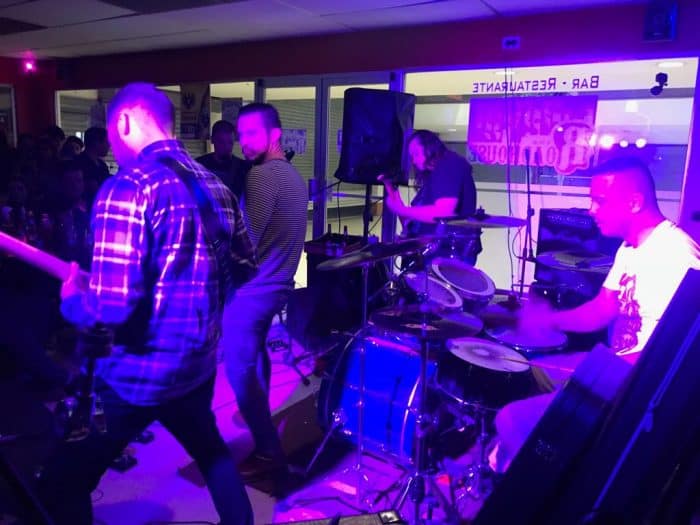 They unleashed cut after cut of classic-sounding heavy metal in Spanish, harking back to bands like Spain's "Baron Rojo" or "Angeles del Infierno" – Red Baron and Hell's Angels, part of the hispanosphere's answer to Britain's Iron Maiden – complete with twin guitar lines and wondrous clean-guitar passages.
The highlight would've been "Con el Látigo en la Espalda" if they hadn't closed with the equally rousing Teutonic metal of Accept's "Balls to the Walls."
It was our turn to rock after that. Despite a myriad of shows in the last 14 years, I still get those jittery feelings of excitement – and, yes, even a little fear – right before the first chord blasts out of the lead guitarist's Peavy amplifier with a godforsaken E minor. Once those rich overtones infect the air, the thrill of the moment and a rush of adrenaline take over. There is nothing left to do but let it take over and leave it all on the stage.
The crowd was fantastic, leaving no word unsung and no riff unchanted. Of course, we sprinkle some of our upcoming originals in, but only after we have won them over. Thankfully there were no jeers, but rather a good amount of stern headbanging.
Once the show is over, it's time to lug junk again and head home. But there's another delay. This time it's other musicians and metal fans eager to talk about our favorite songs while drinking our favorite beers.
We get back to San José around 2 a.m. and rest on the seventh day, as God commands. Monday greets us with our respective day jobs – for me personally, as an economist. Five more days will have to pass before I can get back on stage. Five more days until we rock once more.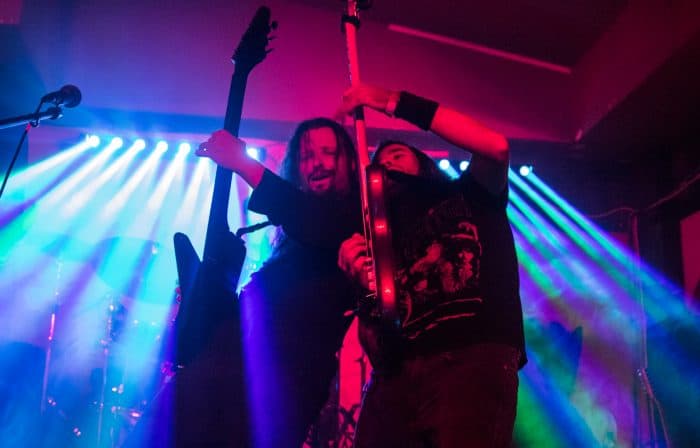 ---
Eduardo Doryan Jara is a Costa Rican economist who moonlights as a rock musician, radio show host, and occasional comedic actor. He provides lead vocals for national heavy metal bands Thunderborne and Occasus Tyrannis, as well as cover and tribute projects LandScape and The Funky Monks.
He leads online radio station Mundo Rock Radio's local music program RelampaRock, which broadcasts 100% national music every Saturday at 1 p.m. Outside of music, you can catch him doing fake sports newscasting for the amateur local soccer team Nottingham Miedo F.C.