Using art as a tool to honor the history of Costa Rican coffee, but also to vividly depict Costa Rican identity: that's Raudyn Alfaro's goal.
The merging of art, architecture and teaching has always been a constant in Alfaro's work. Alfaro obtained a technical degree in architectural drawing and engineering from the Costa Rican Institute of Technology (TEC) while also teaching in various public schools in the province of Heredia. He graduated as an architect from the Universidad Hispanoamericana in 2014 and, one year later, began immersing himself in the world of art.
Costa Rica's identity in its simplest essence, including coffee and the campesinos planting it, has always been familiar to Alfaro. During his childhood, he spent his time with his grandparents picking coffee. When he sought to express Costa Rica's essence through paintings, he turned to the coffee grain, combining vibrant colors with architectural influences.
"A Costa Rican drinks coffee every day, whether it is to go to work or mid-afternoon. There are people who drink it after eating. Let's take coffee that marked us, identified us for an entire life and also gives us values," Alfaro told The Tico Times. "If you drink a cup of our coffee, you're also drinking Costa Rican values. You're drinking our virtue, the desire to work, the desire to serve other without asking why, as our ancestors did.
Alfaro says his love for essential Costa Rican values drives him to what unites us as a country, rather than separating us. His work has been exhibited in Spain and the United States, and he is preparing for an exhibit at the Costa Rican embassy in Guatemala.
On a chilly afternoon in his home at San Pablo, Heredia, The Tico Times sat down with Alfaro, 44, to talk about his life and work. Excerpts follow.
What drew your attention to art?
The expressive way of art… the artist made it with the objective of transmitting what he or she felt at the moment. For me, art is very open, and that's what I love about it. There's black and white, colors, simple, saturated and much more. It can transmit all of those sensations.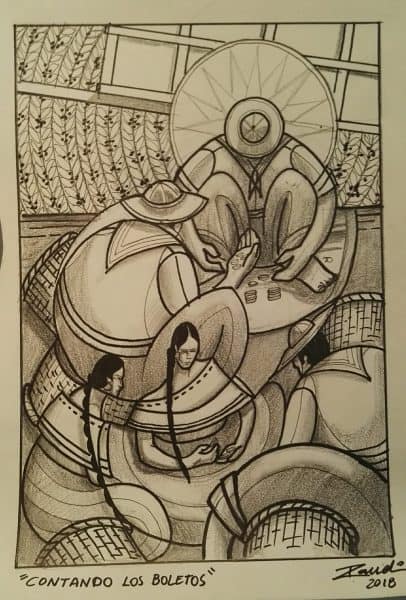 How would you describe the intention of your works?
Searching within myself for the fastest way for people to understand what I feel. You see it, you listen to it, you smell it. You say: look, this feels this way. I ask: you really think I feel that way? And you tell me: yes, Raudyn. I think you feel that way. And then, that's how I feel.
Why did you decide to do paintings about coffee and Costa Rican identity?
Coffee comes from Costa Rica, but if a foreigner can say that about our coffee, can they say that about our identity? How does the foreigner know to identify that something's Costa Rican? My collection wants to communicate that: that Costa Rican idiosyncrasy. The humility. How breteadores [hardworking] we were.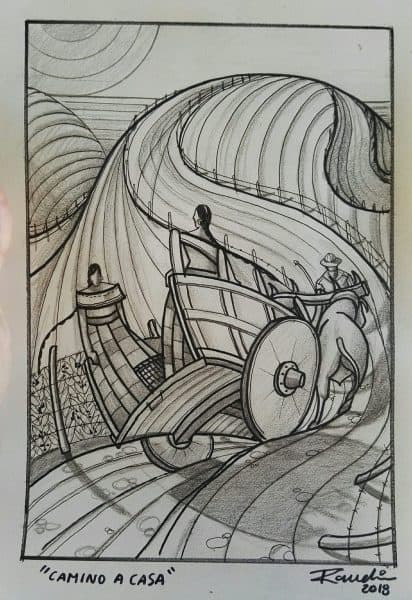 It is an homage to being Costa Rican, applauding our ancestors, but I also must applaud today's Costa Ricans. To the tico who still feels humble. The tico who's still gentle and keeps working. I believe that the tico cannot say: ah, those were the values before. No. There still are ticos like that and I applaud that.
Second, it's being grateful to the people who thought of coffee as a medium to emerge economically; coffee created possibilities. It saved us from wars. It helped us to form towns.
How do you choose your color palette?
Because of Costa Rica. You see my collection and it has a very [consistent] color palette: very bright colors. That reflects a lot of the people's personality… As for me, I've always been a humorous person, very funny. That's why there are vibrant colors in the paintings. What never fails is an orange or red… those are the ones that burn the most, the ones that burn me, and they're always present in my works.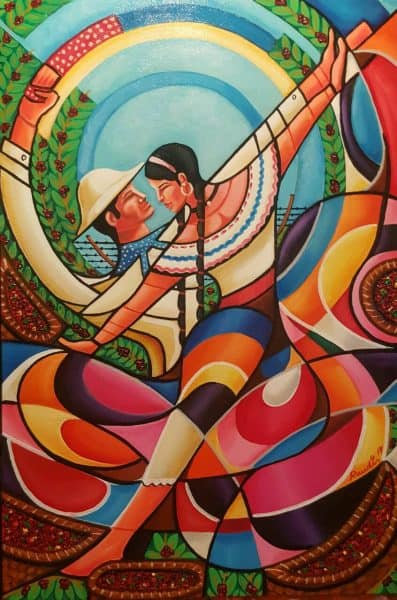 Given the divisive political context in the country, how does it motivate you to highlight Costa Rica's values that unite it? [The interview took place before the presidential elections of April 1, 2018.]
It's very interesting. There are people on each side… but what unites us? Ah. When La Sele plays. Excellent. Only when La Sele plays we're united. That's not quite right.
I live in Escazú and you live in La Carpio, but, do we both wake up to work? Yes. Do we pulsear [work hard] every day? Yes. Wherever we are we're jocosos [humorous] and funny. There are more things that unite us than what separates us.
If this [division] reached politics and was placed like an oil drop in a water glass that separated everything, then it's because we're very weak. We're very weak with our identity. Our values should be stronger than what can separate us.
We're still people who support each other. A tragedy occurs and we support each other. Our identity has not been lost. A coffee grower told me: Raudyn, this will remain [only] as romanticism. No. Art is a way to get to people faster and show them how we were before and what we're like now. All that's changed was the clothing.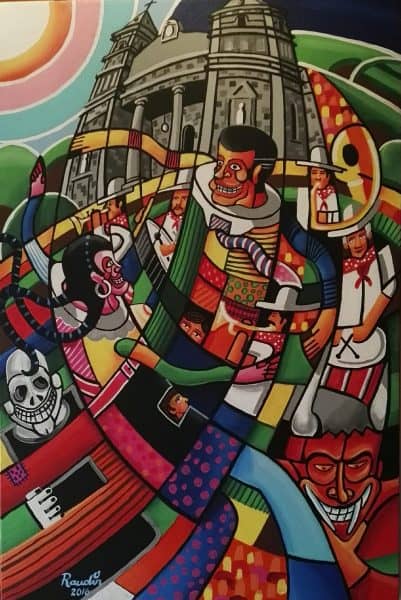 "Weekend Arts Spotlight" presents Sunday interviews with artists who are from, working in, or inspired by Costa Rica, ranging from writers and actors to dancers and musicians. Do you know of an artist we should consider, whether a long-time favorite or an up-and-comer? Email us at kstanley@ticotimes.net.