"When I was a child I always said I wanted to be a painter, but when I grew up it was ingrained in me that it's a hobby and not so much a career. Andrés Gudiño told The Tico Times. "You get detached from it, but the intention was always there."
The Costa Rican artist started out as an architecture student at the University of Costa Rica (UCR), but transferred to Painting after three years to follow the passion that had motivated him since childhood. He began experimenting with different media such as drawing, engravings, sketches, sculptures, photography, audiovisual production and sculptures.
In the process, Gudiño developed a playful, erotic character whose main goal is to tease its audience: viewers must approach the character to figure out what it is trying to say or to hide. The artist's objective? To depict sexuality as a game.
Gudiño to have had various solo and collective exhibitions at the Contemporary Museum of Art and Design (MADC) and Despacio Gallery in San José. On a sunny morning at Saúl Bistró in Barrio Escalante, east of San José, The Tico Times sat down and spoke with Gudiño, 28, about his life and work. Excerpts follow.
Which techniques do you most like to use and study?
Mainly drawing. It's funny because when I was in class, the drawing courses were hard because it's very academic drawing and I always had a certain fear… but learning and unlearning about drawing is very enriching because almost everything is a drawing first.
I've got this ease with fast sketches. It's a technique that allows you to do many things… Engravings are a type of drawing. Instead of using a pencil, you're using a gouge. Instead of using paper, you're using wood.
I work with both drawings and collages. I do various drawings and suddenly I like a specific part from one of the drawings and another part from the other one, so I cut them out and paste them together to build what I really want to produce.
How do you go about creating a piece?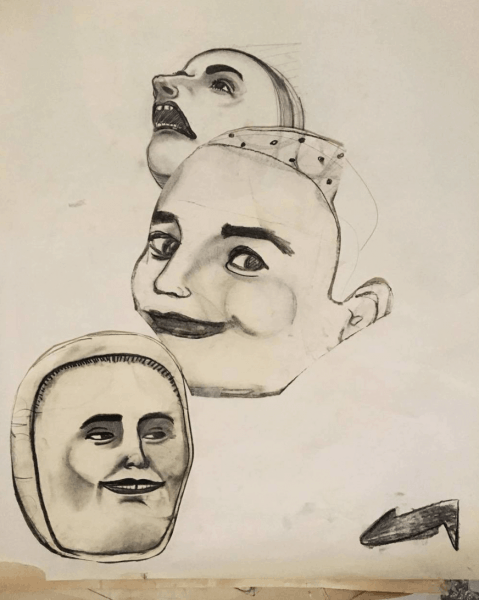 I use a lot of family photographs. I have a huge archive with photographs that I choose for certain reasons: it reminds me of something, or someone's facial expression or body position attracts my attention.
I started using these familiar photographs because I'd spend hours looking for references and in the end these would be completely unfamiliar images. Because of that, the drawing would be unfamiliar.
With these photos, more natural art would get done, something that's more mine. Many of these references have been transferred to drawings.  I use transparencies and overlap them to do a collage and then, maybe, I use cloth, painting, embroidery or draw something to make a sculpture or mask.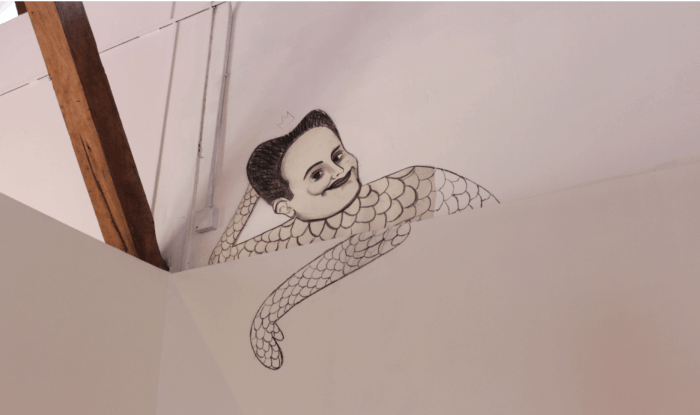 Why did you get interested in the topic of sexuality and eroticism?
Understanding sexuality when you're young can be hard… we're made to believe that it's a topic that it's better not to talk about or that it doesn't exist. No one's informing you about it, and suddenly you feel things and begin experimenting or wanting to experiment.
Accepting my own sexuality or wanting to experiment with my sexuality was always very sinister, very hidden… It's the repression of something as natural and simple as sexuality is because everyone feels it. Everyone needs pleasure. I was very drawn to how those topics are handled and how a context can influence oneself and determine you as a person.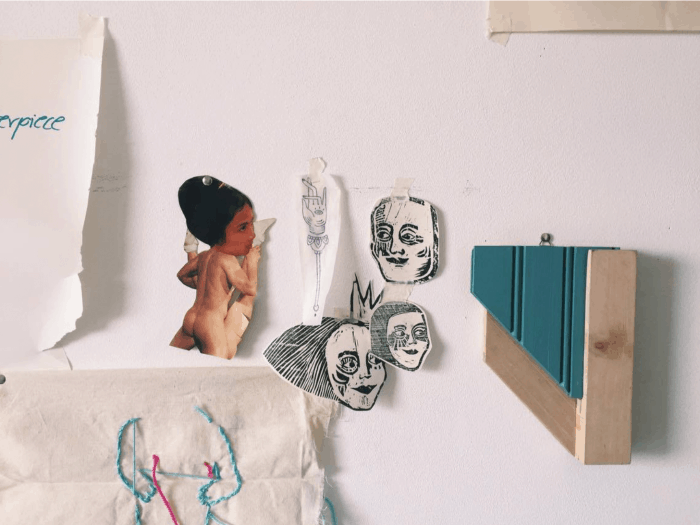 Did you think about this character before exploring this topic?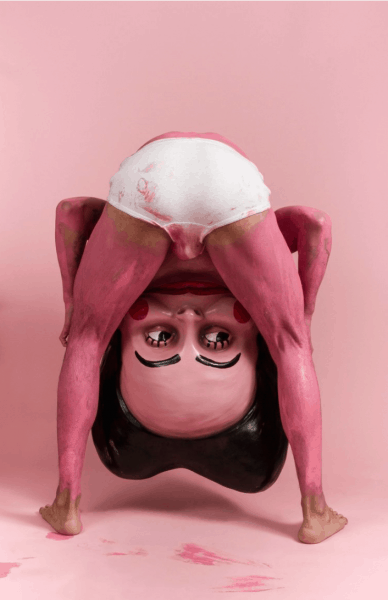 This was the first character I made with a mask, but the intention was to develop it much more. The characters I used for the museum exhibition were made based on family photos. Suddenly I have these facial expressions within the photos that I was looking at with certain malice.
I then found two or three photos with a glance that said something to me… I began drawing and the character came out. When I placed it in the museum, the character's pose gave it its personality.
I then… made the mask based on the traditional mascaradas, which are painted pink with red cheeks or the other way around.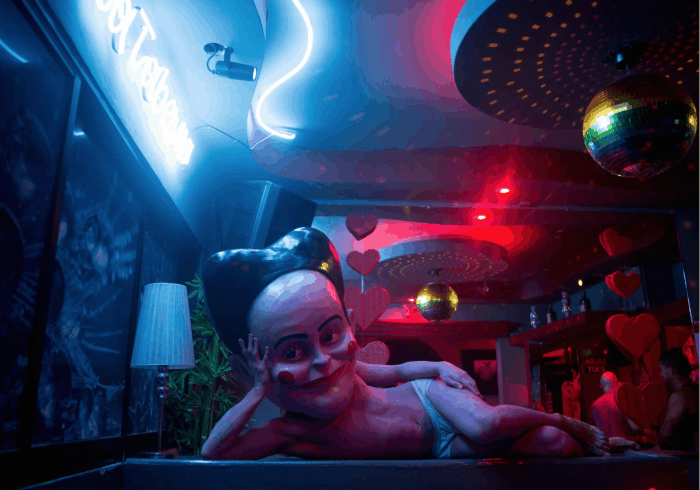 When you made the performance at Despacio Gallery, what was it like given that you were experimenting with something new?
That was an opportunity that has defined quite a lot of this process. I had never been interested in performance before. I'm a bit shy and don't see… using myself as a tool or as a piece.
The people from Despacio had suggested it and I got anxious because I really didn't know if I was capable of doing it or if I really knew how to do it. I was very scared… The intention of this performance was to introduce the audience to this character's world. I wanted to work with the space through the ambiance, the sound, the light. I also did some performance research to understand how to use the body and how to involve the spectator.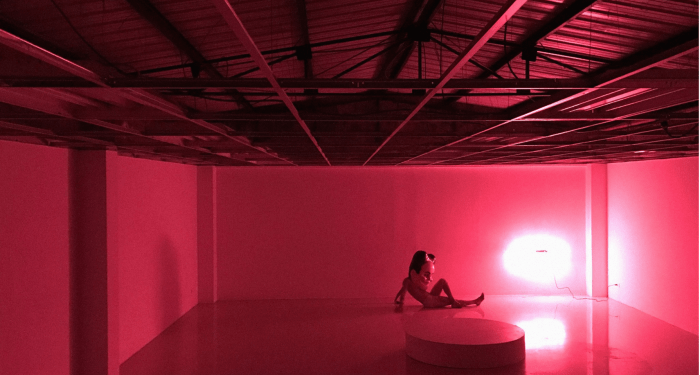 Watch Andrés Gudiño's character playing in the bathroom:
Our "Weekend Arts Spotlight" presents Sunday interviews with artists who are from, working in, or inspired by Costa Rica, ranging from writers and actors to dancers and musicians. Do you know of an artist we should consider, whether a long-time favorite or an up-and-comer? Email us at kstanley@ticotimes.net.