Four inmates and two guards of the San Sebastian prison in southern San José had to be rushed to San Juan de Dios Hospital with various injuries caused by a fire started inside a cell. More than 150 prisoners and workers had to be evacuated as a result of the incident.
Three of the prisoners had burns on various parts of their bodies. The other injured parties had suffered respiratory problems caused by smoke, the Justice Ministry reported in a news release.
Prison Police Director Pablo Bertozzi said the fire started at around 2 p.m., apparently after prison officers informed an inmate by the last names of Lindell Brautigan that due to his bad behavior, he will be moved to La Reforma, a bigger prison in the province of Alajuela.
Motín inició por un privado de libertad molesto por una medida disciplinaria que le aplicaron de trasladarlo al CAI La Reforma.

— Ministerio de Justicia y Paz (@justiciaypazcr) March 30, 2017
This appartently angered other inmates, who burned their mattresses in protest. Lindell was not in the cell at the time of the fire, the ministry reported.
The fire quickly spread to the other beds and desotroyed all the inmates' belongings inside the small space.
Guards evacuated a total of 127 inmates to the prison yard, as well as some 30 administrative workers. The fire required a massive emergency operation including members of the National Police, the Firefighters' Corps and the Red Cross.
The firefighters extinguished the fire at around 3 p.m., the ministry indicated. Justice Minister Cecilia Sánchez and Vice Minister Marco Feoli arrived in the prison shortly thereafter and talked to some of the prisoners about the reasons behind the mutiny.
Minister Sánchez told prisoners that officials are open to dialogue, but stressed that they will not hold any negotiations if inmates put the lives of the other prisoners or prison officials at risk.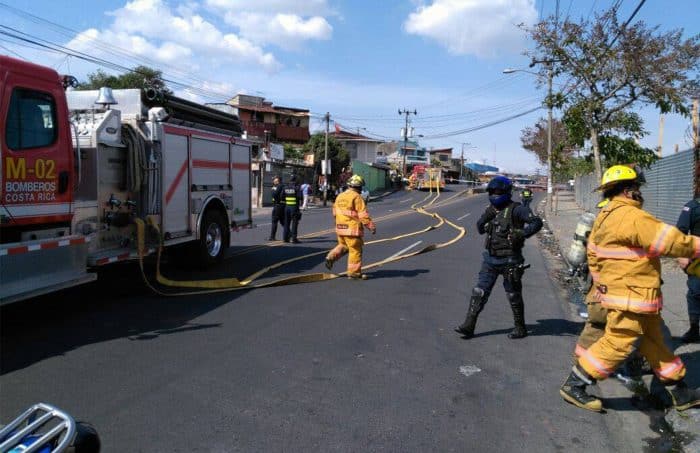 Overcrowded prison
The San Sebastián prison has been in the public eye because of its ongoing problems with overcrowding and poor infrastructure.
In 2016, the prison housed 1,260 inmates, more than double its actual capacity of 664. Several protests and legal claims prompted a San José judge in July of that year to order it shut down.
Following that ruling, the Justice Ministry started releasing prisoners convicted of low-level crimes. The Prison System also relocated some inmates to other prisons and managed to reduce the number of inmates to the current total, 713.