It's a lovely, warm morning at Casa 1330 in downtown San José. With the delicious smell of coffee in the air, the Costa Rican designer Jimena Delgado descries the artwork she shares with the world on an unusual canvas: silk scarves.
Ever since Delgado was a child, she's loved anything art-related, whether it was children's coloring books, sketching or textiles. This love then transferred to her college education: she studied publicity design at the Véritas University and then obtained a master's degree in textile design at the Instituto Europeo di Design (IED) in Madrid, Spain. She now works as a designer both at a company named UNIMER and with her own two-year-old brand, Doña Daisy, inspired by non-traditional Costa Rican landscapes and her grandmother.
"Doña Daisy is my grandmother's name. Her [original] name is Esperanza, but she didn't like it and told everyone to call her doña Daisy. She's also very dainty, so it goes along well with the brand," Delgado told The Tico Times.
The initial inspiration for Doña Daisy, which began two years ago, has led Delgado to create her handkerchiefs with Crêpe de chine silk that depict the use of a vibrant, yet limited color palette through the technique of digital printing.
The Tico Times sat down with Delgado, 28, and spoke about her life and works. Excerpts follow.
Why did you decide to design silk scarves?
It represented a great gift and commercial product: you don't need to think about the size as you do with other clothing items. You just have to choose according to the colors you think the person likes, and I also thought it was a nice way to exhibit landscapes.
Why did you choose Crêpe de chine for your scarves?
This silk is matte with a rougher texture. I saw it and fell in love with it because I wanted to make a product that could be worn with jeans. Oftentimes people have this silk scarf that they do not use very much because they're afraid it'll get damaged, so it's used for special occasions. I wanted to create something that could be used every day. The good thing about this silk is its spinning and twisting, which gives it its texture and makes it more resistant. Its quality is great, so people will be able to use it every day and nothing will happen.
How do you choose the color palette?
The color palette and design is very influenced by the serigraphy process. I worked at a serigraphy studio when I was in Madrid and the technique of limited colors usage was impregnated in my mind. Since each color screen is very expensive and everything else is very difficult, you work with few colors. The first scarves I made had as a maximum three colors. My scarves are digitally printed, so I could use 100 colors if I'd like to, but I kept on using the reduced color palette I had learned about while working at the serigraphy studio.
I like to play with the negatives, positives and stains that exist in the serigraphic world. I usually sketch everything by hand and then transfer it to the computer. Afterwards I paint digitally by taking into account those big stains and thick lines that work very well in serigraphy.
Since a scarf is an accessory, it allows you to use those vibrant and appealing colors that you probably wouldn't use with a normal shirt.

Which is your process for designing a scarf?
It always begins with a sketch using pen or pencil. For the sidewalk design I made a stamp because the mold was easier to replicate. It was a design based on the cobblestones of the sidewalk. The stamp was super easy to create. Afterwards I begin to transfer the sketches to the computer and then refine details. With the last two designs I made, I had done a watercolor, but I always change everything when I'm painting digitally, so it obviously doesn't look like a watercolor.
How do you choose the designs' themes?
They're non-traditional landscapes from Costa Rica. For example, I've got designs such as the Río Blanco, Bougainvillea flowers and tropical fruits. It all starts out without intentionally thinking about it. Two years ago for New Years I went to Bagaces and we went to a hotel called Río Perdido that had walking trails over the Río Blanco. I took a picture and much later I decided to sketch it without any specific purpose. I did because I was in that sketching rush, and then I noticed that the format could be adapted to the square shape of the scarves, so I began doing it. That's how the Río Blanco scarf was created and imposed the rest of the scarves' themes.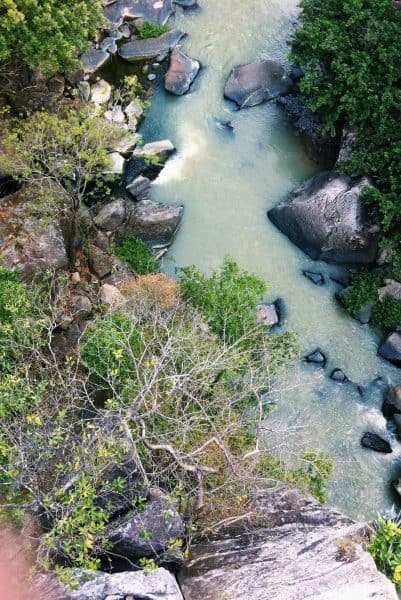 Our "Weekend Arts Spotlight" presents Sunday interviews with artists who are from, working in, or inspired by Costa Rica, ranging from writers and actors to dancers and musicians. Do you know of an artist we should consider, whether a long-time favorite or an up-and-comer? Email us at kstanley@ticotimes.net.