TEGUCIGALPA, Honduras — Four people were arrested in Honduras Monday over the murder of a high-profile indigenous activist earlier this year, officials said.
The four had been linked to the March 3 killing of Berta Cáceres, a spokesman for the state prosecutor's service told AFP.
One of the suspects detained was a 49-year-old employee of Desarrollos Energéticos (DESA), an electricity company involved in the construction of a hydro-electric dam against which Caceres had campaigned, local media reports said.
Two masked gunmen fatally shot Cáceres, a 45-year-old activist for indigenous, environmental and social issues, at her home in La Esperanza, northwest of the capital Tegucigalpa. Her funeral drew thousands of mourners.
Before her death, she said she had been threatened by DESA for organizing local resistance to the Agua Zarca dam.
DESA received a $24.4 million loan from the regional Central American Bank for Economic Integration to build the dam in 2007.
Family wary
President Juan Orlando Hernández congratulated the authorities on the arrests, but Cáceres' family expressed wariness.
"As a family, we are together in our reserve over these detentions because (in Honduras) suspects are often detained and then three weeks later they are freed" for lack of proof, Cáceres' brother Gustavo Cáceres told AFP.
The public ministry, responsible for the state prosecution service, identified the four detainees as Sergio Antonio Rodríguez Orellana, Douglas Geovanny Bustillo, Mariano Díaz Chávez and Edilson Atilio Duarte Meza.
They were arrested on suspicion of involvement in Cáceres' murder and the attempted murder of Mexican activist Gustavo Castro, a friend of Cáceres, who was also shot at her house during the attack, it said in a statement. Castro survived the assault.
Rodríguez, 49, worked for DESA, local media said, adding that Díaz was an active duty soldier and Duarte Meza a retired soldier.
"To Berta Caceres' family, we apologize if a member of our institution participated in such a shameful act," the head of the country's joint chiefs of staff, General Francisco Álvarez, said of Chávez's reported involvement.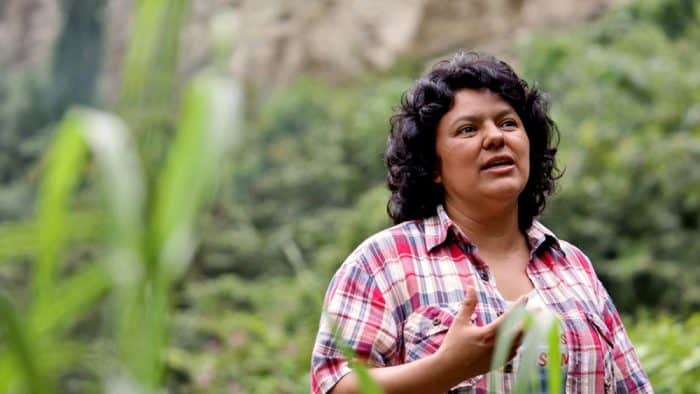 Call for OAS to join probe
Cáceres' family and her indigenous rights group COPINH issued a joint statement saying they were excluded from the investigation preceding the arrests and "cannot say whether they were the result of exhaustive work, nor do we know if they include the masterminds at all levels" behind the killing.
Nevertheless, the reported participation of an active and a former soldier linked to DESA "seems to show the involvement of state agents in the murder," they said.
As a result, they argued, the Agua Zarca dam project should be shut down "immediately and definitively."
They also said the Inter-American Commission on Human Rights, an autonomous body of the Organization of American States (OAS), should have access to Honduras' investigation.
The United States, an OAS member, said through its embassy that it "welcomes" the arrests and would be watching the trial.
See also: Honduran indigenous leader wins prestigious environmental prize