Andrea Seas, 27, studied interior design at the Inter American University (UIA), but then decided to follow her one true passion: enhancing people's natural beauty through the use of makeup. Since childhood, she had enjoyed discovering the versatility of experimentation that makeup allows. When Seas went to the International Beauty Show (IBS) in New York, she was more certain than ever that dedicating her life as a makeup artist was what she truly wanted to do.
Seas works as a makeup artist both for productions and for social events such as parties and weddings. She has worked for the fashion magazines Traffic and Perfil. Her work is characterized by the use of very defined lines and a clean aesthetic that is pleasing to the eye.
On a sunny afternoon at the Parque Francia, The Tico Times sat down and spoke with Seas about her work. Excerpts follow.
What drew your attention toward makeup?
That's a great question, because I can assure you that when I was a child I always grabbed my mother's makeup and thought it was super fun. I loved the thought of painting my lips and getting the makeup all over. I've always had that very alive within me. You can create anything on your face and be whoever you want to be. I myself don't use a lot of makeup these days, but it has always drawn my attention. It's like painting and creating new things. I love the small things and that it's very detailed. I enjoy letting myself get immersed in the concentration that those details entail…which dots and lines you create and being careful that it's all in line. I'm very picky about all of those things. I like everything to be very linear and nice.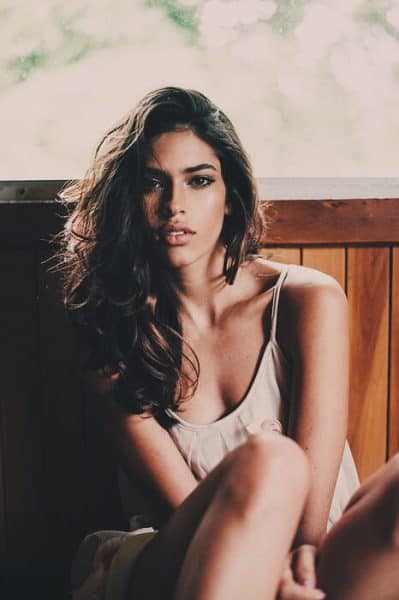 Which is the color palette that you normally use?
I like to use a lot of greyish and black color tones when it's something a bit more dramatic. I also love bronze and a super intense cherry red that's almost black. I normally use those colors for productions… If it's makeup for someone who's going to play a part, [the color palette] is maintained within a more sober range, and I like to keep a certain natural aesthetic. Maybe I do some strong lips and decide not to apply so much makeup on the eyes. I like to keep, to a certain degree, a balance among the eyes, eyebrows and mouth.
When it's for events, I like to use different shades of pinks, bronze and beige. I also love gloss on the eyes, and nice, lifted eyelashes.
What makeup can really do is enhance all the cool things on your face and complement it. I don't like to completely change the shape of the face. Now you've got all the contouring techniques, but there's no need to apply so much makeup. I can understand if it's for a photographic session, but for a day-to-day look it's very exaggerated.
How do you prepare the concept for productions?
I haven't yet had the opportunity to be in charge of the concept for a production because I'm part of a bigger working team. I'm still learning. Everyone provides ideas and normally there's one person with more experience in charge of us. You start working, more or less, with the already established concept based on the clothing and everything else. Then you create face charts, which are paper faces. On these face charts you paint with the same makeup you'll use. You take everything, give it color, lights and shades, and you start placing the color palette that you'll be using. You start deciding what works and what doesn't. Taking into account the illumination is very important because sometimes the gloss can be too strong if we're shooting outside in the daylight.
Last Saturday I worked on a very cool, big production. It's for an exhibition by Diego Vargas that'll be taking place at the end of the year. We sat down and talked about what we all wanted, how it worked, what illumination to use, which clothing to use, if there's too much latex and if we want a plastic aesthetic. You put together all the colors needed as the production is being carried out.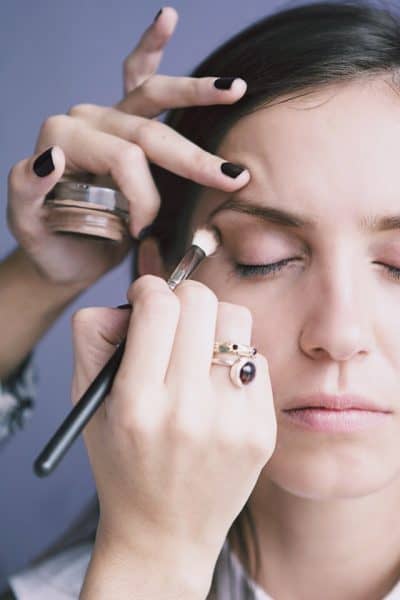 How does the face's bone structure define the makeup to be used?
The bone structure usually determines the face's highest points. In order to enhance certain things you've got to be able to focus on those high points. I'm talking about giving certain shades and depth to create three-dimensionality. Underneath the cheekbones there's small hole that allows you to accentuate it. It's about playing with the lights and shades. On the high points you place the lights, and on the lower ones you place the shades.
If the bone structure is more defined, it's easier because you already have the established space to apply the makeup. Sometimes people don't have their cheekbones so defined and you have to tell them to do this [sucks in cheeks] and you see where their bone is.
How is makeup a tool to enhance a person's natural beauty?
Makeup is a way to express yourself, and I find it very fun because it's about playing and experimenting. Maybe you can use it to cover certain pimples on a very low and balanced level, but it's not as if I have a burn and I'll be covering it all my life with makeup. You've got to accept yourself as you are, learn to live with what you have and make that your own being. You've got to accept it because you can learn to enhance many things… and it doesn't only work to make you look good, either. You can use it to create a unibrow. Suddenly one day you can go out on the streets like that and what do people care? You've got to accept yourself and be happy.
Our "Weekend Arts Spotlight" presents Sunday interviews with artists who are from, working in, or inspired by Costa Rica, ranging from writers and actors to dancers and musicians. Do you know of an artist we should consider, whether a long-time favorite or an up-and-comer? Email us at kstanley@ticotimes.net.