Jose Ramírez, 28, has been playing music for approximately 17 years, influenced by some of the greatest bluesmen of all time: Robert Cray, Coco Montoya, Duke Robillard, BB King, Eric Clapton, Ronnie Earl and Jimmie Vaughan, among others. A self-taught musician who fell in love with the blues thanks to his father and a very special gift his grandpa gave him, Ramírez is the founder of the JR Blues Band in Costa Rica. He recently moved to the United States and is now part of the Lauren Mitchell Blues Band.
The Tico Times talked to Ramírez about his love for the blues and his experience in the United States thus far. Excerpts follow.
How did you get into music, and why did you choose the guitar and the blues?
My dad was responsible for me getting into music. He was a band manager in Costa Rica many years ago, so as a little kid I was used to going to rehearsals and shows. He always taught me about quality music such as blues, soul and funk. I remember being 6 or 7 and my dad played Elvis or Motown in the car. I started playing music when I was about 11 or 12… My grandfather gave me a small acoustic guitar for Christmas, and that's how it all started for me.
The blues was an easy choice for me. The first two guys I heard were BB King and John Lee Hooker and their sound was so strong, powerful and complete that I decided to start listening to every blues record I could find and learn the guitar parts by ear… If you can play the blues with your heart and soul, then you are a playing the real thing.
How would you describe your experience with JR Blues Band, and what's happened with it now?
The JR Blues Band has been the most important blues band in Costa Rica. We have played shoes with blues legends Debbie Davies and John Carey, plus tons of other big blues events and festivals. More than a band, to me they are family, and that's the reason why the band was #1 in Costa Rica and why we were able to accomplish our goals.
The chemistry and friendship came in first, and then the music came easily.
Since I left, the band is on standby. My fellow band members have been very supportive of my new musical journey and can't wait to play some shows together again in the near future when I visit Costa Rica.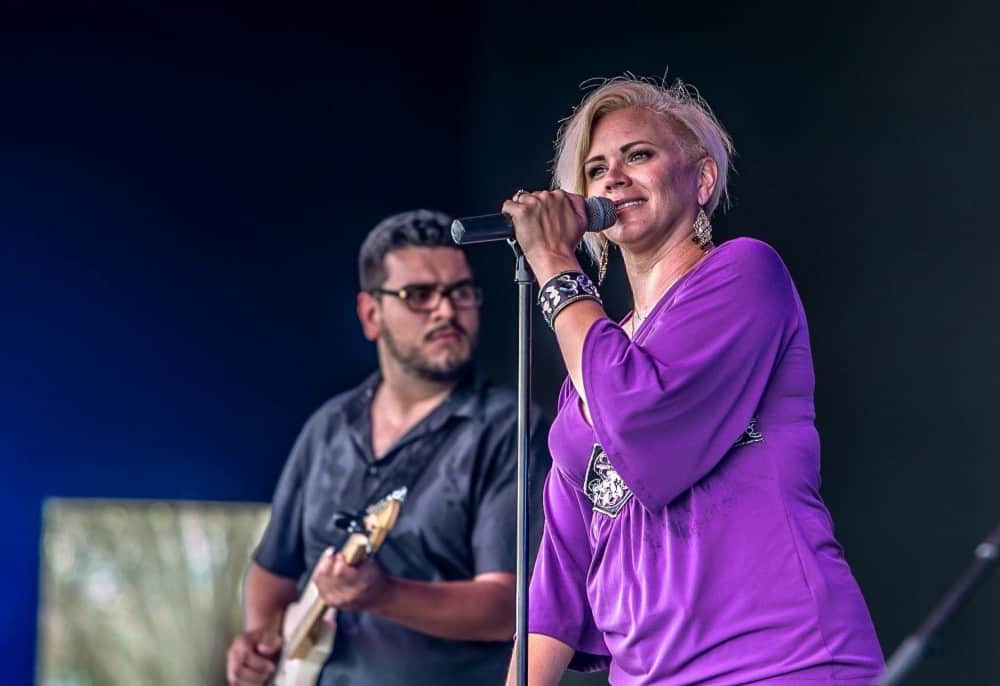 Why did you leave Costa Rica for the United States?
When I was 16 I had the pleasure to visit both Dallas, Texas and Tampa, Florida for a few months, and I was exposed to the blues scene there. When I went back to Costa Rica, I started my blues projects down there, but in my mind I always wanted to come back to the United States at some point. Debbie Davies had a conversation with me in the green room at her show in San José, and she recommended that I follow my dream and try my luck in the U.S. blues scene. She said: "José, you have what it takes to go there and succeed playing the blues."
It's been amazing so far… Way better that I thought it'd be. So far I've the honor to play with legends such as Brian Lee and to share the bill at blues festivals with names such as Coco Montoya, Sonny Landreth and Eric Gales.
How is your career going with the band you're now playing with?
I was recently hired to be the new guitar player in the Lauren Mitchell Band, which is a big-name band here in Florida. More tours await for us in the next couple of months. In May we'll be touring through Alabama and Atlanta. In September we'll do some shows in North Carolina and Washington, DC. We are also planning the recording of Lauren's new album and possibly a couple of dates in Costa Rica by the end of the year.
The Lauren Mitchell Band plays blues, soul and funk, and sometimes we take it to church and play some gospel music, but everything we do, it's based in the blues. My plan right now is playing full-time with the Lauren Mitchell Band.  She's been so good to me and we have great chemistry together when we play. Great things are happening for the band right now, and I'm glad to be a part of it. It's a big deal from a guy coming from Costa Rica to enter a big blues band here and all of a sudden start playing major blues festivals and touring the United States.
What's the difference in the blues scene between Costa Rica and the States?
The difference is monumental… Costa Rica doesn't really have an infrastructure for blues music, and I say this because I was been working in the Costa Rican blues scene for over 10 years before I moved here. The audience in Costa Rica prefers rock, reggae, latin and fusion music rather than blues or jazz. I believe it's a matter of musical culture. The U.S. audience respects, appreciates and understands the blues 110%.  It's a national treasure. You can find a blues show literally every night of the week including blues jams, Pro blues jams and regular blues concerts in clubs and festivals.
Our "Weekend Arts Spotlight" presents Sunday interviews with artists who are from, working in, or inspired by Costa Rica, ranging from writers and actors to dancers and musicians. Do you know of an artist we should consider, whether a long-time favorite or an up-and-comer? Email us at kstanley@ticotimes.net.