LIMÓN – At least one of seven defendants accused of the 2013 killing of Costa Rica sea turtle conservationist Jairo Mora likely will walk after prosecutors sought an acquittal Monday for the defendant's homicide, kidnapping and sexual assault charges.
In closing arguments Monday morning in the Caribbean port city, Prosecutor Manuel Steller asked judges to acquit defendant Darwin Salmón, 25, stating, "Darwin is not innocent, but we are asking for acquittal on the grounds of existing doubt."
He then turned to the defendant and said, "Darwin, I know you were on the beach. … You will leave here a free man, but you will have to live with your friends being behind bars. … You will have to live with a murder in your bones."
If judges follow prosecutors' recommendation, it would be the second time Salmón is acquitted of a murder charge in the case, after he and six other defendants – Héctor Cash, José Bryan Quesada, Ernesto Centeno, Felipe Arauz, William Delgado and Salmón's brother Donald – were acquitted in January 2015.
Following an appeal by prosecutors, an appellate court granted a new trial, which is allowed under Costa Rican law. That trial is expected to end this week.
See: Judges from first Jairo Mora murder trial under investigation
Prosecutors this time around were unable to present evidence that linked Darwin Salmón to the crimes, which included the killing of Mora and the kidnapping of four female volunteers from the United States and Spain, on the night of May 31, 2013 on Moín beach, just north of Limón. Prosecutors also dropped three charges against all of the defendants for sexual assault of the U.S. volunteers, citing a lack of evidence. None of the U.S. victims testified in this trial.
"When we started to analyze everything from the trial we realized there was a missing piece, and that piece was Darwin," lead prosecutor Miguel Ramírez told The Tico Times. "No one described him physically, no one mentioned him being at the scene of the crime."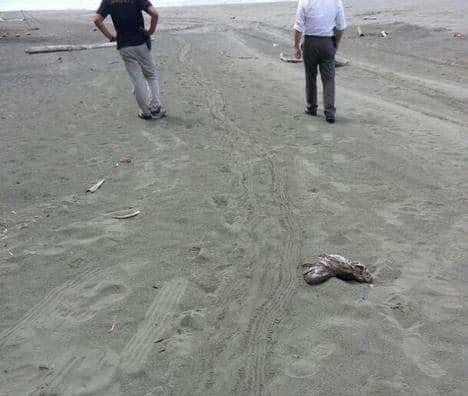 For the remaining six defendants, prosecutors sought the maximum prison sentences for each of the crimes, with cumulative sentences ranging from 57 to 60 years each. Donald Salmón, Quesada, Centeno and Cash also face up to 47 years in prison for a separate robbery and rape, also committed on Moín Beach. The maximum cumulative sentence allowed by Costa Rican law is 50 years, meaning the prosecution's request for higher sentences is merely symbolic.
Judges in the first murder trial had ruled key telecommunications evidence between the defendants – including text messages – inadmissible, forcing prosecutors to heavily rely on limited witness testimony. But in this trial, judges allowed that evidence, which formed the basis of the prosecution's case.
Prosecutors were able to link each of the remaining defendants to the crime – and each other – by using physical descriptions given by victims and phone logs obtained by the Judicial Investigation Police (OIJ). Prosecutor Steller walked the court through a cell tower investigation conducted by the OIJ, which placed defendants at the crime scene at the time of the slaying.
Judges now will hear closing arguments from an attorney representing Jairo Mora's family, and from defense attorneys. A verdict is expected after Holy Week vacations, which end on March 28.