The U.S. art director Carl Sprague has worked on more than 30 films and been nominated for an Academy Award on 29 occasions. He won his Oscar for the film "12 Years a Slave," but the visuals with which many readers might be most familiar come from his collaborations with director Wes Anderson, with whom Sprague worked on "The Grand Budapest Hotel," "Moonrise Kingdom" and "The Royal Tenembaums" (the latter film earned Sprague a Screen Actors' Guild nomination). He has worked alongside other renowned directors as well, including Steven Spielberg, David Fincher and Martin Scorsese.
Sprague's work is characterized by very detailed drawings of what he conceptualizes from the films' scripts. The special guest at the sixth edition of the International Design Festival (FID), which wrapped up yesterday at the Antigua Aduana in Barrio Aranjuez, announced with great excitement at the festival that he'll soon be working on a film with Woody Allen.
On a beautiful, sunny afternoon The Tico Times sat down and spoke with Sprague about his work. (Why only four questions this week? We squeezed them into three and a half minutes we were given with the famed artist.) Excerpts follow.
What inspires your ideas for a film? 
I always start from the script. Ideally, you have a director who also has some ideas; in some cases the director does not have them, so he or she will bring in the designer to figure out what the ideas are… In some cases, the director doesn't even care. Working [directly] with the director can be a huge luxury.
Coming up with an idea that makes the job worthwhile is very important for me. I don't always get there, but when I do, I'm much happier with the end results.
What is your process to create the art?
It's about reading the scripts, conversations, discussions, trying things out, presenting stuff, and showing people pictures, whether it's just photographs or references and research. You just have to take time to draw something, so you can actually see what you're planning on creating. On a big project where you're making something from scratch, that's essential. That's how I get there.
See also: International Design Festival: How to organize a massive, successful event in Costa Rica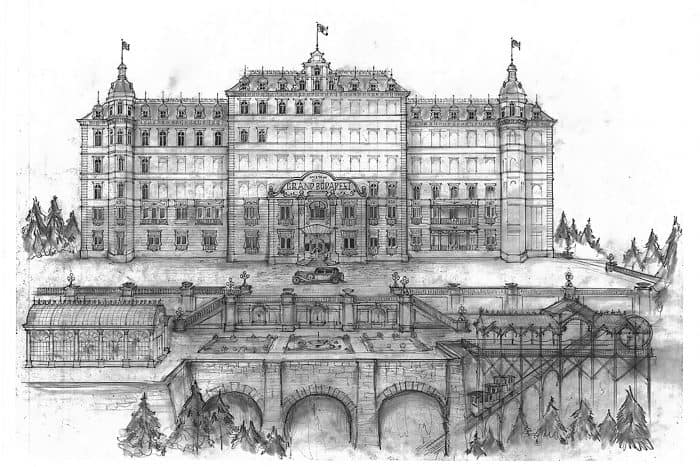 How does the process vary with directors such as Scorsese, Spielberg, Fincher and Anderson?
It's very different with each director because of the relationships I have with them. With Wes I've worked pretty closely. There are a lot of people there and there are a lot of layers: I've worked with the designer David Wasco who was the designer for "The Royal Tenembaums" and Adam Stockhausen who was the designer for "Moonrise Kingdom" and "The Grand Budapest Hotel." On most of the cases I was working through the design, but other times it was directly with Wes.
With Scorsese, I think I shook his hand, and with Spielberg it was a couple of words of conversation, so I can hardly say that I got a deep process with these directors. But it was very interesting to watch them.
How do you make your drawings into a three-dimensional reality?
I do it with a lot of help, but if you start with a drawing, that gives guidance to your whole team. On your team you've got carpenters, painters, set decorators, props people. There's an enormous amount of work that goes into collecting the image in front of the lens, and having a plan to get there is essential.