NASA's Hall of Fame astronaut and the first Tico in space, Franklin Chang Díaz, on Tuesday attended a special screening of director Ridley Scott's new movie "The Martian," based on the 2011 bestseller novel of the same name by U.S. author Andy Weir.
Chang received the invitation from NASA because the science fiction novel tells the story of U.S. astronaut Mark Watney, who is presumed dead after a storm on Mars and left behind by his mission crew.
In "The Martian," the Ares 3 crew travels aboard a Hermes spacecraft powered by four of Chang's VASIMR engines.
The scientist and entrepreneur said he enjoyed the movie but is not allowed to disclose any details due to an agreement with the film studios requested during a private screening held at a local theater in Webster, Texas, the location of his company Ad Adstra Rocket and of NASA's Johnson Space Center.
Chang told The Tico Times that he wasn't involved in the decision to include the VASIMR engine in the book. He said he was surprised when he first read the book and saw the name of his flagship project mentioned as the engine responsible for propelling the first group of humans to walk on Mars.
Following the book's success, friends, colleagues and the media began calling him to talk about it, "but Weir did all the research by himself. We didn't know anything about it," Chang said.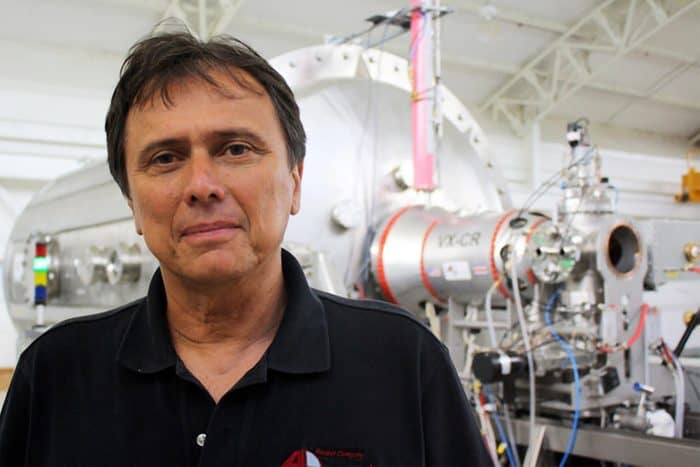 'The Martian' book
Self-described as a nerd, Wier, 43, is a computer programmer who landed his first job at age 15 at a U.S. national laboratory, where he remained until his newfound success as an author.
In an interview for online magazine Salon earlier this year, he explained the process for writing his book:
One day, in between doing highly charismatic non-nerdy things, I started working up a manned Mars mission in my head. I even wrote my own software to calculate the orbital trajectory my imaginary crew would take to get from Earth to Mars. I envisioned a constantly accelerating VASIMR powered ship. …
Weir started writing "The Martian" in 2011 as a free serial novel, posting one chapter at a time on his own website. He began researching related material in 2009 so that it would be as realistic as possible and based on existing technology. He studied orbital mechanics, astronomy and the history of manned spaceflight.
Then readers started asking him to put the book on Amazon so they could read it on their Kindles.
"I formatted the book, slapped a public-domain photo of Mars on the cover, and tossed it on up there. I priced it at 99 cents because Amazon wouldn't let me make it free permanently," he said.
The book soon became one of Amazon's top five sci-fi bestsellers, allowing him to sign a hardcover print contract with Crown Publishing that re-released the book in 2014.
Share your favorite Watney-ism from @AndyWeirAuthor's #TheMartian & see the film in theaters October 2! #FridayReads pic.twitter.com/aWSDoofLWd

— The Martian Movie (@MartianMovie) September 18, 2015
The book debuted on the New York Times Best Seller list in March 2014 in the hardcover fiction category.
Prior to its print release, 20th Century Fox executives in 2013 offered Weir a deal for turning his story into the motion picture that will premiere worldwide on Oct. 2.
The movie
The film adaptation of "The Martian" stars Matt Damon as Mark Watney, and Jessica Chastain, Kate Mara, Jeff Daniels, Michael Peña and Kristen Wiig.
"It was fantastic. I enjoyed it a lot," Chang said. He noted that he has read other books citing his engine's technology, but he thinks this book's success and the exposure the movie will bring is overwhelmingly positive.
"I'm really glad NASA projects can get this positive exposure," he said.
Help is only 140 million miles away. #MarsProblems #TheMartian pic.twitter.com/W0FcOBfAdj

— The Martian Movie (@MartianMovie) September 19, 2015
Chang also recalled passages of Weir's book related to his engine and his research: "In the story, the Hermes spaceship develops a mission to Mars called Ares 3 that has a lot of similarities to one that we proposed and published around 2003."
The Ares 3 mission's duration not only is very similar, but also the book states that four VASIMR engines propelled the ship, Chang said.
"At some point in the story the Hermes crew start reconfigurating the ship in order to rescue Watney, and they start doing recalculations for a 'slingshot' trajectory that could get Hermes and the Ares 3 crew back to Mars. That is possible thanks to the VASIMR engines and follows parameters we described in our proposed mission," Chang said.
NASA scientists and engineers served as technical consultants for the film, and according to a NASA article about "The Martian," the movie portrays a realistic view of the climate and topography of Mars based on NASA data.
The agency is hoping the film will generate new interest in space programs.
"It helps the public feel the excitement that we feel," said astronaut Rex Walheim, who flew the final space shuttle mission and is chief of the Exploration Branch of the Astronaut Office. "For two hours they get to sit in a theater and see the excitement of space flight. But this is something that we get to live," he told NASA.
Chang was in Costa Rica at the time Weir visited his company in Houston, but he said he has been in contact with him via email, and that they have granted interviews together for various media outlets. He noted that Weir has told reporters he believes space programs need propulsion technologies like Chang's VASIMR.
"I think technologies like VASIMR are really the key to interplanetary travel," Weir told The Houston Chronicle last month.
Watch "The Martian" trailer: