OUANAMINTHE, Haiti — Several mornings a week for the past five years, Smith Laflur has left his one-room cinder-block shack, walked past the stray goats and the sour cherry tree, down the quiet dirt lanes and out into the shouts and motorcycle roar of this clamoring border town.
He has stepped around the smouldering trash piles and the clothes drying on the bank of the Massacre River, which separates Haiti from the Dominican Republic, and hopped up onto the border bridge on his way to another day's work. At the metal gate, he hasn't showed a passport — or papers of any kind — but mentioned his boss, a customs official who owns several houses, and with that he has crossed into Dajabón.
Over the years, Laflur has built a swimming pool, erected concrete walls, fixed toilets and swept the patio at the Drink Bar — the type of hard manual labor that feeds his five children and that is far harder to find in his native Haiti. But his daily routine, and the livelihoods for hundreds of thousands of Haitians, has been put at risk by new immigration rules that intend to oust Haitians who don't have documentation to stay in the Dominican Republic, even those who were born there.
"Everything we can get is here," Laflur said at one of the Drink Bar's wooden tables. "I don't know how to find work in Haiti."
Related: The bloody origins of the Dominican Republic's ethnic 'cleansing' of Haitians
In the days before the June 17 deadline for undocumented migrants to register for residency permits — if they could prove they lived in the Dominican Republic before 2011 — many predicted police roundups and waves of deportations. So far, what has happened instead is voluntary departure by more than 12,000 Haitians who fear that such a crackdown could turn violent.
Ouanaminthe is now the scene of returning Haitian families packed into trucks lashed high with suitcases and burlap sacks. In their rush to leave, they abandoned furniture and appliances; some said immigration agents stole money or threatened harm if they didn't flee. Smith Blanco, a 23-year-old who worked as a cook in Santo Domingo, stood in a dirt lot with his belongings, not sure where to go next.
"I didn't want to come here, but I was worried," he said."Their president wants all the Haitians to leave. So we're leaving."
The Dominican government has encouraged these departures, with free bus rides to the border.
"The government of the Dominican Republic has not expelled one person as of this hour," Roberto Rodríguez Marchena, the president's spokesman, said in an interview Monday night. "We didn't create this; we didn't invent this to mistreat people or expel people. What we want — and the international community has to understand this — we want to order our country. Please, let us bring order to our country."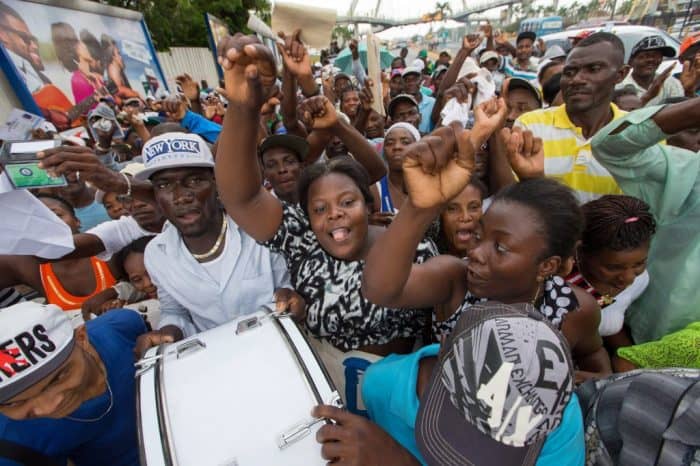 The roots of the current immigration policies date to a 2004 law that was challenged in court and not implemented until last year, during the presidency of Danilo Medina. The law calls for registering the estimated 600,000 people — Haitians or people of Haitian descent — living without documents in the country. Rodríguez, the spokesman, said that a quarter of the country's health budget is consumed by Haitians living in the country illegally and not paying taxes, and more than 40 percent of the births along the border are to Haitian women.
The government has described its new program as measured — and with an eye to avoiding disruptions to industries relying on manual labor and to the human rights of Haitians. There are exceptions for retirees and university students. So far, 288,000 people have begun the registration process. The remainder, roughly the same number, are subject to deportations if the government chooses.
"These people," Rodríguez said, "that are in our territory should go to Haiti and look for their documents, and then request to come to our country with a student visa, or a work visa.
"What we can do is apply [the law] with humanity, and this is what we're going to do. In our government, we're not going to abuse a single person."
The country's far northern border has seen some of the worst moments in the troubled relationship between these island-locked neighbors. When sugar prices fell in the 1930s, the Dominican government sought to drive out Haitian cane cutters. Dominican dictator Rafael Trujillo ordered a bloody military campaign that became known as "The Harvest," with soldiers slaughtering more than 10,000 Haitians along the Massacre River using machetes and shovels.
Leonilda Jus moved with her aunt to the Dominican Republic decades after that, in 1974, but the jobs available were the same. She grew up cutting sugar cane, picking tomatoes, digging onions. She gave birth to 12 children there, nine of whom survived, and eventually moved from the outskirts of the capital to the northern city of Santiago. The sugar cane industry has shriveled, but her sons found jobs in construction and on farms.
On Saturday, two of them, Thony Dume, 29, and Felix Mondesir, 24, worked on an addition to the rented shack in Ouanaminthe where they had moved four days before, to make room for more relatives returning from the Dominican Republic.
"It wasn't a problem living there before. The police and many others knew me," Dume said. "But now things are too hot."
On March 2, before deciding to move, Dume stood in line at one of the government's immigration offices to register himself — Ministry of Interior and Police number DO-29-000345. That gave him 45 days to prove he had the right to live in the Dominican Republic, even though he was born there. During that time, he needed to get written documentation from seven neighbors to vouch for his existence, plus testimony from a corner store where he shopped, and proof of residency from his landlord, in addition to a birth certificate or other government papers, none of which he had. To hire a lawyer to complete the process would cost up to $900, he said, equal to what he could earn in five months at his job milking cows in Santiago.
Instead, he got on a bus and headed for Dajabón.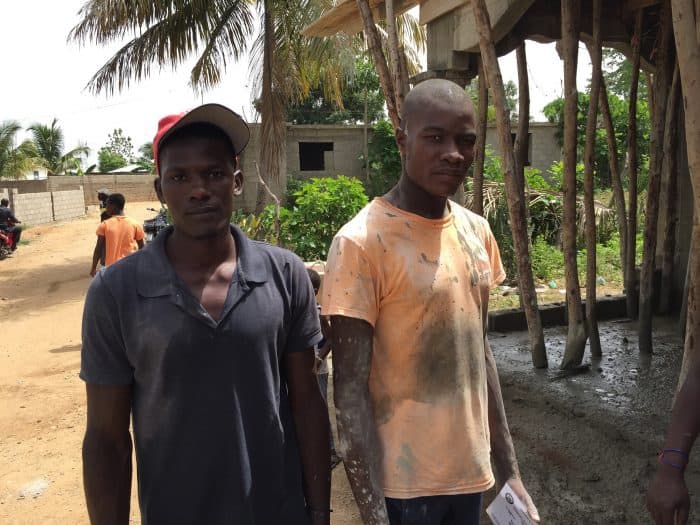 Over the years, the Dominican border town has grown into a bustling commercial center, with vendors from around the country selling their wares at the market to Haitian customers. The shoppers crowd the border bridge with goods stacked on their heads, loaded into wheelbarrows and motorcycle carts.
"They make our economy dynamic," said Ana Carrasco, 53, who retired from local government to run a restaurant in Dajabón. "People come to buy eggs, chicken, spaghetti. If they don't buy it in this market, they don't eat. Hunger doesn't have a flag, nor a border, nor a color, nor politics. It's hunger. It's necessity."
Until last week, when they couldn't cross the border, Carrasco used Haitian laborers to work in her restaurant and clean her home. She said she supported the registration effort but she worried about the harm the policy might cause to the economy . Dominicans in town have come to rely on the shadow services offered by Haitians. All day at her restaurant, Haitians drop by with their offers and wares: shoeshine boys, girls selling baby clothes, a woman who sells brand-name tampons at half the price offered in the stores.
"This issue affects my business, because my employees can't come to work," she said. "But we have to resolve this — the country should be able to know who they are. You have to do it, for everyone's sanity. No matter what the cost, it needs to happen."
Other Dajabón business owners have more to lose. On the 1,700 acres of Hiroshi Rodríguez's rice farms, the manual labor is done by trucked-in Haitian workers, because, as he said, "Dominicans don't want to work."
On separate occasions over the past two months, soldiers and immigration officials have come and taken them away. He finds it particularly frustrating because soldiers, he said, take bribes from the farmers to let the day laborers pass the highway checkpoints.
"This makes me enraged. They don't let me work but they're trafficking Haitians."
"The government is going to have to recognize that all the companies need them," he added. "Pretty soon this is going to explode."
On Saturday morning, Smith Laflur headed for the bridge. It was his son's third birthday, and if he was going to afford a present, he needed to get to the Drink Bar. He pushed through the crowd to the border gate. He told him who he was, and his boss's name, but this time the guard shook his head.
"Not today," he said. "Things aren't good right now."
Laflur argued for a while, then turned away and sat on the railing over the river. In the past, he'd considered trying to get to the United States, but he was afraid of the open ocean. He didn't have the money to apply for a Haitian passport, and his boss in the Dominican Republic had never helped him with a work permit. He was tired of sneaking around.
"I want to arrive in a country with my own papers," he said. "I want to be able to walk as a free man."
© 2015, The Washington Post