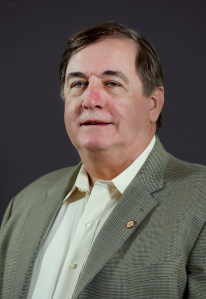 As Costa Rica worried about its privileged spot as a world-renowned tourist destination this year amid high operating costs and neighborhood competition, the Costa Rican-American Chamber of Commerce elected a seasoned veteran of international hotel management as its president on Jan. 27.
Dennis Whitelaw, country manager for Marriott Costa Rica, took the reins of the business chamber on Feb. 1.
"I'm honored and humbled to have the chance to work with such a great team," he told The Tico Times.
Whitelaw, 58, has worked for Marriott for 36 years. Since 1989 , he has worked almost exclusively in Mexico and Central America. His most recent post before Costa Rica was in Puerto Vallarta, Mexico, for 14 years. Whitelaw also worked for Marriott in Guatemala, where he served as an AMCHAM president, before returning to Mexico and eventually Costa Rica.
"Costa Rica is well-rooted in tourism compared to other countries," Whitelaw said, adding that the level of service offered here is above its regional competition in Nicaragua, Guatemala and Cuba.
"Costa Rica has a level of intelligence, literacy, hospitality and people deliver good service. Those other countries have a ways to go in improving that. Maybe their infrastructure is going up, but they'll need to invest in these other areas to make sure they match [Costa Rica]," he added.
That's not to say that there's no room for improvement. The new AMCHAM president said that as long as Costa Rica continues to polish its diverse offerings for tourists with a focus on eco-tourism, the $2.6 billion sector of the economy should continue to grow. Speaking for Marriott, Whitelaw said the company looks to double its presence here in the next five years.
Whitelaw said that as AMCHAM president he would continue the chamber's efforts to support controlling the government's fiscal deficit and work to attract more international companies after a disappointing contraction in foreign investment during 2014. The business leader said that AMCHAM is "conservatively optimistic" about Costa Rica's outlook in 2015. He listed inflation, taxes, the cost of energy and infrastructure among the areas of concern.
Some Costa Rican business leaders have expressed concern about what they interrupted as a "historic" jump in unemployment recently. Whitelaw said that unemployment is always disappointing but he had not heard specific concerns yet about it from AMCHAM members. One of Whitelaw's goals for 2015 is to establish a "labor bank" to facilitate the hiring process for skilled workers. The labor bank would collect resumes and posts them on AMCHAM's website for members seeking applicants with a specific skill set.
Whitelaw said that he has enjoyed working in Mexico and Central America in large part because of the people. "Friendships are for life in Latin America," he observed.
The New York native has lived in San José with his wife and three children for more than two years, and has another daughter from a previous marriage living in Brooklyn.
"My family visited me once in Puerto Vallarta in those last 14 years and they've been with me three times here in the last two years," Whitelaw said.
Another good sign for Costa Rican tourism.