Kids today learn about things that weren't even invented when we adults went to school. A sixth-grade class at St. Jude's School in Lindora, Santa Ana, west of San José, capped off their school year with a project that allowed them to learn about alternative energy as a fuel by making their own little hybrid cars powered by solar energy and batteries.
A total of 56 girls and boys studied the mysteries of the new technology with a hands-on project that let them become cutting-edge auto mechanics. Each child received a kit with all the parts: a cardboard car body, four tires, a pendulum unit to switch power sources, a meter, a sensor, a switch for the pendulum, one solar battery, one gear wheel and gear, a chassis, various nuts and bolts, an axle, an AA battery, silver stickers for decoration and a map of instructions. If that sounds confusing, there were guides and helpers to make sure everything got put in the right place. When finished, each child had a car 10 inches long that actually runs on sunshine. All of the kids managed to finish their cars.
These are hybrid cars: On flat surfaces, they run on sun power. On hills where cars need more power, they switch to alkaline batteries. An indicator on the roof shows which technology is in use. It takes two minutes of full sun at a window to charge up the solar battery and double that from a 100-watt light bulb. Even a cloudy day will provide energy to make the car go.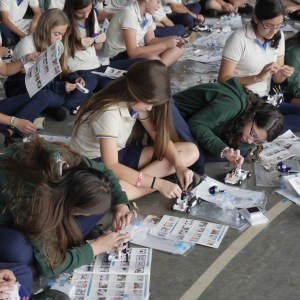 This project is part of the worldwide Eco Learning Programme sponsored by the giant Panasonic, which makes batteries, cameras, refrigerators and other household products, as well as solar panels. The Japanese company, founded in 1918, is on the front lines in innovative energy production, and this project, used in schools in Japan, is now being sent to schools in other countries to teach children about the use of solar power. The idea is to develop knowledge and acceptance about solar energy.  According to company literature, there is a growing demand for solar energy in Central America.
Making little solar cars is a fun way to teach children about saving energy and caring for the environment. It challenges the intellect to put together all those little pieces, and the project shows that girls too can be mechanically minded. The children at St. Jude's experimented by running their cars and got to take them home. "It was fun and we learned about alternative energy," commented one sixth grader as he demonstrated his new toy.