Recommended: ARESEP announces pricing proposal for consumer-generated electricity
According to organizers, ExpoSolar, which takes place Oct. 31- Nov. 1 in downtown San José, will be the first event of its kind in Central America to focus exclusively on solar power. Organized by the Costa Rican Solar Energy Association (Asociaciόn Costarricense de Energía Solar, or ACESOLAR), the event will feature a wide variety of firms that will present their products, including systems for heating water and photovoltaic systems for generating electricity, according to ACESOLAR board member Mauricio Solano.
According to a study by Katja Nikola Frick and Alessandra Salgado of ACESOLAR, 50 companies currently are involved in the solar energy business in Costa Rica. They offer services in a number of areas, including consulting, construction, design, installation and distribution, among others.
The University of Costa Rica and the Technological Institute of Costa Rica (TEC) will send representatives who will be available to discuss the results of recent studies and to provide advice on career opportunities.
TEC students, who recently won the prestigious prize for "Favorite House" with their "Casa Trόpika" at the Solar Decathlon Europe competition this year in France, also will be present. This was an impressive win not just for the 35 students who put the project together, but also for the country, which beat out submissions from all over the world. The winning Costa Rican entry is a single-family, intelligent house for senior citizens that not only feeds the dog, but also automatically dispenses medications to residents, and of course, is completely solar.
Watch a video of the project (in Spanish) here:
The Central American Bank for Economic Integration and BAC San José also will be present to provide information regarding the types of funding available to small- and medium-sized firms interested in photovoltaic power.
On the first day, technical presentations by the Costa Rican Electricity Institute and their retail subsidiary the National Power and Light Company, as well as various universities will focus on a variety of topics, including planning and operating solar systems, and accessing the national grid for both small and large projects.
The second day will focus on more general presentations about how photovoltaic systems work.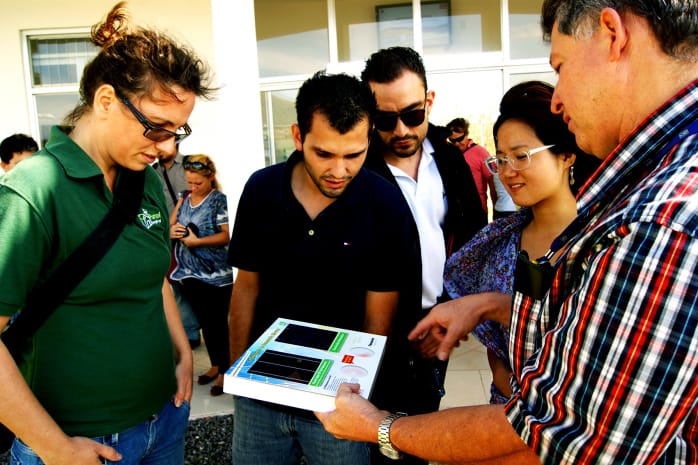 Costa Rica has come a long way since 1978, when a handful of researchers from three local public universities started the first solar power projects in the country. The primary work was done at the Solar Power Laboratory at the National University (UNA). By the end of the 1980s the trend towards solar power dramatically picked up speed with an official "Day of the Sun," and workshops.
The Costa Rican Solar Energy Association (ACES) was founded in 1990 by Dr. Shyam Nandwani, from the UNA solar lab. It started with 11 founding members and represented the country at the International Solar Energy Society. Along with the Sol de Vida foundation, these early pioneers were known for their work in rural areas, especially the northwestern province of Guanacaste, where they built and taught local residents the ins and outs of solar stoves.
The solar energy industry began to snowball during the '90s. In Heredia, in 1993, Eddio Rici and Reinaldo Cartín developed a solar system that used pork product wastes to produce biogas. In 1995, Juana Coto and Dr. Nandwani helped build and install solar kitchens and water purification systems in two schools in Heredia and Alajuela. In 1996, Luis Enrique Piñeda was part of a team that developed a system to produce energy from sugar cane waste.
In 2011, ACES was replaced by ACESOLAR, established by Carlos Meza and Bernhardt Johst.
Further recommended reading: Delays, excuses and gripes mark approaching deadline for distributed electricity generation in Costa Rica
 —
What: ExpoSolar
When: Friday, Oct. 31, from 1-5 p.m.; and Saturday, Nov. 1, from 9 a.m.-5 p.m.
Where: National Cultural Center (CENAC), in front of Parque España, in San José.
Entrance: Free
Information: Tel. 8550-3612 or http://www.facebook.com/acesolarCR