When Sam Trull put her hands on the belly of the mother sloth she could feel it move, just like a human baby.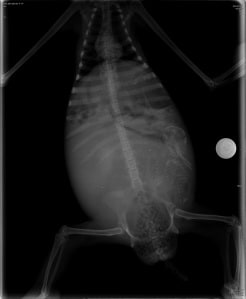 Trull, the wildlife coordinator for the Kids Saving the Rainforest wildlife sanctuary in Manuel Antonio, on the central Pacific coast, was conducting a routine inspection of the three-toed sloth, which had fallen out of a tree on the grounds of the Parador Hotel, when she felt the sloth was pregnant. The animal was in bad shape: She was having seizures and struggling to move her limbs. A hotel worker brought her to the rescue center hoping to save her life. After five days, the sloth's health improved, but she was still a long way from recovery. That's when she started having contractions.
"Because of her injuries, I wasn't sure if she would be able to give birth," Trull said. "I knew she needed to see a vet."
Last Wednesday, after more than 24 hours of contractions, Trull decided the sloth needed to visit a vet. With help from a local volunteer, she took the sloth to Herradura. The contractions mostly had stopped, but the baby was still moving. An X-ray revealed the baby was breached — flipped in the uterus so the legs would come out first instead of the head. The vet decided the only way to save it was a cesarean section. The entire procedure lasted about 30 minutes, and when it was over, both mother and baby were stable. While both are still alive, the baby has struggled with lung problems.
"What they both went through was pretty huge," Trull said. "I am pretty hopeful for the mother."
Here are some of Trull's photos of what may be the world's first sloth C-section: