HUEHUETOCA, Mexico — A few weeks ago, just about the same time that Mexican officials said they were putting a stop once and for all to the rolling horror show nicknamed "The Beast," Jhonny Torres left Honduras for Houston. He reached southern Mexico and scrambled onto a boxcar with hundreds of other migrants.
Gang members stopped the train near the Mayan ruins of Palenque and took his last $50. In Orizaba, another dreaded shakedown site farther north, gunmen put a pistol to his temple and said he was a smuggling guide who had not anted up. They let him go, Torres said, only when they figured out it was his first trip and he had nothing left to steal.
By the time Torres reached the tent-camp migrant shelter here on the northern outskirts of Mexico City, he'd been held up five times by armed gangs, including a group of commandos claiming to be members of the Zetas cartel. But he never encountered any Mexican police or soldiers.
"There were some guys with military uniforms," said Torres, 26. "But I think those were the Zetas."
In the two months since U.S. President Barack Obama called the surge of Central American minors and families crossing the U.S. southern border a "an urgent humanitarian situation," he has asked the leaders of El Salvador, Guatemala and Honduras to do more to stem illegal migration to the United States.
But it is the big country between them — Mexico — that may actually have the power to do something.
Unlike the small Central American republics, Mexico is neither impoverished nor weak. It has a network of highway checkpoints to screen travelers and large detention centers to hold illegal migrants. It has tens of thousands of federal police officers and immigration agents capable of arresting and deporting them, while also providing protection from attacks by criminal gangs.
But large stretches of Mexico's rail corridors, highways and border areas are effectively under the control of cartel gangsters who have learned to squeeze handsome profits from the human trafficking business.
Mexican law enforcement agents often are not much better, and the reason "coyote" smuggling guides now charge $7,000 for the trip from Central America isn't just greed or market demand. It is to pay bribes to Mexican police and immigration agents at highway checkpoints along the route north, where the going rate is typically 500 pesos ($40) per head.
"We haven't had any problems — everything's been taken care of," said Ofelia Aranda, ushering her sons, ages 8 and 4, into a smuggler's battered white minivan outside a shelter, two weeks after leaving Honduras. The boys' father in California had sent for the family. "We just need to get to Tijuana," Aranda said.
Analysts say Mexico's commitment to tougher, less corrupt and more humane immigration enforcement will be pivotal to the U.S. effort to dissuade Central American families from rushing for the border or sending their kids northward.
Mexican Interior Secretary Miguel Ángel Osorio Chong announced last month that authorities would finally put an end to the spectacle of desperate migrants riding atop freight trains. "We can't allow them to continue taking these risks and losing their lives without anyone doing anything," he said.
Mexican President Enrique Peña Nieto has appointed a special commissioner to implement a new multi-agency enforcement strategy targeting Mexico's southern border, but the details of the effort have yet to be announced.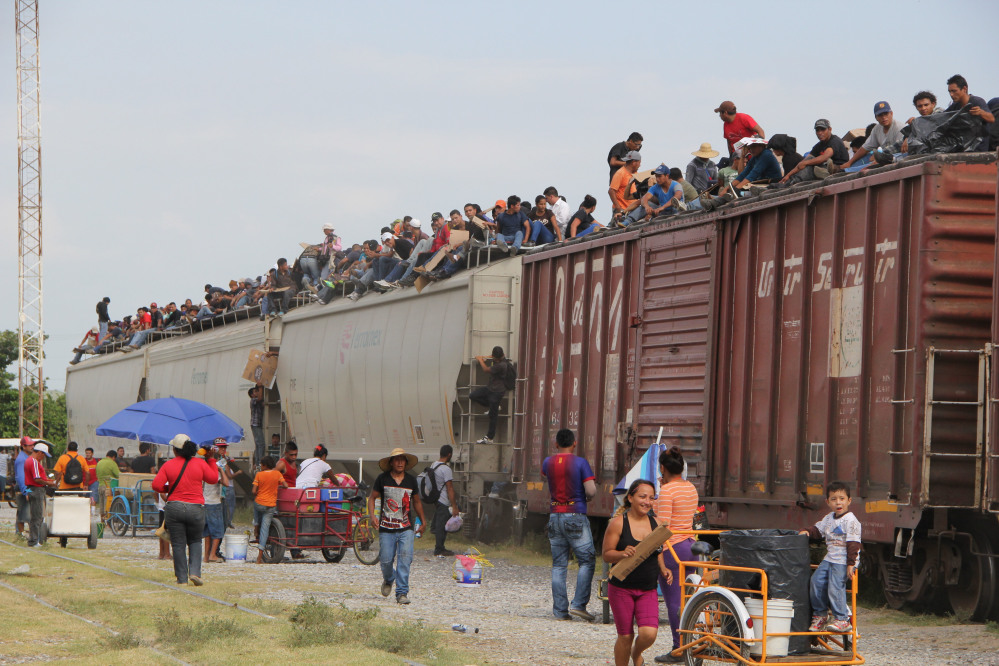 Mexican officials say they're already doing more. According to the most recent data, Mexico had deported more than 60,000 Central Americans as of mid-July, including 12,400 minors. Last year, Mexico deported 86,000 Central Americans, of whom 9,600 were minors.
But for all the talk of tighter controls and enhanced protections for vulnerable Central American travelers, little has changed along the railway routes used by tens of thousands of migrants who can't afford to pay a smuggling guide to bribe their way north along the highways.
If anything, interviews with migrants at the San Juan Diego shelter along the tracks — where canvas tents and bunk beds are being added to house up to 400 guests — suggest the route is just as perilous and crowded as ever.
At the gated entrance topped with concertina wire, a group of Denver-bound Salvadoran men arrived on a recent afternoon asking for water, saying they had been robbed at gunpoint along the tracks a few minutes earlier. Several other travelers were nursing bruises and broken ribs from beatings they blamed on gang members or local police. A young Honduran woman said she was grateful she'd survived an assault with little more than a groping.
"Why hasn't Mexico taken care of the trains issue? It's the most well-known and well-documented aspect of this whole tragedy," said Eric Olson, an expert on security and migration at the Woodrow Wilson International Center for Scholars in Washington.
The freight trains, known collectively to migrants as "The Beast," are "a concentrated, specific route that people are taking, and it would seem obvious that creating security on the train and keeping migrants off of it would be within the capacity of Mexican security forces. So one has to wonder why it hasn't happened more quickly and readily," Olson said.
Though illegal migration into the United States from Mexico remains near its lowest levels in 40 years, the share of Guatemalan, Salvadoran and Hondurans arrested along the U.S. southern border is higher than ever.
Mexico has its own complex immigration sensitivities, once fashioning itself as a champion of immigrant rights when its citizens were flooding into the United States illegally and complaining of abuse by U.S. border agents. But now that Mexico is a place where migrants have been systematically robbed, raped and even massacred, sometimes in collusion with authorities, the government struggles with its new role of enforcer and protector.
Aware of these sensitivities, the Obama administration has not openly pressured Mexico to do more the way it has challenged Central American leaders. Obama met with Peña Nieto June 19 to discuss the border crisis, and the White House said Obama "welcomed the opportunity to work in close cooperation with Mexico to develop concrete proposals to address the root causes of unlawful migration from Central America."
Behind the scenes, U.S. officials have pressed for years for Mexico to tighten its southern border. The United States has spent tens of millions on training programs for immigration agents and technology to screen and register Central American migrants along Mexico's southern border.
But much of the 700-mile boundary Mexico shares with Guatemala and Belize is so densely forested and sparsely populated that calls for a U.S.-style border with tall fencing and aerial surveillance are not considered realistic.
In some river crossings, Central Americans simply wade or float across in plain view of border guards. At other, more remote crossings busy with truck traffic, there aren't any Mexican officials.
Some in Mexico say the government's spotty enforcement approach is the result of the view that Central American migration is a problem for the United States, not Mexico. But Marta Sánchez, a migrant rights advocate, said that's an oversimplification.
"Mexico, too, is worried that if more and more Central Americans can't cross into the United States, they'll end up getting stuck along the border," she said, "creating an even bigger security problem."
© 2014, The Washington Post