If you spend a lot of time in San José, you have probably thought: I should visit the Jade Museum. Or: I wonder what's going on at that gallery on the corner. Seems like a neat place. What's it called again?
The Art City Tour is the perfect excuse to visit all those museums and exhibits you've been meaning to see. The displays are striking, the people are cool, and admission is free – what could be a better diversion on a Wednesday night? Organized by the arts advocates at GAM Cultural, Art City helps residents and visitors see San José in an invigorating new way.
The best way to enjoy Art City is to use our handy itinerary (below), and hop the free shuttle from one hotspot to another. Not only can you visit these venues, but you'll find a host of galleries, bars, and restaurants nearby.
CENAC Guided Tour
Most Art City patrons will want to take a gander at "The Day We Became Contemporary," a massive group exhibit that showcases daring multimedia art. But while you're already visiting the Museum of Contemporary Art & Design for this exhibit, consider learning about the unusual history of the building that houses the museum, the National Cultural Center (CENAC). The guided tour of the Center is a theatrical journey entitled "CENAC: From Liquor Factory to Cultural Complex." During the excursion, an actor guides his guests through the former distillery, playing eight different historical characters.
Tour starts at 5 p.m. in CENAC's amphitheater. Info: Culture Ministry website. Reservations for tour: 2221-2154 visitaguidacenac@gmail.com
Central Bank Museums
Beneath the Plaza de la Cultura, you'll find the Museo del Banco Central, where you'll discover gold, historical dioramas, and a chronicle of downtown San José. You can also see "Juego Sucio" ("Dirty Game"), a series of paintings by José Miguel Rojas González.
Info: Central Bank Museums website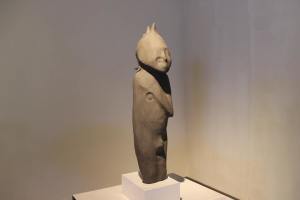 National Museum
One of the most distinguished buildings in Costa Rica, the Museo Nacional is a former fort that now houses indigenous sculpture, historical exhibits, and a butterfly garden. Be sure to visit "A Tres Bandas" ("Of Three Bands"), an exhibit about multicultural music in Latin America, and "Sitio Finca 6" ("Farm Six Site") about the mysterious stone spheres of Costa Rica.
Info: National Museum website
Museum of Costa Rican Art
Far from the hubbub of downtown San José, the Museo de Arte Costarricense is the perfect place to start or finish your Art City experience. The gorgeous colonial-style building on the edge of La Sabana Park was Costa Rica's first international airport. It now houses paintings, sculpture, and the famous "Golden Salon," a room whose walls display bronze murals that illustrate the history of Costa Rica. Bonus: Visitors can enjoy the symphonic arrangements of the National Music Center.
Info: Museum of Costa Rican Art website.
Jade Museum
If you haven't visited the Jade Museum in its new location on the Plaza de la Democracia, this is your chance. The museum is said to hold the largest collection of pre-Colombian jade in the world.
Info: Jade Museum website.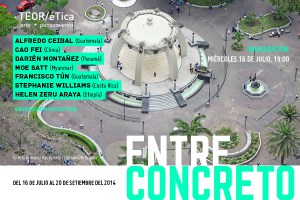 TEOR/éTica
This plucky little venue in Barrio Amón opens its latest exhibit, "Entre Concreto" ("Among Concrete") about the livability of urban spaces. The gallery opens its doors at 7 p.m.
Info: TEOR/éTica website.
The Art City Tour takes place Wed., July 16, throughout central San José. 5-9 p.m. Free. Info: GAM Cultural website.