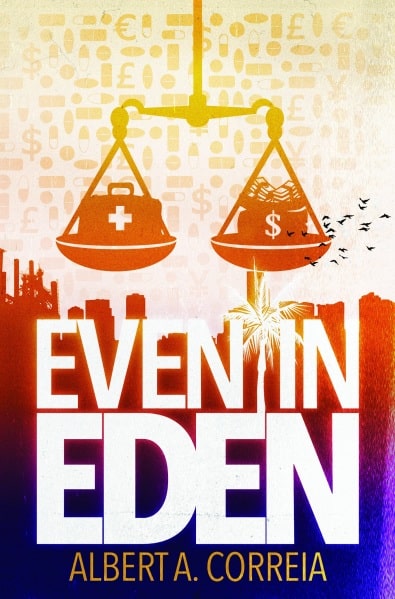 One day in 2006, Albert Correia decided to write fiction. He had little experience. He had never published anything.
"I just sat down and started writing," recalls Correia. "People look at me like I'm nuts when I say this. I had nothing in my mind that day. All of a sudden, all these characters came alive. I had no idea what they were going to do."
The result of his labors was "Even in Eden," a novel about Costa Rica, where Correia has lived since 1995. A 78-year-old California native, Correia worked for 35 years in various chambers of commerce around the Golden State, but the idea of writing a book came to him deep into retirement.
Manuscript complete, Correia did what many new authors have done in the 21st century: He published the book himself. But thanks to a stroke of luck and some good friends, "Even in Eden" has been picked up by Kamel Press, a traditional publisher based in the U.S. Kamel also will publish the book's two sequels, completing the Eden trilogy.
The newly minted author describes his novel as a tale of two families. The sprawling story takes place in familiar locations around Costa Rica, from San José to Puerto Viejo, and incorporates politics, medicine and endless plot twists. The book's omniscient narrator is The Grand Tico, a kind of wisecracking life-force who has watched over Costa Rica since time immemorial.
"I read a lot," says Correia. "I tend more toward the thriller, the mystery. This isn't a thriller or a mystery, but it has a lot of those aspects to it."
Correia has led a fascinating life. In the middle of his career, he took some time off to go sailing. He is legally blind, although surgeries have saved him from total blindness. He speaks in the folksy, self-deprecating way of a playful grandfather. He first arrived in Costa Rica with a plan to develop condos in Jacó, and when the plan fell through, he stayed. Once he moved to San José, he met a charming waitress from Nicaragua and they fell in love and got married. Today, the septuagenarian speaks glowingly of their 7-year-old daughter.
In a way, his road to authorship has been a Cinderella story.
"As I wrote this book, I started showing it to people," Correia recalls. "But publishers won't even look at an unpublished author, so you have to get an agent. But even agents don't look at unpublished authors. So I finally just decided, if I'm going to get this published, I'm going to have to publish it myself."
Sales were sluggish: Correia's friend ran a bookstore in Jacó and sold about 65 copies. During a trip to the U.S., Correia managed to sell about 100 more. But his love for writing only grew, and he attended a writers' conference in Escazú, where Correia met fellow authors and soon joined a writing workshop. The workshop was so fulfilling that he joined an online writing group as well.
One of his colleagues in the first group ended up submitting a manuscript to Kamel, and the work was accepted. The Kamel staff then asked whether he knew any other authors, and he recommended Correia.
Still, Correia is humble about his writing, insisting that he drafts no outlines and rarely anticipates what his characters will do next. The pleasure he gleans from writing seems pure and unpretentious.
"It's a mainstream book," he says. "It's aimed at people who like a little intrigue. The third book is a James Patterson kind of thriller. It's a pretty darn good book. And I can say that, because I can't take any credit for it."
As for becoming a late-life author: "It's absolutely great. But that's coming from a guy whose entire life has been absolutely great."