DULCE NOMBRE, Cartago — Call her the miracle lady on the hill — one with a brain aneurysm whose healing was declared a miracle, clearing the way for the late John Paul II to become a saint.
Floribeth Mora, a 50-year-old Costa Rican, has now become a sort of religious icon herself.
Sick people flock every day to her home, a small dwelling full of crucifixes. She tells them to have faith.
Three years ago, doctors told Mora she had an untreatable brain aneurysm and sent her home to wait for death.
But she survived, leaving doctors perplexed. On July 5 last year, Pope Francis called Mora's case a miracle, making it possible for John Paul II to be canonized on April 27.
Mora lives in a small house on a hill in Dulce Nombre de Cartago, 20 kilometers (12 miles) east of Costa Rica's capital, San José.
The doorway features a large portrait of the late Polish pope, candles and flowers, along with an image of the Virgin Mary and copies of medical documents certifying her health turn-around.
Mora has a magazine with Karol Wojtyla (the pope's given name) on the cover and rarely lets go of it.
To one man whose wife is dying, she says, "Pray a lot to John Paul II, as I did."
Dressed in a light blue blouse that sets off her fair skin and brown hair, Mora welcomed a team from AFP amid the bustle of preparing for her trip to Rome, receiving sick people and running two small family businesses.
'Don't be afraid'
Mora remembers the day in April 2011 when she got her bad news. A neurosurgeon said she had an aneurysm on the right side of her brain.
"The left side of my body became paralyzed. I could not move my hands, could not hold a spoon or a glass. I would drop everything," she said.
After a series of tests, doctors told her that her case was hopeless, and sent her home to await her demise.
"Her life was fading away, but she always prayed to the pope," said Father Sergio, her spiritual adviser.
Lying in bed on May 1, 2011, Mora watched John Paul II's beatification.
"At eight o'clock the next morning, I heard a voice in my room that said, 'Get up. Don't be afraid,'" she recounted.
She said that from the magazine with the picture of the late pontiff, she saw hands appear, urging her to get out of bed.
"The Lord took away my fear and agony, and gave me the peace and certainty that I was healthy," Mora said.
Gradually, she recovered and in November of that year, an MRI "confirmed what I had been saying — that I was healthy. It was the work of God," she said, her voiced filled with emotion.
And what does the neurosurgeon Alejandro Vargas have to say?
"If I cannot explain it from a medical standpoint, something non-medical happened," he said. "I can believe it was a miracle."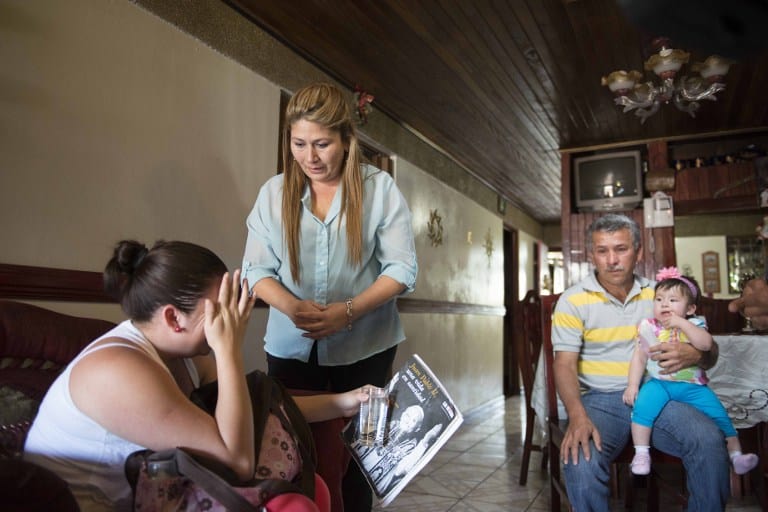 The 'crazy lady'
Mora relayed her story in February 2012 on the late pope's web page.
"I wanted the world to realize the grandeur of God. But I never imagined the magnitude that this was going to take on," she said.
Three months later, the Vatican contacted her, and Mora traveled to Rome. Tests confirmed she was totally healthy.
Her devotion to John Paul II began when he visited Costa Rica in 1983.
"He exuded holiness. To see him, at the age of 19, had an impact on my life. I turned to him in the darkest moments of my illness so he would intercede with God on my behalf."
John Paul II, who died in April 2005, was beatified after a miracle was proclaimed involving a French nun. But a second miracle was needed for him to be canonized, or made a saint.
It is a miracle not everyone believes in, even in this country where the Catholic faith is classified as "official," which is rare in Latin America.
"In the supermarket, in the street, people say, 'There goes that crazy lady!' But the crazy lady is healthy because God cured me. God bless my madness because I can share with my family," says Mora, who is married and has four children and six grandchildren.
Born in a poor neighborhood of San José, she says she is the same person she always was.
"She has not changed, although many people come to see her," says a neighbor, Flor Varela.
In Mora's house, a distraught man is on the verge of tears.
"My wife no longer speaks. We do not know if she sees us, if she hears us. I come with faith for you to take a petition to the pope," said José Torres, a small-scale farmer.
"Nothing is impossible for God," answers Mora. She is seated on a sofa in the living room. A trunk there is full of letters for her to take to Rome.