NEW YORK – Do you remember when Starbucks was cool? It opened in Seattle in the 1970s as a local specialty roaster, a trendy alternative to the prevailing generic swill. Then former employee Howard Schultz bought it in 1987, and with help from investors, embarked on an ambitious national expansion. Starbucks conquered the country, then the world, and turned coffee in the United States from a commodity into an obsession.
But the price of conquest is cachet. What was once novel – the warm décor, the gentle music, the faux-Italian lingo – has become banal. Today's coffee snobs would rather snort Sanka than set foot inside a Starbucks.
Their search for a better cup has given rise to a new crop of roasters whose reverence for coffee borders on religious. Stumptown of Portland, Ore.; Intelligentsia of Chicago; and Counter Culture of Durham, N.C., don't just sell "dark roast" and "light roast." They sell coffees like Stumptown's Indonesia Sulawesi Toarco Toraja, which is grown by smallholder farmers whose faces you can see on the Stumptown website. The beans come with descriptors like "fair-trade," "single-origin" and "shade-grown," and sport "flavor profiles" that would make Robert Parker blush. They're roasted and brewed with obsessive attention to details like the extraction rate and brewing ratio, which are separately optimized to bring out the best in each bean.
The question investors are asking now is: Can coffee's "third wave" produce a Starbucks of its own? A group of big-name Bay Area techies – including Kevin Systrom of Instagram, Twitter co-founder Ev Williams, Flickr co-founder Caterina Fake, and venture capital firms like Google Ventures and True Ventures – believes it can. Over the past two years, they've been pouring tens of millions into a San Francisco favorite that just might be the Apple to Starbucks' Microsoft.
It's called Blue Bottle, and it's the creation of a former freelance clarinetist named James Freeman. As a coffee enthusiast in San Francisco a decade ago, Freeman recalls, it was nigh impossible to find a cup roasted the way he wanted it – which is to say, with a light touch, to set free the beans' natural flavors. Instead the city's sippers were in thrall to the dark, oily, French-press style purveyed by Peet's, a contemporary of Starbucks. Inspired by traditional Japanese siphon bars, where baristas brew each cup by hand, Freeman opened a tiny Blue Bottle kiosk in the city's Hayes Valley neighborhood in 2005.
It quickly found a cult following, and by 2009 Freeman had opened a larger café in Mint Plaza and a booth at the Ferry Building, San Francisco's answer to Seattle's Pike Place Market. He expanded to New York in 2010 and now has 13 cafés and counting.
Its method may be Japanese, but Blue Bottle's sleek aesthetic also carries a strong whiff of Cupertino. The words "Blue Bottle" and "coffee" are not plastered on large placards outside the company's cafes. Most locations are marked only by a simple stencil of a blue bottle, which doesn't shout "coffee" to the average passerby any more than the silhouette of an apple shouts "computers." As a result, just walking in makes you feel like you're in the know.
Exclusivity wasn't the intention, Freeman tells me. It's just that he doesn't like shouting. "I'm very secular, but there's a quote I love that's often attributed to St. Francis," he says: " 'Preach the gospel, and if necessary, use words.' "
In contrast to the corporate uniformity of Starbucks outlets, each Blue Bottle café is snowflake-special, its layout tailored to the quirks of its real estate. But the focus is squarely on the coffee: no Wi-Fi, no power outlets, no special deals on Sarah McLachlan CDs. The seating skews scant and Spartan, and the menu options are relatively simple.
You will not find pumpkin spice lattes, dark cherry mochas or any other sorts of coffee that do not taste like coffee. Nor will you be asked to choose between talls, grandes or ventis. At Blue Bottle, a cappuccino is a cappuccino, and it comes in cappuccino size. What it does not come in, typically, is a to-go cup: Freeman is convinced that drinking espresso from a paper vessel results in an inferior experience.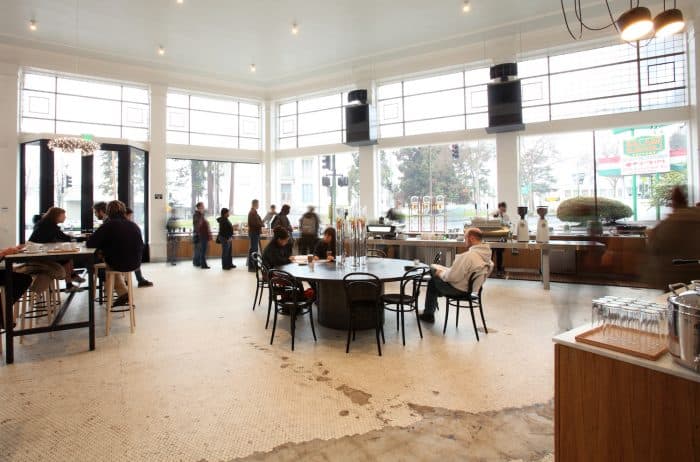 For all the minimalism, though, Blue Bottle's affect somehow comes off as warm and fuzzy. Like Apple, Blue Bottle assumes that the best customer experience is one in which all of the hard decisions have been made – correctly – in advance. To paraphrase Steve Jobs, people don't know what they want in a cappuccino until you serve it to them.
So how does one find out about a Blue Bottle café in one's neighborhood? Well, at peak caffeinating hours, there are lines snaking out the door like an Apple Store on the morning of an iPhone launch. That's what first attracted Bryan Meehan, the entrepreneur behind the organic grocery chain Fresh and Wild, to the company's Ferry Building location. "I was drawn to it first by how long the lines were, and then by how great the coffee was," Meehan told me. "And then I was struck by how quiet the brand is. … The bags are completely sustainable, the coffee's mostly organic, but they don't feel the need to communicate that. It's a different way of marketing one's values, just through living them."
Meehan was so smitten that he arranged to meet with Freeman to ask if he might be willing to take on a few individual investors who could help him expand. When Freeman agreed, Meehan approached his friend Tony Conrad, the founder of About.me and a partner in the San Francisco early-stage capital firm True Ventures. Freeman's vision wowed Conrad, too, and his partners were as intrigued as he was. Soon True Ventures was considering investing in Blue Bottle as a firm.
Venture capital was not meant to fund coffee shops. The VC concept emerged from Silicon Valley in the 1960s and '70s as a way to get semiconductor companies through the expensive research-and-development phase so that they could one day realize immense profits by revolutionizing computing.
Over the decades, VC firms have widened their interests to include all sorts of companies that rely on technology or the Internet to grow more rapidly than would be possible for a traditional brick-and-mortar enterprise. But it's only in the past few years that a few have begun to venture into the realms of retail, restaurants, and beverage companies. And those investments remain controversial.
Andrew Parker, a partner at the Boston-based VC firm Spark Capital, told me his firm has invested in the eyeglass-maker Warby Parker because it "was born online and uses retail stores more as a showroom marketing experience than as an essential distribution channel." But he can't imagine putting tech investors' money into a venture like Blue Bottle, no matter how tasty its coffee. That said, Parker added, "Every good VC firm knows how to break the rules when appropriate."
For Conrad and True Ventures, Blue Bottle was worth breaking rules for. Never mind that its business is not Internet-driven (so far). As an investor, Conrad found Freeman's sensibility irresistible. "When I closed my eyes and thought about the things that were important to James, they were not dissimilar to what I've learned to recognize in what I'll call 'founders of movements,' " Conrad said. "James had a vision every bit in the same way that [WordPress co-founder] Matt Mullenweg had a vision for democratizing people's voice. Caterina Fake at Flickr, Kevin Systrom at Instagram – they're rare, but when you run into them, you know it."
In October 2012, True Ventures joined Meehan and others to lead a $20 million funding round that also included a starry roster of social-media stars, including Systrom, Fake, Path's Dave Morin, and Twitter's Ev Williams and Biz Stone. By January 2014, Blue Bottle was raising a second round to the tune of $26 million that included Google Ventures, Morgan Stanley and skateboarder Tony Hawk.
The tech community's embrace of Blue Bottle has raised some eyebrows. "Blue Bottle is getting $25 million because it is pretty good coffee that happens to be located next door to tech companies," snarked business writer Kevin Roose. Certainly the company's proximity to Sand Hill Road hasn't hurt. Yet third-wave rivals like Stumptown and Intelligentsia have also taken on big investments, albeit from more traditional sources. Meanwhile, food chains like Sweetgreen, Potbelly, and Pinkberry have taken the VC route, the latter two with backing from a Seattle-based firm called Maveron – whose co-founder just happens to be Starbucks CEO Howard Schultz.
The deeper business story here may be that concepts like startups and venture capital are no longer the exclusive province of the high-technology industry. As an ever-growing pool of VC money chases the hot new thing, open-minded investors are beginning to realize that the smartest money may no longer be on ad-supported social media companies, let alone semiconductors. "We're never going to get a WhatsApp outcome with Blue Bottle," Conrad admits. "But we're also not going to get the 40- to 80-percent chance of a flameout that you see in tech investments."
Investors are also recognizing that tech itself is no longer as clear-cut a category as it once was. We call Amazon a tech company, but is it really? When every company is on the Internet, how do we decide which are Internet companies? Blue Bottle's expansion so far has focused on brick-and-mortar cafés, but it's entirely possible that its greatest future growth will come from selling coffee online, via the slick website that it redesigned with the help of Google Ventures. Meanwhile, it has begun selling portable versions of its New Orleans-style iced coffee via Whole Foods.
Oremus is a Slate staff writer, reporting on technology and digital culture.
© 2014, Slate