While Costa Rica remains Central America's top tourist destination, the region's six other countries are vying to lure tourists and increase revenues by aggressively investing in airports, cruise-ship facilities, hotels and other tourism infrastructure.
A $22 million project in neighboring Nicaragua is now underway to modernize the fishing port of Puerto Salvador Allende, El Nuevo Diario recently reported.
Virgilio Silva, chief executive of the state-run Empresa Portuaria Nacional, said the harbor – which is 1,300 meters long, 10 meters wide and 10 meters deep – will be upgraded to allow cruise ships and other vessels weighing up to 15,000 tons. The port, named after a leftist president of Chile in the 1970s, now receives an average 100,000 tourists per month. Following construction of a marina, retail shopping center and other improvements, that figure is expected to triple to 300,000 visitors.
Adriana Dinarte, the port's general manager, said her staff is working with Helicópteros de Nicaragua to incorporate a heliport as part of the tourism offer, and also will spend $1.5 million to upgrade Puerto Sandino.
But the biggest project by far is a widely publicized plan by Nicaragua to build an Atlantic-to-Pacific canal to compete with the 100-year-old Panama Canal. Last week, President Daniel Ortega and Chinese tycoon Wang Jeng announced that work would begin this December on the 178-mile canal. His HKND Group has a 50-year concession to operate the future waterway, with an option to extend the contract for another 50 years.
If built, the $40 billion project would be able to handle the world's largest ships – including those that are too large even for the new set of locks now under construction at the Panama Canal, which is itself in the midst of a $5.25 billion expansion.
Meanwhile, 28 cruise ships are expected to arrive at Nicaragua's San Juan del Sur and 13 at Puerto Corinto – both on the Pacific coast – during the 2013-14 season, an 11 percent jump over the previous year.
According to the Florida-Caribbean Cruise Association (FCCA), Central America cruise passenger arrivals jumped by 29 percent between 2006 and 2010, with the fastest growth seen by Guatemala's Puerto Quetzal. Volume there shot up by 381 percent, reaching 47,000 passengers in 2010, said the FCCA. Other leading Central American ports include Panama's Colón (218,400 passengers in 2010), Costa Rica's Puerto Limón (193,000) and Puntarenas (89,000), Panama's Cristobal (51,200) and Guatemala's Santo Tomás (51,100).
The FCCA reported in early 2013 that cruise passengers spent the most money in Belize (an average of $73 each in the 2011-12 cruise season), followed by Costa Rica ($71.50), Honduras ($62.20) and Nicaragua ($45.60). Total passenger expenditures ranged from a high of $44.4 million in Belize to a low of $1.6 million in Nicaragua.
Finally, the FCCA says the cruise industry generated total revenues of $61 million for Belize, $20.4 million for Honduras, $18.5 million for Costa Rica and $2 million for Nicaragua in 2011-12. The report didn't include El Salvador, Guatemala or Panama.
Like Nicaragua, Honduras is desperately poor – but the country is the undisputed leader when it comes to Central America's cruise-ship industry.
Banana Coast
The country's Banana Coast project was dedicated last June during a ceremony that also recognized the founding of the city of Trujillo on May 18, 1525.
Themed "Where the Rainforest Meets the Sea," the $30 million Banana Coast project is the newest cruise destination in the western Caribbean. A passenger reception facility and 50,000-square-foot retail-shopping center on 10 acres of beachfront has already been completed in Trujillo's colonial zone. Future plans call for construction of a two-berth, post-Panamax pier.
Banana Coast has signed Holland America Line as the first cruise line to schedule regular calls at the new port. Holland's 1,260-passenger Ryndam will visit Banana Coast 11 times beginning in late November, followed by a December visit by Silversea Cruises' 269-passenger Silver Cloud, and then P&O Cruises' 710-passenger Adonia, set to call at the port in February 2015.
"Having a premium cruise line like Holland America Line recognize the exciting opportunities of regularly calling at Banana Coast is a testament to the work we've put into making the port the hottest new destination in the Caribbean," said Randy Jorgensen, general manager of Trujillo Grande Autoridad, which owns the port.
Roatán, a 37-mile-long Caribbean island just off the northern Honduran coast, is already a major port of call for cruise ships. It receives close to one million tourists a year, making Honduras the top cruise destination in Central America. The two main cruise terminals on Roatán are at Coxen Hole, which is run by Royal Caribbean Cruises Ltd., and Mahogany Bay, operated by Carnival Cruises.
What Honduras really needs, however, is a solution to the nightmare that is Tocontín International Airport. Located in the capital, Tegucigalpa, Tocontín has long been considered one of the world's most dangerous airports for takeoffs and landings.
Meanwhile, nine international companies have shown interest in a $130 million tender for construction of the new Palmerola International Airport, to be located on a former air base just 70 kilometers from Tegucigalpa. The airport will have a 2,440-meter runway as well as a new control tower, a 14,000-square-meter passenger terminal and a 1,500-square-meter cargo facility.
Companies from Argentina, Brazil, Chile, China, Colombia, Ecuador, Mexico and Spain are all participating in the tender.
By 2045, Palmerola should be able to handle a maximum 2.1 million passengers a year, according to the specifications. At present, Honduras has four international airports – Tegucigalpa, San Pedro Sula, La Ceiba and Roatán. Together, they handled 1.8 million passengers in 2011, the latest year for which statistics are available.
The country's public-private promotion agency Coalianza also plans to award a tender to build and operate Río Amarillo airport in Copán. That project – which foresees construction of a 1,200-meter runway, among other things – will require $270 million in investment. According to a press release, the new airport will primarily serve cruise ship tourists visiting the Mayan ruins of Copán. This new airport is scheduled to start operations in October 2016.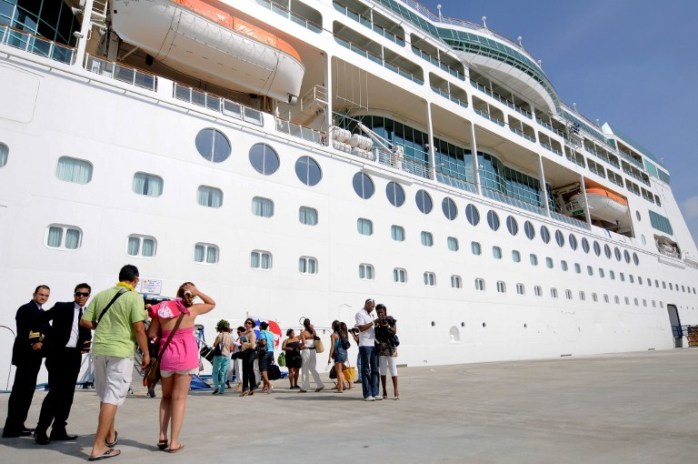 Panama is booming
When it comes to airports, Panama is by far the regional leader.
Tocumen International Airport, just outside Panama City, is in the midst of a mammoth expansion that, when finished, will boost its capacity to 15 million passengers a year – making it one of the busiest airports in Latin America.
The project envisions commercial, operational and hotel infrastructure. At its centerpiece is a completely new, 80,000-square-meter South Terminal boasting 20 gates as well as new facilities for immigration, customs and parking. In September 2012, Brazilian construction conglomerate Odebrecht won the contract to expand Tocumen, submitting a bid of $679.4 million. But implied within that contract are other works that could bring the total up to $936 million.
Among other improvements, the new terminal will feature scanners able to X-ray all bags belonging to passengers entering and leaving Panama. However, the 1.8 million passengers simply transiting the airport will not be subjected to X-ray inspections.
In mid-September, state-run Tocumen SA reached an agreement with Panama's Ministry of Economy and Finance to issue $650 million of bonds to help finance the airport's expansion.
During the first half of 2013, some 3.8 million passengers transited through Tocumen, averaging 20,807 – up from around 19,000 in the same period of 2012.
Leading international destinations for flights departing Tocumen are, in descending order: Miami, Bogotá, San José, Caracas, Mexico City, Havana, Houston, Lima, Santo Domingo and Medellín.
"The increase achieved in the first half of the year is due, among other things, to the addition of new air routes and increased frequencies by European airlines and the local airline Copa, which has allowed us to reach new markets," said an airline official quoted in a Tocumen press release.
The Panamanian government also is trying to encourage tourism outside the capital. As such, Scarlett Martínez International Airport in Coclé is expected to promote tourism development in the Pacific coastal region southwest of Panama City.
After years of discussion, Panama's first regular passenger ferry to South America could finally become a reality in 2014. A European group is negotiating the operation of a route linking Colón and Cartagena, Colombia – using a ferry with capacity for 1,500 passengers, 200 cars and 50 shipping containers.
The Panamanian press reports that such a service could begin as early as March, pending approval from the ATP, which apparently has agreed to provide $350,000 to cover part of the risk the unnamed firm would take on with this project.
Panama has long been a popular cruise-ship destination, and during the 2013-14 season, some 120 cruise ships were expected to call on Colón – with passenger spending on land averaging $125 while in port. Among these ships is Celebrity's El Gran Equinox, with 2,850 passengers, which will arrive six times during the season. Separately, Pullmantur's Monarch, with 2,766 visitors, will make 15 arrivals and departures between September and January, said Augusto Terracina, port manager at Colón 2000.
Don't stop Belizing
Not to be forgotten, English-speaking Belize has become the latest entrant to the Central American cruise-ship market with the recent announcement that Norwegian Cruise Lines has purchased two islands in southern Belize to develop as a port of call for its western Caribbean cruises.
NCL said it had bought 75 acres in the Stann Creek and Toledo districts for the development of its $50 million Harvest Caye project, which it hopes to complete in 2015.
"While the master plan for the 75 acres is still under development, the vision is to create a world-class cruise destination, consisting of two locations: an island destination with docking/tendering facilities and a mainland connection point for inland tours," NCL said in a press release.
Norwegian has retained Orlando-based IDEA Inc. to design Harvest Caye, whose goal is to divert ships from Belize City, the country's commercial capital and main city. Among other things, the project will include a floating pier, an island village with open-air structures on raised platforms, a lagoon for water sports and a beach area.
"With an emphasis on indigenous local culture, this new cruise destination will tell the unique story of Belize, and set a new standard in the development of an eco-friendly destination," said Hugh Darley, president of IDEA Inc.
Darley said more than 600,000 passengers arrived through the port last year, and Norwegian alone is predicting passenger growth in the western Caribbean to more than double over the next four years. The master plan for the 75-acre site is still under development, said Darley, whose company has designed 15 major Caribbean ports.
Yet the Belize Tourism Industry Association angrily opposes the project.
Stewart Krohn, chairman of the BTIA and a hotelier in the village of Placencia, said the development would change Belize forever – and not in a good way. He claims that NCL will recover between $50 million and $100 million over the life of the 25-year concession through a $4 per passenger tax rebate, compared to the $50 million he says NCL paid for the land.
"They are getting back more than they actually pay for the port. It is unheard of," Krohn recently told Belize's Channel 5 TV. "This is not about the MOU [memo of understanding]. It is about the concept of mass cruise tourism for southern Belize. It is just a bad deal, period. They are taking the tourism industry, which is the engine that drives our economy, and turning its direction 180 degrees from how it has been successfully operating. Why? I cannot understand why they would do that. There is no money in it for anybody."