At Flying Crocodile, It's All about Ultralight
HAVE you ever flown a crocodile? Ifyour answer is no, you should visit BahíaMontereina, six kilometers north of Sámara,on the Pacific coast of Guanacaste.Circling the crystal air above such marvelousbeaches as Barrigona, Sámara andCarrillo, the Flying Crocodile is a commonlyseen specimen. Dressed in orange,green, gray and white, the fuel-poweredcontraption has a wingspan of 10 metersand weighs 210 kilograms (462 pounds).Its 94-horsepower motor allows a maximumair speed of 120 km per hour (70mph). On its comfortable back, it can carrythe pilot and one passenger.Residing at the lodge of the samename, the Flying Crocodile and its siblingsare owned and operated by GuidoScheidt, a professional pilot and flightinstructor. Born in Germany, Scheidt, 44,came to Costa Rica 12 years ago, lookingfor an appropriate place to indulge his passion:flying."DURING our first trip," Scheidt says,"my wife Anke and I carried an ultralighton a trailer while touring the country."Ultralights, the former airline pilotexplains, are essentially motorized hanggliders. The slow flight, often open cockpit,and light, responsive handling makethem like motorcycles of the air. Scheidtprefers aircraft made in Germany, and saysEagle, Cosmos, and Comco are brands thatmeet the highest standards in the world.Scheidt has all the permits necessary tofly and operate ultralight planes in thecountry; however, he is still waiting for theCivil Aviation Authority permit to takepaying customers. Nonetheless, guests cango on ultralight flights as part of a packageincluding accommodations at his lodge.WEARING seat belts and helmets,equipped with headsets, we take off andaway, into the still, sunny afternoon.Airborne, we are victorious over gravity.This is fun – a pure flight experience!We see the world from above, from abird's-eye perspective: the evergreen mangroveforest below, the sapphire of the almost touching the foaming, white surf.TO end an adventurous day in andaround the two-hectare property, FlyingCrocodile Lodge offers nine individuallydesigned houses, sleeping up to four guestseach. Inspired by Spanish artist AntonioGaudí and the architecture of the MexicanCasa del Pacífico, the colorful cabins arepositioned throughout a lush, shady garden.The spacious rooms feature privatebathrooms with hot-water showers, fans,air-conditioning and refrigerator or kitchenette.Rates range from $55-75 for doubleoccupancy, including a buffet-style breakfast,Internet access and safety depositboxes (prices are $10 less April 16-Nov.11). Packages including scenic ultraflighttrips are available.Children under 12 stay for free. A largeswimming pool with waterslide and a playgroundmake the lodge an especially friendlyplace for little guests to discover new andinteresting things. The hotel's staff includestwo macaws, a cage full of budgerigars, afriendly Dalmatian, a cat, two swamp turtlesand a pair of royal peacocks."Children are welcome here," saysScheidt, father of Saray, 10, and Lionel, 4."Our target group is the individual travelerlooking for a peaceful place."Flying Crocodile Lodge is a member ofCharming + Nature Hotels of Costa Rica(www.charminghotels.net), a loose affiliationof nine small, unique hotels with similarstandards, dedicated to the highestquality. Scattered across Costa Rica, thereference network enables tourists toarrange personalized tours, combiningbeach vacations with visits to some of thecountry's most scenic spots.BORDERED by the airstrip, hangarand protected mangrove forest, the hotel isa comfortable 10-minute walk fromsecluded Playa Buena Vista and BahíaMontereina. Kayaking, surfing, yoga andhorseback riding are among the activitiesthe Flying Crocodile's attentive crew helpsto organize. Those eager to explore thearea can hike or rent bikes, motorcycles ora car directly from the lodge.At sunset, all the flying crocs are put tosleep. After an excellent dinner served inthe airy restaurant, the favorite meetingplaces are the lobby and the palm-thatchedcocktail bar, where international travelersand ultralight enthusiasts gather, alongwith the Scheidt family."For me," says Guido, smiling at hisspouse, "there is just one thing nicer thanflying."Getting to the Flying CrocodileThe lodge is a four- to five-hour drivefrom San José. On the way toSámara from Nicoya, take the secondroad on the right after the gasstation (on the left), in the dry season.In green season, turn right at thefirst road after the gas station. Followthe signs to the Flying Crocodilealong a gravel road for about six kilometers;four-wheel drive is recommended.The nearest airport isCarrillo-Sámara, served by bothNature Air and SANSA, about a half-hourflight from the capital. For more info or to make a reservation, call thehotel at 656-8048 or cellular 827-8858, or visit www.flying-crocodile.com.
You may be interested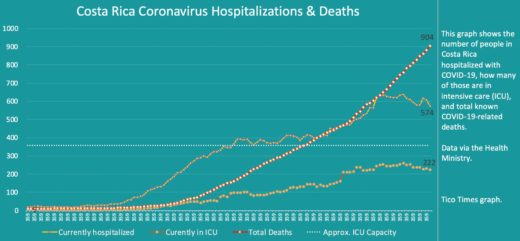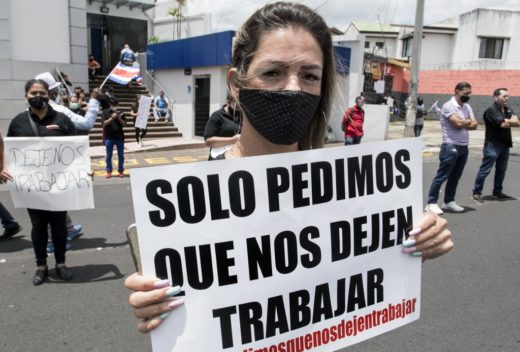 Business
3340 views
Some 34 million jobs lost in Latin America due to pandemic
Carlos MANDUJANO / AFP
-
September 30, 2020
The two aspirers for the presidency of Costa Rica, the evangelical preacher Fabricio Alvarado and the former minister Carlos Alvarado, reach the closing of the electoral campaign for April 1st with a technical draw, according to a poll disclosed this Friday.