Every other Wednesday, we bring you an adorable photo and the brief story of an animal at Sibu Wildlife Sanctuary near Nosara, Guanacaste.
Today, we have a message from Lorena, Miguel and Lorenzo, three raccoons that were brought to Sibu by a concerned citizen.
Hola! One day in mid-September, the three of us were orphaned and left very hungry and scared. A nice person found us, got us medical treatment, and then we were off to SIBU for further medical observation and lots of nutritional foods. Once we are big and strong we will be released to live back in the wild, where we belong.
Sibu Wildlife Sanctuary is located in Santa Marta, located a few kilometers northwest of Nosara on the Nicoya Peninsula.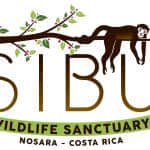 SIBU's mission is to rescue injured, orphaned, and displaced wild animals and provide them immediate medical care, rehabilitation, and eventual release into the wild. When the animals are determined to be strong, healthy and old enough to be re-integrated into the jungle they begin a step-down release program. Animals unlikely to survive in the wild receive a permanent enriching habitat for their life-term care.