Have you heard of the BIGGEST sporting event of 2019? Nope, it's not the Masters. It's not Wimbledon. It's not even the World Cup.
It's the 4th Annual Sloth Ironman Games at the one and only Toucan Rescue Ranch! This year, the Sloth Athlete Reveal will announce the four well-trained slothletes on International Sloth Day, October 20, which also happens to be a #SlothSunday!
Are the terms 'Slothelete' and 'Sloth Ironman Games' confusing you? Let me break it down for you…
TRR has always believed strongly in the importance of enrichment for both our residents and releasable animals. Sloths, with their slow nature and interesting natural behaviors, inspired TRR's Marketing Specialist, Zara Palmer, to film a sloth enrichment series to test their skills and strength on their journey back into the wild.
Thus, the Sloth Ironman Games was born! This special online event not only shows off sloths and their quirky personalities but also creates an initiative for people from all over the world to get involved in sloth conservation! Tune in next month and watch as your favorite Slothlete competes in the 2019 Sloth Ironman Games Series.
The series includes a four-part challenge of enrichment activities: the 1-Meter Dash; Strong Sloth Challenge; Poop-Off Challenge; and the Hibiscus Eat-Off.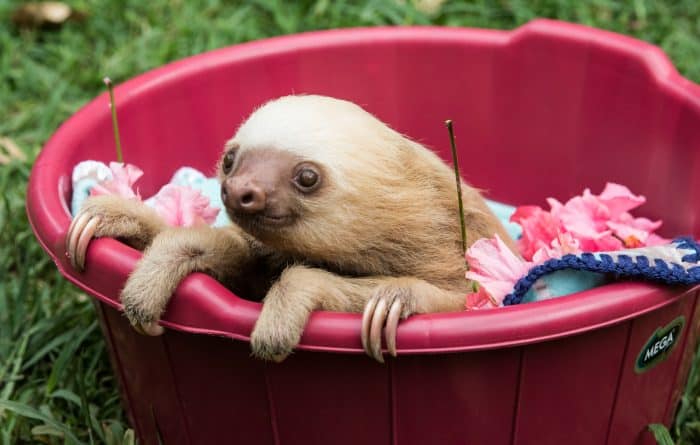 And yes, the fastest sloth wins! Progress will be shown on our social media channels so you can stay up to date on the Ironman Games! You can also cheer on your favorite Slothlete by voting for them in the form of a monetary donation on our crowdfunding campaign called MightyCause.
ll donations made during the Sloth Ironman Games will be put toward each sloth's release back into the wild, covering costs for food, medical care, emergency transportation, enrichment, and much more. Be on the lookout for updates on our social media leading up to the event!
There will be a new game each day of the week starting on October 20th, LIVE starting at 1:00 p.m. Costa Rican time.
SLOTH IRONMAN POINT SYSTEM
Each dollar earned for a sloth athlete is 1 point. So $5 will give an additional 5 points to your favorite slothlete!
In addition to donations, each event won for a sloth athlete will also be added to their overall score:
100 points for 1st place
75 points for 2nd place
50 points for 3rd pace
25 points for 4th place
SLOTH IRONMAN GAME RULES
To earn your favorite slothlete points, you must make a minimum donation of $5.00 on MightyCause.com
Each dollar amount is worth 1 point
All donations must be made via MightyCause campaign
When donating for your athlete you must dedicate or comment their name (i.e. Goldie) to be properly recorded
We will see you on October 20th for the most anticipated event of the year!
— Ally Chamberlin is a Marketing Intern at Toucan Rescue Ranch.

This article was produced by The Toucan Rescue Ranch. The Toucan Rescue Ranch specializes in helping wild animals recover so that they can be reintroduced into the wild. For more information or to donate, visit the Toucan Rescue Ranch website.