Today is a celebration of all fathers — young and old, short and tall, by blood or simply by love. It's a special day.
In the world of wildlife, this usually means showing praise to the animal kingdom's most admirable fathers: the emperor penguin, who balances an egg on his feet in subzero temperatures to keep it warm, or the male seahorse, who can carry up to 1,000 eggs in his belly and then give birth to them. These dads, amongst others, help keep the circle of life spinning.
Here at the Toucan Rescue Ranch, we want to honor our very own fatherly figure, Bilbo the two-fingered sloth. With a story that starts like those of many of our rescued sloths, Bilbo was found abandoned on a golf course in Jacó, Puntarenas, by a woman on her morning walk. He was lying motionless in a sand trap, covered in ants. The woman quickly called TRR and drove him to our headquarters in San Isidro, Heredia.
Once in our clinic, our vets noticed his legs were struggling to function correctly, so they started physical therapy to get him back in motion. When they felt he was ready, he was brought out to exercise with the other sloths. Juveniles are put together to offer comfort and companionship as they grow up without a mother, although Bilbo was a much older orphan than his buddies on the jungle gym.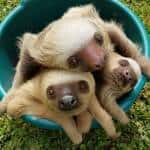 Over time, our vets noticed that Bilbo was reaching out to the other baby sloths — and not just to get a share of their zygia leaves (a two-fingered sloth's favorite)! He was actually cleaning their faces and licking them as if they were his own offspring. The baby sloths started to climb all over him, and Bilbo was patient with them, tolerating them even when they clumsily clambered onto his back. He became the "foster dad" of the juvenile sloths at TRR, holding them when they were near and offering them the nurturing love they were missing, which is really what being a good father is all about — giving and receiving love, even at times when it's not necessarily your responsibility.
Together with The Sloth Institute, Bilbo has been relocated from the TRR headquarters to the Release Site in Manuel Antonio as part of our Saving Sloths Together program. Bilbo is now at an adult weight and is practicing his wild skills in a pre-release enclosure!
Although he is surely missed by his "children" back in San Isidro, Bilbo has served a great purpose by taking on one of the most difficult but rewarding jobs in the world … being a father.
Happy Father's Day! Thank you to Bilbo and all fathers around the world!
— Ally Chamberlin is a Marketing Intern at Toucan Rescue Ranch. 

This article was produced by The Toucan Rescue Ranch. The Toucan Rescue Ranch specializes in helping wild animals recover so that they can be reintroduced into the wild. For more information or to donate, visit the Toucan Rescue Ranch website.